No, Pak Army Did Not Shoot Down Its Own Aircraft
A satirical article on how Pakistani army shot down their own aircraft has been shared as real news.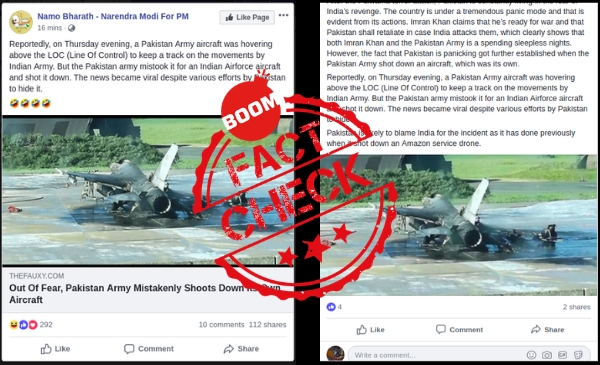 A satirical article on Pakistani army shooting down its own aircraft due to fear of Indian retaliation for the Pulwama attack has gone viral as real news.
The fake news article was shared without a 'satire' disclaimer by a Facebook page called 'Namo Bharath - Narendra Modi For PM', leading many users to believe it as real.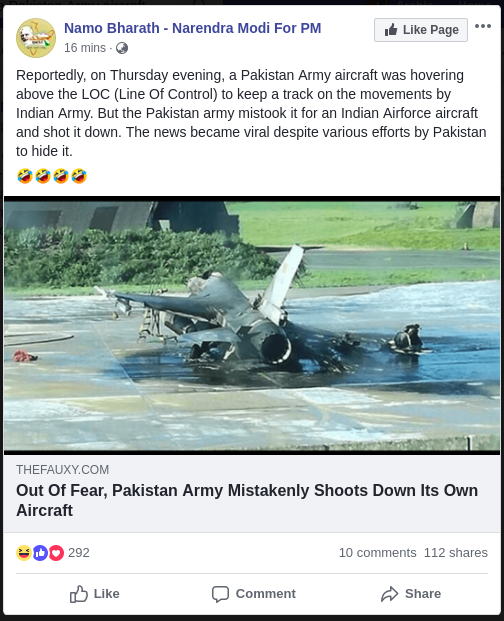 You can access the archived version of the post here.
The caption of the post, which has been taken directly out of the article, read:
"Reportedly, on Thursday evening, a Pakistan Army aircraft was hovering above the LOC (Line Of Control) to keep a track on the movements by Indian Army. But the Pakistan army mistook it for an Indian Airforce aircraft and shot it down. The news became viral despite various efforts by Pakistan to hide it."
Within 16 minutes, the post went viral, garnering 112 shares and nearly 300 reactions.
The article by The Fauxy, which was shared in the post, explained how the Pakistani army erroneously shot down one of its own aircraft owing to the panic that has allegedly ensued in the country due to its fear of India's retaliation after the Pulwama attack.
The website has put out a disclaimer on its pages which clearly state that it is a satirical website and that their content is fictional.

However, going through the comments of the post, it was apparent that many users were oblivious to that fact.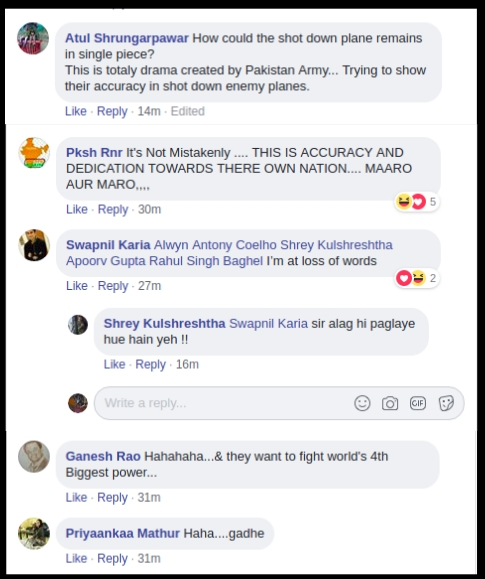 Soon, many users and pages started sharing the photo of the crashed aircraft with same caption, but without the link to the satirical website which is the source of the article, making the fake news go viral.
For an archived version of the post, click here.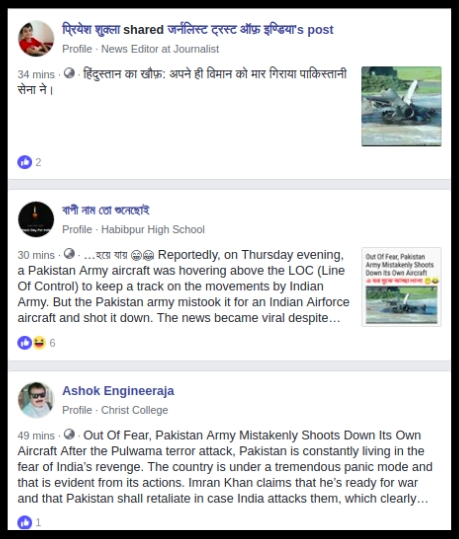 BOOM did a reverse image search with the photo of the crashed aircraft and found out that it originated from an incident in Belgium when an F-16 fighter jet was mistakenly shot down by another plane near the Florennes air base.
Daily Mail had used a similar photo while reporting on this matter in an article dated October 13, 2018.
BOOM extracted the photo from both the articles and placed them next to each other, only to find striking similarities between them.
This confirms that the story about Pakistani army shooting down their own aircraft due to fear of India is a satirical fabrication, inspired by the events in Belgium last year.
Claim Review :
Pakistani army shot down its own aircraft, fearing Indian retaliation for the Pulwama attack
Claimed By :
Facebook page