No, Modi Apples Are Not Named After PM Narendra Modi
A viral post on social media claims that inspired by the Prime Minister, an Australian has named his apple business Modi. Fact is, the apples are named after renowned artist Amedeo Modigliani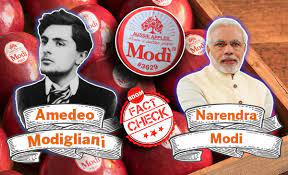 A fact-check a day, keeps fake news at bay.
A popular variety of apples named 'Modi' has not derived its name from Prime Minister Narendra Modi, contrary to social media posts claiming the same.
The variety is named after artist Amedeo Clemente Modigliani, known for his nude portraits which often included shocking bold crimson shades.
BOOM came across several Hindi posts over the weekend that have falsely claimed that a man named Filippo in Melbourne, Australia was so impressed by the Indian prime minister that he named his apple business after him.
(Translated from Hindi text: मेलबॉर्न, ऑस्ट्रेलिया : नरेंन्द्र मोदी जी से प्रभावित फिलिपो ने अपने नए सेब के व्यवसाय को मोदी के नाम पर रखा। भारत के बाजारों में भी मिलेगा ये सेब। )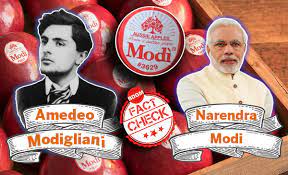 The post has been shared widely by several pages on Facebook and Twitter handles. The archived versions of the posts can be accessed here and here , and the Facebook post can be viewed here.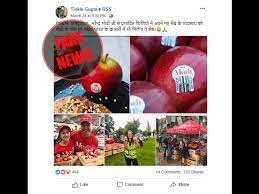 Fact Check
The variety of apple was developed by researchers at the Consorzio Italiano Vivaisti (CIV) in 2007 by crossing the Liberty and Gala varieties of apples.
The 'Filipo' in the fake post could be a reference to Pier Filippo Tagliani, chairman of CIV.
BOOM also checked the official page of Modi Apple Australia. It turns out that the 'Modi' in question here is renowned painter and sculptor Amedeo Modigliani and not India's prime minister.
The About section of the page traces the 'apple' story in detail.
"The unusual name comes from the world of art, more exactly from Amedeo Modigliani, an artist born in Livorno and affectionately known as Modì to his friends; he was famous for his portraits of women painted using intense red earth colours, just like those of the Modì Apple."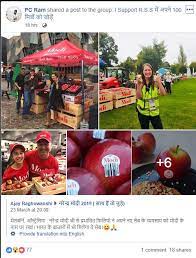 Amedeo Modigliani was an Italian Jewish painter and sculptor. He found great popularity after his death in 1920. His notable works include the Redheaded Girl in Evening Dress, Jeanne Hébuterne in Red Shawl, and Madame Pompadour.
BOOM also reached out to the Modi Apple, Australia for a comment. In their response, they reiterated the statement on their website i.e. 'It is inspired by the Italian Painter - Amedeo Modigliani (sic.)'.
Reverse image search on the viral images
A number of images were shared with the viral post that claimed the name Modì Apples was inspired by Narendra Modi.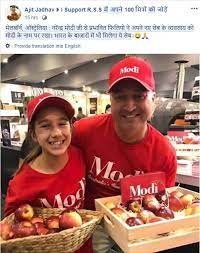 We ran a reverse image search on the images and found that most of them were lifted from the company's Facebook page or Twitter handle.
Claim :
An Australian man has named his apple business after Indian Prime Minister Narendra Modi
Claimed By :
Social media pages
If you value our work, we have an ask:
Our journalists work with TruthSeekers like you to publish fact-checks, explainers, ground reports and media literacy content. Much of this work involves using investigative methods and forensic tools. Our work is resource-intensive, and we rely on our readers to fund our work. Support us so we can continue our work of decluttering the information landscape.
BECOME A MEMBER