No, Amit Shah Did Not Say He Would Remove Bengalis From India
BOOM found that the original headline has been photoshopped and is fake.
A screenshot purporting to show an article by Bengali newspaper Anandabazar Patrika claiming Home Minister Amit Shah said he would remove Bengalis from India despite winning laurels for the country is photoshopped and fake.

The fake headline attributed to Anandabazar when translated from Bengali reads, "Bengalis can win as many Nobel's they want, we will still drive them out of the country."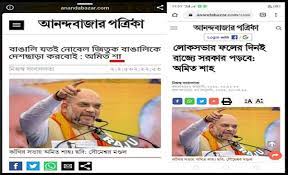 Click here to view the post and here for an archive.
(In Bengali - বাঙালি যতই নোবেল জিতুক বাঙালিকে দেশছাড়া করবই: আমিত শা)
The fake quote is viral in the backdrop of Indian-American economist and massachusetts Institute of Technology professor Abhijit Banerjee being one of the three economists to be awarded the Nobel Prize in economics for 2019.
Viral on Facebook
Click here to view an archive.
FACT-CHECK
BOOM ran a keyword search on the website of Anandabazar using words from the viral headline and found that the original headline had been edited from an article dated January 30, 2019.
The original headline when translated from Bengali reads, "On the day of Lok Sabha election results the state government will fall: Amit Shah".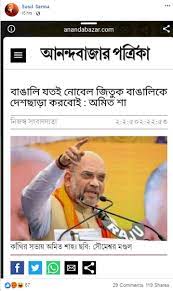 (In Bengali - "লোকসভার ফলের দিনই রাজ্যে সরকার পড়বে: অমিত শাহ" )
Shah had made the statement in Kanthi, East Midnapore, West Bengal while campaigning for the 2019 Lok Sabha elections.
Additionally we noticed that the Bengali spelling of Shah was misspelled in the fake headline as ""শা" instead of ""শাহ'', how Anandabazaar Patrika spells his name in all their stories.
Claim Review :
Newspaper Clipping Shows Amit Shah Said That, Bengalis Can Win As Many Nobels They Want, We Will Still Drive Them Out Of The Country.
Claimed By :
Facebook Posts