No, A Man Did Not Set His Car On Fire After Being Fined 35,000 Rupees
A bizarre spectacle by a couple that wanted to get married in Mathura is being shared with a false claim.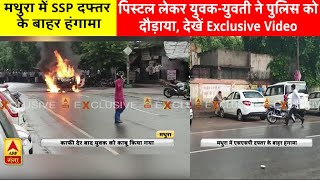 A viral Facebook post claiming a man set his car ablaze and gave his 'wife' and 'children' a gun while sitting in protest on the street, because he was fined 35,000 rupees, is false.
The nearly two-minute long clip has been culled from a bulletin of ABP Ganga. It shows a man brandishing a gun at police officials and bystanders. Later in the clip, it shows a car ablaze and a woman carrying a gun as well. Three young children can be seen sitting on the street as a large crowd watches the bizarre spectacle unfold.
The clip has been shared with a Hindi caption that translates to, "after being fined 35,000 a young man set his car on fire and made his wife and children sit with a gun."
Translated from Hindi "35000-- का चालान करने पर लडके ने अपनी कार में आग लगा दी और बीवी बच्चो को सडक पे पिस्तौल देके बिठा दिया"

You can watch the video clip below and the archived version can be accessed here and here, respectively.
The post has been shared over 3,600 times
Fact Check
A search for 'man sets car ablaze' shows news reports about the incident by the Hindustan Times and India Today.
The incident took place on September 25, 2019 in Uttar Pradesh's Mathura district. Local police identified the man in the video as one Shubham Chaudhary and said the whole thing was done for media attention.
BOOM reached out to Mathura police who sent us a press release in Hindi.
According to the statement, at 4.30 pm on September 25, Shubham Chaudhary, Anjala Sharma and her three children arrived at the SSP's office in a car. Later Chaudhary and Sharma set the vehicle on fire. When police tried to intervene, the Chaudhary, who was illegally carrying a gun, fired in the air, which caused panic. Chaudhary had also tipped off news channel ABP News to arrive at the spot. This is corroborated in the channel's coverage
Anjala Sharma, who is married with three children, was in a relationship with Shubham Chaudhary. The duo planned to get married and had planned the entire incident in order to make Shubham famous. The two have been charged under relevant section of the Arms Act, the Indian Penal Code and Criminal Law Amendment Act.
According to the Hindustan Times, the main accused Shubham Chaudhary kept changing his statement to the police.
"Sometimes, he claimed the woman with him was his wife and at other times he called her his sister. Then, he changed his version by calling her his business partner," Mathura senior superintendent of police Shalabh Mathur was reported to have told the newspaper.
Several unrelated videos have been shared in recent months after the government amended the Motor Vehicle Act, which raised fines for breaking traffic rules, exponentially. The amendment came into effect onSeptember 1, 2019.

BOOM has debunked several fake claims regarding Motor Vehicle (Amendment ) Act 2019.
Claim Review :
Man put his car on fire after being fined Rs 35,000 challan