Mystery Looms Over JioFiber Tweet from 'Fake Isha Ambani' Account
Come Diwali and it will be interesting to see the details of the actual JioFiber offer and whether the fake handle came anywhere close to the official offer
The menace of fake news does not spare even the high and the mighty. On August 10, a tweet from a Twitter handle @TheIshaAmbani about an exciting offer for its upcoming JioFiber launch went viral. The tweet claimed that Reliance JioFiber will be offering users 100GB data at Rs. 500, and would begin services in 100 cities by Diwali.
Economic Times carried the story quoting Isha Ambani's tweet but soon deleted the story and published a correction following denial of any such offer by Reliance Jio.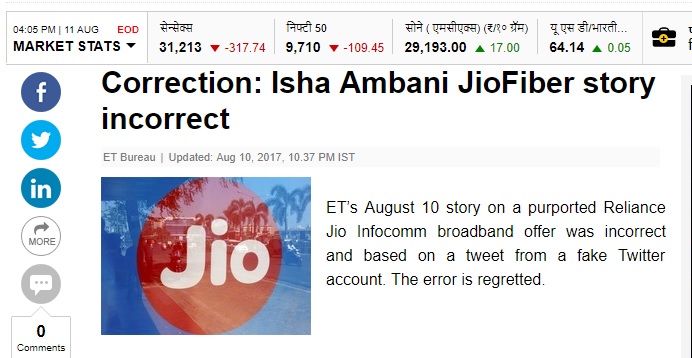 Speaking to BOOM, a company official confirmed that the country's richest man Mukesh Ambani's daughter Isha Ambani, does not have a Twitter account. There is no clarity if the company has filed any complaint with Twitter to delete the handle that has acquired over 44,000 followers since it came into existence on September 27, 2014.
Interestingly, while the company were quick to react refuting the offer on receiving calls from journalists, its own handle @jiocare could be found replying to queries about its services despite the fake handle being tagged as well. Infact many of those replies were found on the post that made the announcement of JioFiber.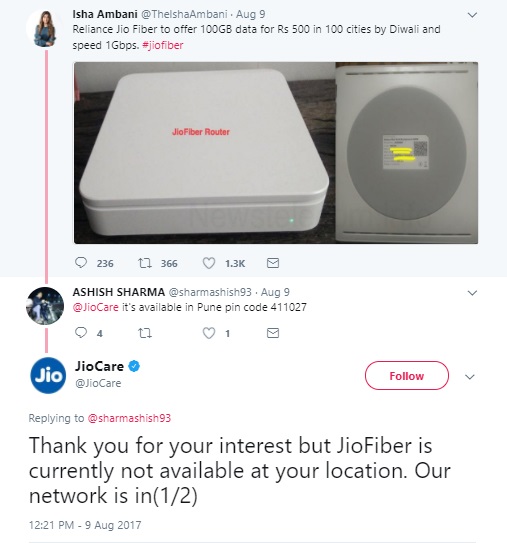 Screenshot of a reply by @JioCare to a customer's query
And if that was not enough, the handle also posted about the new Jio Phone claiming that pre-booking will start from August 22. The handle @jiocare replied to queries on this thread and corrected the date as well.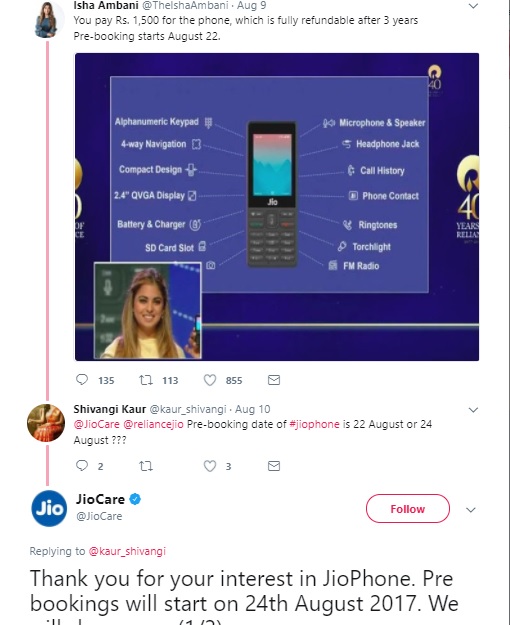 But what comes as a surprise is the absence of any statement by Reliance Jio's verified handles either denying the offer or calling this handle a fake one. Company officials BOOM spoke to say that they have informed journalists about the account being fake but are silent on why official channels have not been used to issue a denial through a written statement. This is important as JioFiber is a much awaited launch of Reliance Jio, not just for its huge base of customers but also shareholders of the listed parent entity Reliance Industries Limited.
We have written an email to Reliance Jio's corporate communications team and will update the story on receiving a reply.
It is not surprising that The Economic Times fell prey to this fake account on Twitter. At first look, unlike other fake accounts we have seen in the past, @TheIshaAmbani has several important people following her including journalists and Union Power Minister Piyush Goyal's verified account @piyushgoyalofc. All that this account lacks is a verified Twitter sign. The tweets in the past have not given any reason to raise any alarm, posting pictures of Mukesh and Neeta Ambani and brothers Anant and Akash Ambani. Several pictures of friends of Isha Ambani can also be found.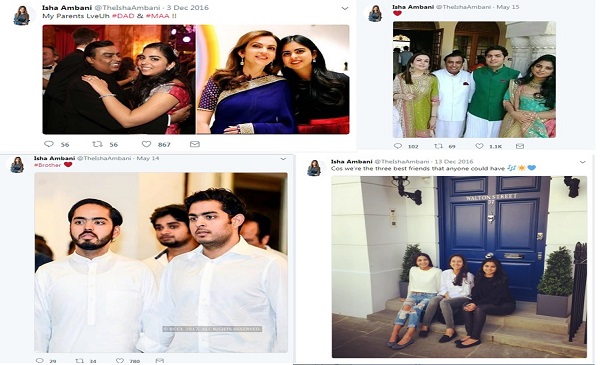 Screenshot of images posted by @TheIshaAmbani via various tweets
We also did an audit of the account using twitteraudit.com. 91% of the followers were found to be real. While such audits are not entirely accurate, it is representative of the number of people who think that the handle they are following is real.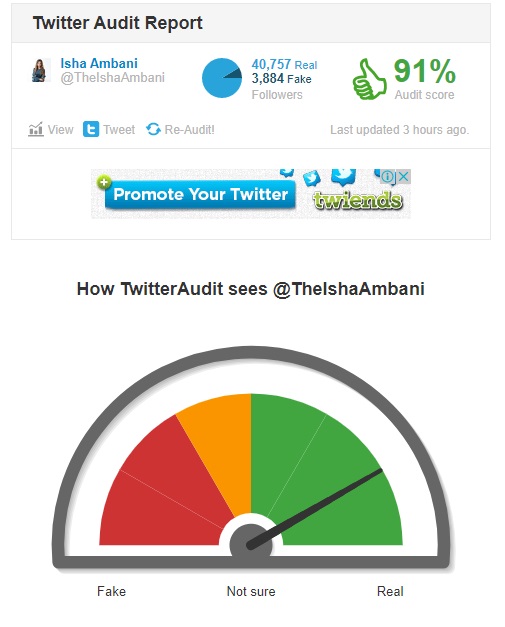 Twitter audit of @TheIshaAmbani
The Twitter account has also linked a Facebook page where similar pictures of friends and family have been posted.
Come Diwali and it will be interesting to see the details of the actual JioFiber offer and whether the fake handle came anywhere close to the official offer.