My Intention Was Only To Get Laughs, Not To Spread Fake News: Kunal Kamra On Photoshopped Gambhir Pic
"It was purely to get a laugh from my audience", Kunal Kamra on why he created a photoshopped image of Gautam Gambhir.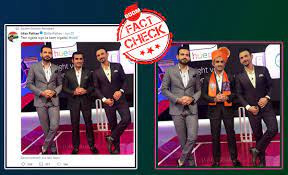 An image of cricketer-turned-politician Gautam Gambhir wearing a saffron headgear and a scarf sporting the lotus symbol of the Bharatiya Janata Party, is photoshopped.
The image shows Gambhir flanked by former cricketer Irfan Pathan and TV personality Jatin Sapru, on what appears to be a television set to discuss the ongoing cricket World Cup taking place in England and Wales.
The doctored image was created as a political satire by stand-up comedian Kunal Kamra.
Kamra told BOOM that he did it for the laughs and that his intention was not to spread fake news.
"It was a joke I made on his double role as a cricket expert and newly elected MP. However I realised that not everyone gets jokes and think that this is how he dressed up actually (sic), hence I shared the DNA article on Twitter" -- Kunal Kamra, Stand-up comedian
"It was purely to get a laugh from my audience," he said.
Meanwhile several netizens fell for the image and accused Gambhir of promoting the BJP during a cricket show.
It was also shared by a fan account of TMC MP Mahua Moitra.
You can view the archived version of the tweet here.
BOOM checked the Twitter timelines of both Gautam Gambhir and Irfan Pathan to look for the original image. While Pathan had tweeted the photo on June 25, 2019 Gambhir had retweeted it on the same day.
The photo shows Gambhir was not wearing the headgear and scarf.
Claim :
Gautam Gambhir promotes Bharatiya Janta Party at a cricket-based TV show
Claimed By :
Twitter handles and Facebook pages