Murder Of Gujarat Police Informer Shared As Dalit Killing
Gujarat police told BOOM that the victim is a police informant, who was hacked to death in Surat.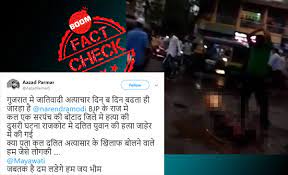 A disturbing video of a man being hacked to death in broad daylight, is viral on Twitter with false claims that a dalit sarpanch was killed in Botad district of Gujarat on June 19.
The video, viewed more than 3000 times at the time of writing this article, documents a gory scene of murder. BOOM has chosen not to include the same in the report, given the disturbing nature of the video.
The video has been captioned, "Casteism is increasing day by day in Gujarat. A sarpanch was murdered in Gujarat's Botad district in the reign of Narendra Modi's BJP yesterday. Second incident happened in Rajkot. Don't know what will happen tomorrow to people like us who are speaking against Dalit atrocities."
(Original caption in viral in Hindi - जरात मे जातिवादी अत्याचार दिन ब दिन बढता ही जारहा है @narendramodi BJP के राज मे कल एक सरपंच की बोटाद जिले मे हत्या की दुसरी घटना राजकोट मे दलित युवान की हत्या जाहेर मे की गई क्या पता कल दलित अत्यासार के खिलाफ बोलने वाले हम जैसे लोगकी)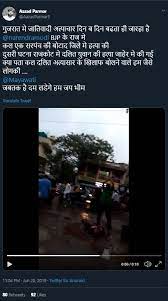 Click here to view an archive.
Fact Check
BOOM found that the video is originally of a man who was hacked to death in Surat, Gujarat, on June 18, 2019 for being a reported informer of the police.
We ran a keyword search with 'Gujarat police', 'man killed', 'viral video', and found an article by Danik Bhaskar which shared the same screen grab of the viral video.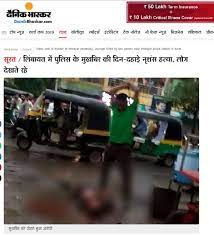 The News report identifies the victim as Imran Sha alias Imran Golden Razakshah (27), unlike the viral claim that he is a Dalit Sarpanch. The report further states that he was beaten to death with a wooden object. The Surat police have arrested two accused identified as Babu Batkando alias Batko and Vinod More.
The incident was recorded by onlookers and has since gone viral on social media.
BOOM contacted the Limbayat Police Station in Surat, the jurisdiction under which the incident took place. Police Inspector VM Makvana of Limbayat Police station confirmed to BOOM that the viral video is of the incident in Surat.
Makwana told BOOM, "The man in the green tee shirt seen hitting the victim is Babu Batkando and the victim is Imran Golden. He was murdered because he was a police informer. The accused have since been arrested by the police."
Two Separate Murder of Dalits In Gujarat Combined In Viral Tweet
The viral tweet combines two separate incidents of atrocities against Dalits from two different areas in Gujarat.
One was a Dalit Sarpanch Manji Solanki who was killed in Botad district, while the second incident is of a Dalit youth, who was killed by eight upper caste men allegedly for pursuing the murder of his father in Rajkot.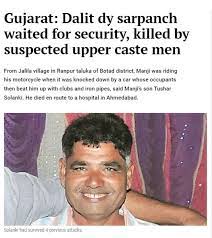 Claim Review :
Video Shows Dalit Deputy Sarpanch Hacked To Death
Claimed By :
Twitter Account