Mumbai Rains: Vistara, Jet Airways' Social Media Perception Battle
Owing to Mumbai rains, airlines announced free rescheduling of flights on Tuesday. Timely response or copy cat tweets - whatever they may be, who won the race?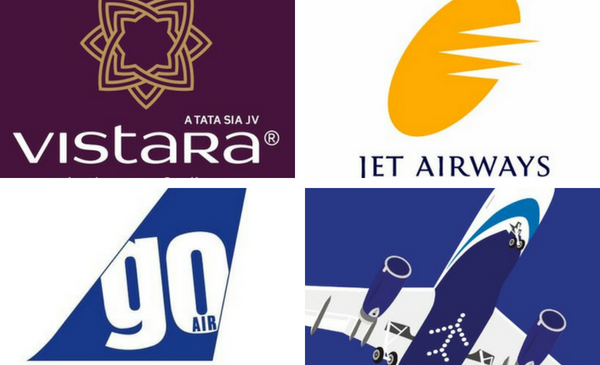 Monsoon do bring good news and offers. On Tuesday heavy rains had brought several parts of Mumbai to a standstill. Water logging and the collapse of Gokhale bridge in Andheri had led to traffic congestion and the blockade of Western Railway Line in Mumbai.
Part of Gokhale Bridge, connecting Andheri East to West has collapsed affecting the overhead wires too.Trains on the western line are affected.BMC,Fire Brigade as well as RPF Staff & Officers are deputed on spot for support.Traffic above & below the bridge is stopped for now pic.twitter.com/LMcKmwyDCh

— Mumbai Police (@MumbaiPolice) July 3, 2018
The roads leading to the Airport were also congested and the Mumbai Police tweeted an advisory to commuters asking them to plan their journeys well in advance.
Advisory

Commuters might face traffic congestion on roads leading to the Airport. Plan your journey accordingly so that you are in time to catch your flight #MumbaiRains

— Mumbai Police (@MumbaiPolice) July 3, 2018
But unlike in the past, what stood out were the responses from various airlines. The country's private airlines were competing hard on social media to win the favour of customers. One after the other, airlines tweeted that customers who missed their flight would be able to reschedule their flights without any additional fare.
However, some Twitter users saw it as a 'copy cat' response while some replied with their preference of one airline over the other and others pledged their love for a particular airline.
No wonder VISTARA is far ahead of other carriers .

— VirendraSrivastavva (@virendersri) July 4, 2018
Never had an opportunity to fly with vistara before but looking forward to fly in future. :)

— Nimish Patil (@nimishjoker91) July 3, 2018
Copy cat

— Subro (@Subro03) July 3, 2018
Others also saw it as an excellent opportunity to express their past grievances with a particular airline.
Dear @jetairways , This is called as #CustomerFriendlyService. You denied boarding pass for my 7 months #pregnant wife and me for being late by few mins. You made us fly with multi flight and pay Rs. 23K extra. #ShiftingLoyaltyToVistara.

— Manoj (@rskmanoj04) July 3, 2018
But who did it first? BOOM looked at the time when the social media handles of the aviation companies tweeted this update.
Vistara was the first to announce the waiver and also received positive feedback from customers.
On July 3, 2018 Vistara tweeted first at 10:00 am, followed by Jet Airways at 10:52 am, Indigo at 11:11 am and GoAir at 1:11 pm.
#TravelUpdate Due to flyover collapse (Andheri Gokhale bridge) there is heavy traffic congestion on the road to Mumbai Airport impacting customers. We will accommodate customers who miss their flight, on seat availability basis in the next flight with no additional fee or fare.

— Vistara (@airvistara) July 3, 2018
#9Wupdate: Due to heavy rains in #Mumbai, we've issued a waiver on penalties for date/flight change, refund, no-show (including fare difference if any), on all confirmed tickets for flights operating to and from Mumbai for 3rd July, 2018.

— Jet Airways (@jetairways) July 3, 2018
#6ETravelAdvisory: IndiGo announces free re-accommodation to all passengers who have missed reporting on time due to the congestion arising out of the collapsing of #AndheriGokhaleBridge (Mumbai). The seats will be provided based on availability on the next flight.

— IndiGo (@IndiGo6E) July 3, 2018
#GoAlert: Due to inclement weather conditions in Mumbai, we will re-accommodate passengers who miss their flight on alternate flights at no additional fare subject to seat availability.

— GoAir (@goairlinesindia) July 3, 2018
Customers seemed to have been extremely pleased by this offer. But, the first to tweet was their favourite.