Mumbai Rains: Schools And Colleges To Remain Shut After IMD Warning
Schools and colleges would remain shut in Mumbai and its Suburbs after an announcement by CMO after heavy rain alert.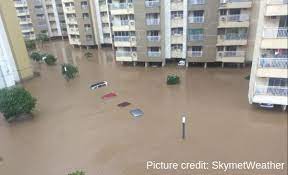 Private and government schools and colleges will remain shut on Monday in Mumbai after Maharashtra Chief Minister Devendra Fadnavis made an announcement on Twitter. This was followed after Indian Meteorological Department (IMD) Mumbai issued a warning of heavy rains on August 5, 2019.
CM Fadnavis tweeted that all schools and colleges would remain shut on Monday in Mumbai, Mumbai Metropolitan Area (MMR), Palghar, Thane and Raigad district of Maharashtra.
The state government has also appealed to people to stay at home if it is not necessary to go out after the IMD issued a warning that rains might intensify over the next 24 hours in the financial capital.
Some government offices providing emergency & essential services would remain open and government and semi government employees in MMR Region are allowed to report late on their duties tweeted the Brihanmumbai Municipal Corporation (BMC).
Over the weekend heavy rainfall resulted in several areas waterlogged in the city which affected the daily commuters as train services were halted.
The Indian Air Force's (IAF) Mi17 was deployed to relocate people to safety after around 35 people were stranded at a village in Thane district, Maharashtra following heavy rains.
Five people drowned in three separate incidents at Navi Mumbai, Palghar and Thane as incessant rain lashed the region since Friday reported The Indian Express on August 4, 2019.
Five gates of Bhatsa dam in Shahapur have also been opened. Bhatsa lake supplies 48% of the total water supply to Mumbai. Villages around the reservoir have been evacuated.
But there could also be some relief if private weather forecasting service Skymet is to be believed.