Mumbai Finally Sees Blue Skies But 2018 Pollution Data Shows No Room For Complacency
No, its not just you. Pollution level eased over the weekend after two weeks of hazy skies. However, data shows why Mumbai should not be complacent.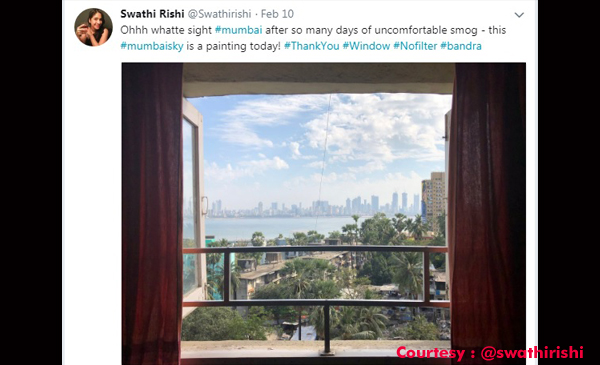 Mumbai finally got a much awaited respite from soaring pollution levels that had lasted for more than two weeks. Mumbaikars saw the clearest day and the bluest skies of the year on February 11 with PM 2.5 and PM 10 levels hitting the lowest since January 1, 2018.
Clear blue skies over the city after ages yesterday.

Oh how much I missed these clouds and blue skies.#Mumbai #clearskies #nofilter pic.twitter.com/25WKxOL8r9

— Harjot Singh (@harjotmankoo) February 11, 2018
Ohhh whatte sight #mumbai after so many days of uncomfortable smog - this #mumbaisky is a painting today! #ThankYou #Window #Nofilter #bandra pic.twitter.com/HecFtuemYJ

— Swathi Rishi (@Swathirishi) February 10, 2018
Air quality had worsened over January end to the first week of February with the city engulfed with thick haze. Hospitals in Mumbai saw around 30% increase in respiratory complaints, reported Times of India on February 08, 2018.
How bad was it?
Though pollution levels during winter are generally high than other seasons, the unusual spike in suspended particulate matter came as a jolt to Mumbai. February 2 hit the peak with PM 2.5 concentration (276 µg/m³) reaching severe level and PM 10 (359.9 µg/m³) at very poor levels.
The 24 hour average permissible levels for PM 2.5 and PM 10 are 60 and 100 µg/m³, respectively, according to National Ambient Air Quality Standards (NAAQS).

Screenshot from SAFAR website
PM 2.5 are particulate matter smaller than 2.5 micrometers found in the air which upon inhalation can penetrate deep into the respiratory tract and lungs increasing the risks of cardiopulmonary diseases such as asthma, bronchitis and can even lead to a stroke. PM 10 are particulate matter smaller than 10 micrometers. Of the two, PM 2.5 for being easily respirable poses the most serious health impacts. Both together can be referred to as Respirable Suspended Particulate Matter (RSPM).
As the air quality improved over the weekend, RSPM levels also declined to below permissible levels. On Sunday (February 11), PM 2.5 level stood at 17.7 µg/m³ and PM 10 at 89 µg/m³, according to data from Central Pollution Control Board (CPCB) recorded at Bandra.
PM (2.5-10) levels between January 27 to February 11, 2018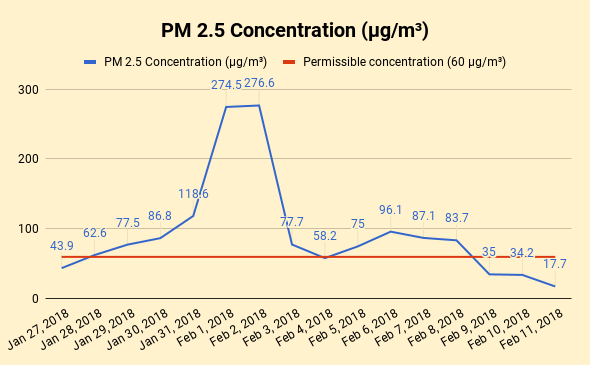 Source : CPCB. Recorded at Bandra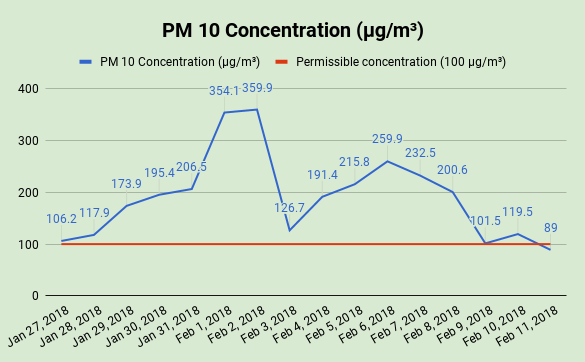 Source : CPCB. Recorded at Bandra
2018 vs 2017
The corresponding period in 2017 saw a lower level of pollution with PM 2.5 levels mostly in the permissible range of 60 µg/m³.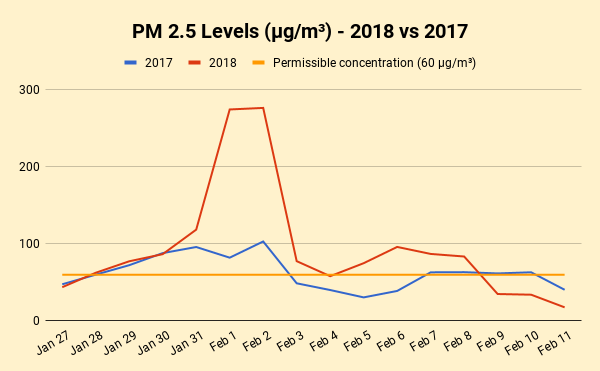 Source : CPCB. Recorded at Bandra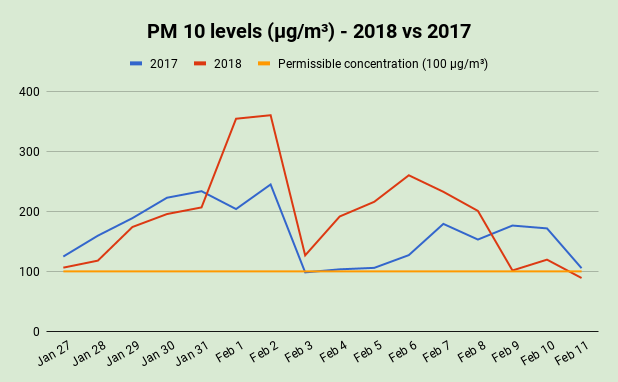 Source : CPCB. Recorded at Bandra
Why had the air quality deteriorated?
Calm or stagnant winds paired with increased moisture levels contributed to the worsening of Mumbai's air quality last week.
'Owing to the withdrawal of the western disturbance from northern India, moisture level in Mumbai's air has increased significantly. When humidity increases, the moisture carrying capacity in the air allows pollutants to be trapped close to the surface for longer period. Calm winds combined with this phenomenon haven't allowed pollutants to disperse, and deteriorated the air quality,' said Dr Gufran Beig, Project Director, SAFAR (System of Air Quality and Weather Forecasting And Research) as reported by Hindustan Times.
Vehicular and industrial emissions, construction activities and open burning are major sources of pollutants in cities.
Speaking to BOOM Beig said that, the air quality in Mumbai has improved drastically to good or satisfactory levels while it is expected to remain at moderate levels at this time of the year. This is because the wind has gained speed. This has dried up the moisture and dispersed the pollutants.
SAFAR had predicted that air quality will improve by the end of last week. For next four days, it has predicted satisfactory air quality levels for Mumbai.

Screenshot from SAFAR website