Morphed Image Of PM Modi's Arrival In Abu Dhabi Viral
BOOM found that in the original image Narendra Modi was not sporting an Arabic Emirati headgear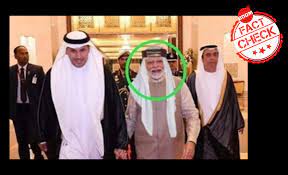 A photoshopped image of Prime Minister Narendra Modi wearing an Arabic Emirati headgear is doing the rounds on Facebook.
Modi was in the UAE last week to receive the country's highest civilian honour, Order of Zayed and discuss strategies ties between the two regions.
The image of the prime minister arriving at Abu Dhabi, and being greeted by Khaldoon Khalifa Al Mubarak, Abu Dhabi Executive Affairs Authority Chairman has been poorly photoshopped.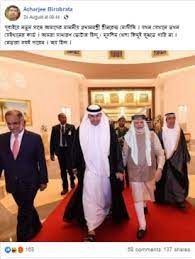 It has been captioned as, "Honourable Prime Minister Sri Narendra Modiji in a new look in Dubai. He subtly blends into cultures to suit himself. We, the common voters, can't understand the underlying motive of the Hindu/Muslim card. The leaders can do everything. Jai Hind!"
Original text in Bangla: দুবাইয়ে নতুন সাজে আমাদের মাননীয় প্রধানমন্ত্রী শ্রীনরেন্দ্র মোদীজি। যখন যেখানে তখন সেইখানের কার্ড। আমরা সাধারণ ভোটার হিন্দু/মুসলিম খেলা কিছুই বুঝতে পারি না। নেতারা সবই পারেন। জয় হিন্দ।)
The post can be viewed here and its archive here.
Netizens also took the opportunity to bring in a reference to West Bengal Chief Minister Mamata Banerjee.
Multiple posts have been captioned in "If Chief Minister can be called as 'Mumtaj Begam' then when Prime Minister wears headgear why can't he be called as 'Modi Mollah'?''
(The original caption in Bangla, "মুখ্যমন্ত্রী হেজাব পরলে যদি "মমতাজ বেগম" হয়!
তাহলে প্রধানমন্ত্রী মোদি মাথায় উড়নি পরলে "মোদী মোল্লা" বলা যাবেনা কেন??")
The post has been archived here.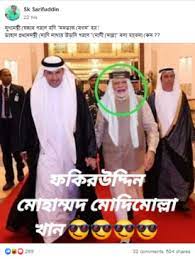 Journalist Swati Chaturvedi also tweeted the same image, however, later deleted the same.
Fact Check
BOOM ran a reverse image search and found that the image had been edited to include the Arabic Emirati headgear.
The original image was shared by Narendra Modi's official Twitter handle on August 23 when he reached Abu Dhabi, capital of UAE, as part of the Arabian tri-nation tour. Modi can be seen being welcomed by Emirati delegates and has no headgear.
The same image has been published by The Indian Express, news agency PTI has been credited.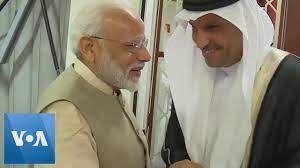 Sheikh Mohamed Bin Zayed, crown prince of Abu Dhabi and Deputy Supreme Commander of the Armed Forces honours PM Modi with the highest civilian honour. In a tweet, Modi said that the honour was a recognition of India's cultural ethos and people.
Claim Review :
PM Modi wearing Arabic headgear
Claimed By :
FACEBOOK POSTS