Modi's Visit To EU And Canada: A Push For Make In India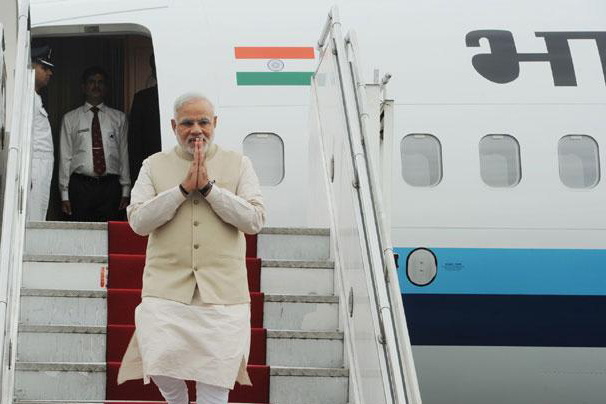 Defence deals in France, Make in India push for Germany and nuclear deals in Canada - Narendra Modi steps up India's foreign policy push.
This week, Prime Minister Narendra Modi will embark on his 14th international visit since he took office in May 2014. This time, Paris, Berlin and Ottawa are on the map. On the agenda will be boosting growth, improving trade and promoting Indian manufacturing.
The eight-day trip, starting April 9, will see Modi sign agreements covering a range of political and economic matters.
The first stop on his itinerary is France, where he aims to bring the Indo-French relationship out of the ennui that seems to have set in. He will travel to Paris, Toulouse, and Lille, where he will pay his respects at a memorial for Indian soldiers martyred during the World War I.
Modi's visit is significant because India and France have recently stepped up co-operation in defence technology. In an important step forward, the Indian Air Force is likely to get two Airbus 330 aircraft for its Airborne Warning and Control System (AWACS). The Defence Acquisitions Council (DAC) has given the go ahead for the Rs. 5113 crore deal in its meeting on April 5 and stated it is likely to be finalized during the visit.
The DAC also approved 'Project Maitry', under which India and France are to jointly develop Short Range Surface to Air Missiles for the Indian Navy. However, certain reports have indicated that negotiations on the 126 aircraft Rafale MMRCA deal and the 9.9 GW Jaitapur nuclear power plant are unlikely to see any headway.
The other agreements likely to be signed include co-operation in the space sector, improving tourism and anti-terror training between India's National Security Guard (NSG) and France's Groupe d'Intervention de la Gendarmerie Nationale (GIGN). A prominent feature will be the negotiation for a $500-million port infrastructure project in Gujarat to be developed by a joint venture between the Adani group and France's CMA CGM group.
Modi is expected to arrive in Germany on April 12. Germany is one of India's largest trading partners in Europe and there are over 1,000 German companies operating in India. During the course of his visit, Modi and Merkel are likely to discuss the progress of existing bilateral co-operation and also hold talks on prospective partnerships in green energy, low cost housing, the 'Clean Ganga Project' and infrastructure development.
India is the official partner country for this year's Hannover Messe, the world's largest industrial trade fair. The move is aimed at promoting the Make in India campaign. Modi will inaugurate the fair along with German Chancellor Angela Merkel, where representatives from 17 Indian states are expected to participate to secure investments for various projects.
From April 14-16, Modi will be in Canada, where he will meet the heads of banks and financial institutions in an effort to boost investments for India's infrastructure sector. He will be the first Indian PM to visit Canada on a bilateral tour since Indira Gandhi in 1973. He will speak to Indo-Canadians at Toronto's Ricoh Coliseum and attend a state dinner hosted by Prime Minister Stephen Harper in Vancouver. He will also visit the Air India memorial for victims of the Kanishka bombing.
Modi's visit, happening during an election year in Canada, is significant as MPs of Canadian Prime Minister Stephen Harper's Conservative Party showed open support for Modi's election bid last year.
A major expectation from this visit is the assessment of the future of Indo-Canadian co-operation in nuclear energy. India has been facing shortages of uranium for its growing fleet of nuclear reactors. Canada has large uranium reserves and was the world's largest uranium producer until 2009. Canada was also the first country to complete all the requirements for a civil nuclear deal after India received the Nuclear Suppliers Group waiver in 2008. According to reports, it is likely that New Delhi and Ottawa might also announce a joint research and development programme, primarily focusing on augmenting capacity of the Pressurised Heavy Water Reactors (PHWRs) in India to 750 MW. The current average output of Indian PHWRs is 220 MW. It is interesting to note here that Canada helped India set up its first nuclear reactor (CIRUS) as early as 1954.
These visits, coming as they do within the first year of Modi's five-year term, underlines the priority he has accorded to these bilateral relationships. By combining defence deals, the 'Make in India' initiative and nuclear energy security in one trip, his visits are symbolic of India's renewed multi-vector foreign policy. The outcome will go a long way in consolidating India's position as a key player in global geoeconomics and geopolitics.