Modi11 - A New BJP FB Page Makes Its Debut: FB Ad Report
BOOM lists down the top 20 Facebook pages to spend on political ads last week (25.03.2019 – 09.03.2019), based on Facebook's weekly ad archive report.
A new Facebook page called Modi11, spent over Rs. 2 lakh on ads in its first week of sponsoring content on the social media platform, as revealed by last week's ad report.
A recent Huffington Post report revealed that Modi11 is run by an organisation called The Association of Billion Minds (ABM) - which is described as Bharatiya Janata Party (BJP) president Amit Shah's 'personal election consulting unit'.
As Facebook published its fifth report on weekly expenditure on political ads on its platform, BOOM rounded up the top 20 pages to gain insights into social media expenditure on political ads in the run up to the general elections.
Along with Modi11, ABM also runs some of the most popular pro-BJP campaigns on social media such as Nation with NaMo, Bharat Ke Mann Ki Baat and the current top spender My First Vote for Modi.
It should be noted that Bharat Ke Mann Ki Baat, Nation With NaMo and My First Vote for Modi are the top 3 spenders on Facebook political ads since February 2019, with the total expenditure running up to Rs. 4.5 core.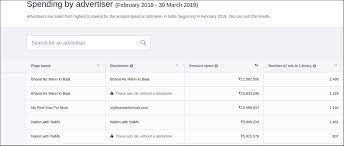 While 'My First Vote For Modi' remains the top spender last week, 'Bharat Ke Mann Ki Baat' has disappeared from the entire report, suggesting that the page has not spent a penny.
Similarly, Nation With NaMo has also reduced its expenditure, spending a meagre Rs. 15,000 last week, as opposed to its expenditure in the previous weeks running well into tens of lakhs of rupees.
Also Read: Facebook Political Ads: Pro-BJP Pages Still The Highest, Congress Makes An Entry
Considering that all these pages are maintained by ABM, as reported by Huffington Post, we can deduce that the different pro-BJP pages run by ABM are means to diversify its marketing efforts for the ruling party.
ABM is thus churning out new pages in an attempt to make the current prime minister's name and face ubiquitous on social media.
Given that all the four pro-BJP pages have provided BJP's Delhi headquarter as their address in the disclaimer details, it adds credence to the Huffington Post report's claim about these pages being directly affiliated to the ruling party.
The fifth report makes it very clear that the BJP cannot be beaten when it comes to social media marketing, as none has been able to come close to matching its colossal expenditure on Facebook.
Nonetheless, YS Jaganmohan Reddy's YSR Congress Party is putting up a fight, being backed by none other than Prashant Kishor, who played a crucial role in Modi's campaign that led to his victory in 2014.
Modi Web Series
Entertainment platform Eros Now was also shown to spent almost Rs. 3 lakh last week on Facebook for promoting a lesser known upcoming web series on Prime Minister Narendra Modi, poised to be released on April 5, 2019.
As the web series - called 'Modi - Journey of a Common Man' - deals with a political figure contesting for the upcoming elections, Facebook has flagged the posts by Eros Now as 'political'.