Mixed Beats: Woman Singing Hare Krishna Bhajan Is Not Mohammed Rafi's Daughter
BOOM reached out to Shahid Rafi, Mohammed Rafi's youngest son, who rubbished the claim
A video of singer Geetanjali Rai performing devotional songs at a satsang is being shared online with netizens incorrectly identifying the singer as one - Musthafa Parvez, veteran singer Mohammed Rafi's daughter.
The 4 minutes and 13 seconds long video features Rai performing 'Hari Narayan Hari Om'. In the video, Rai can be seen interacting with the audience and encouraging them to dance to the devotional hymn.
The video has been captioned as, "Mohd Rafi's daughter Musthafa Parvez who is Lord Krishna's devotee has a Splendid voice. Please watch this video."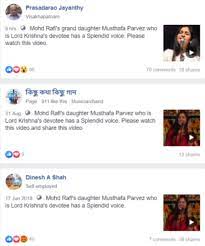 The same video, shared by a page Jai Shree Krishna two years ago with a similar narrative, has over five million views.
Not only Twitter and Facebook, multiple videos of the singer have been doing the rounds on YouTube, where she has been misidentified as Mohammed Rafi's daughter.
Fact Check
BOOM took one of the key frames from the video and ran a keyword search with Lord Krishna Bhajans. We were directed to the same video, that was uploaded to YouTube in 2015.
A recent video identified the devotional singer as 'Geetanjali Roy.'
We then looked up Geetanjali Rai and were directed to the devotional and bhajan singer by the same name.
Click here to view Rai's Facebook page. Rai is also a ghazal singer and conducts workshops on meditation and spiritual growth.
Mustafa Parvez is not Mohammed Rafi's daughter
BOOM contacted Shahid Rafi, Mohammed Rafi's youngest son, who rubbished the claim. "She has nothing to do with Mohammed Rafi's family. We are seven siblings - four boys and three daughters." He further added that none of Rafi's daughters are named Parvez Mustafa.
Furthermore, BOOM was unable to trace one Mustafa Parvez , who has been identified as Mohammed Rafi's daughter on social media. We came across two videos on YouTube, where Nasreen Ahmed and Yasmin Parvez have been identified as the singer's daughters.
Claim Review :
Mohammed Rafis daughter sings Lord Krishna bhajans
Claimed By :
FACEBOOK POSTS