Meena Kumari A Victim of Triple Talaq Is Fake News: A FactCheck
Tragedy: When respected publications fall for a spurious fake news post.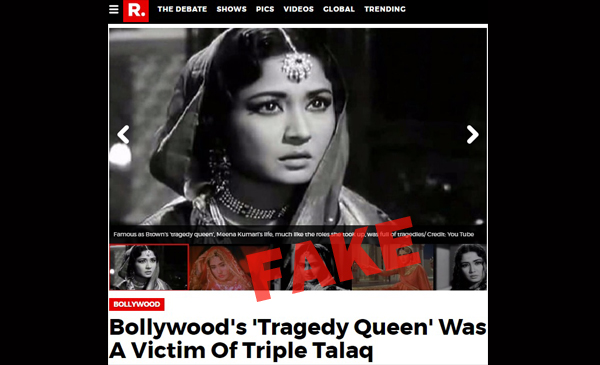 News articles about actress Meena Kumari being a victim of triple talaq are fake with the most damning piece of proof that her husband Kamal Amrohi belonged to the Shia Muslim community that does not practice instant triple talaq.
Several mainstream news publications including The Indian Express, DNA, Quint, India TV, WION and Republic among others reported a nearly identical fake account of Meena Kumari and Kamal Amrohi's tumultuous marriage coming to an abrupt end when Amrohi supposedly said 'talaq' thrice.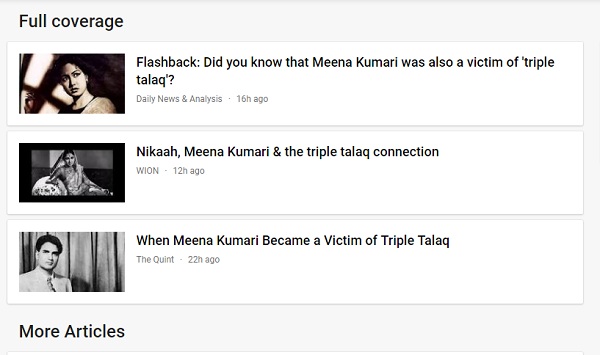 It is no coincidence that these stories were published on a day when India's Supreme Court barred the controversial practice of instant triple talaq (which is not the same as triple talaq) in a majority 3:2 judgment on Tuesday.
However, the Shia community to which Amrohi belongs to does not follow 'Talaq-e-Biddat' commonly referred to in the media as 'instant triple talaq'.
Also Read: SC Bars Instant Talaq Not Triple Talaq: All You Need To Know About Muslim Divorces
Even credible news outlets like the Indian Express published water cooler gossip from the seediest parts of the Internet as a factual story. The stories seemed to have originated from a spurious graphic shared on Facebook and Twitter.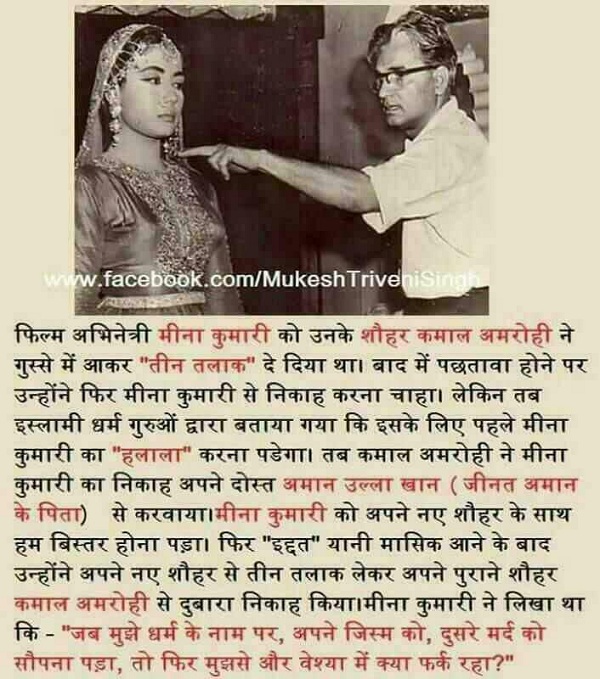 Express's story said Kamal Amrohi in a fit of rage said 'talaq' thrice to Meena Kumari, only to regret it later but not before the actress had to undergo the horrifically demeaning practice of Nikah Halala.
Halala is a practice of reconciliation where a divorced woman marries another man, consummates the marriage and gets a divorce by mutual consent from the second man. Only after which she can reunite with the first husband.
Meena Kumari was reported to have followed this by marrying actress Zeenat Aman's father Aman Ullah Khan before she could remarry Amrohi.
Quite a remarkable tidbit of Bollywood trivia expect that we were hearing it for the first time. BOOM searched online for old tabloid articles on the tragedian whose memory is immortalized in cult movies such as Pakeezah and movies like Baiju Bawra and Sahib Bibi Aur Ghulam.
While much has been written about Meena Kumari including a rumoured affair with actor Dharamendra, none of the stories mention the word 'talaq'. This includes Meena Kumari: The Classic Biography written by veteran journalist Vinod Mehta. (Source: Men who loved and left Meena Kumari)
But not everyone was fooled. Safvi a historian and author was one of the first to call the story fake on Twitter.
Nonsense. She did not do any such thing.

Besides Meena Kumari & Kamal Amrohi were Shias who don't have triple talaq or Halala https://t.co/09WT7Fhw0k

— Rana Safvi رعنا राना (@iamrana) August 18, 2017
BOOM spoke to Delhi-based playwright Danish Iqbal whose play 'Daastaan-e-Dard' on the life of Meena Kumari is currently in rehearsal stage. Iqbal who has researched the actress' life for his play rubbished the idea that she was a victim of triple talaq.
Iqbal toold BOOM that on the contrary it was Meena who eventually walked away from the relationship. He said that he had seen letters from Amrohi to Meena asking her to return. Iqbal also said there were anecdotes that Amrohi had asked an employee to keep tabs on her which caused a fallout between the couple.
MEENA KUMARI FACT FILE
Meena Kumari born Mahjabeen Bano was born to Sunni Muslim father Master Ali Bux and mother Iqbal Begum, whose original name was Prabhawati Devi, a Bengali Christian who converted to Islam. (August 1st, 1933)
In 1952, at the age of 19 Meena Kumari married 34-year-old writer director Kamal Amrohi. The marriage was her first and Amrohi's third (Bilkis Bano, Mehmoodie were his other wives) It is reported that Amrohi first met Meena when she was six years old and he was looking to cast a child artist for a film he was working on.
Meena Kumari died of cirrhosis of the liver precipitated by excessive drinking on March 31st, 1972. She was buried at Shia cemetery Rahematabad Qabristan, located at Narialwadi, Mazgaon in Mumbai.
When Kamal Amrohi died in 1983 he was buried next to Meena Kumari in Rehmatabad Qabristan.
This is corroborated by Tajdar Amrohi, son of Kamal Amrohi from his second wife Mehmoodie. (Source)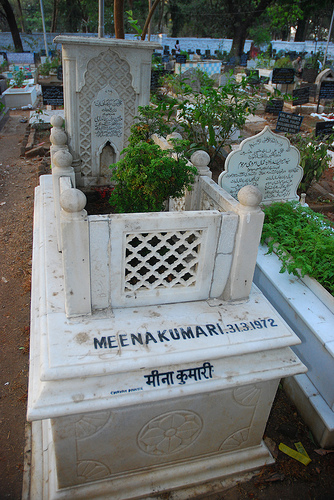 Tajdar who planned to make a movie on his step mother who he refers to as "Chotti Ammi" has been quoted several times in the past insisting that Meena Kumari and his father were never legally separated though he has spoken candidly about the breakdown of their marriage. (Source) BOOM was not able to reach Tajdar for a comment.
Resources:
https://timesofindia.indiatimes.com/entertainment/hindi/bollywood/news/Fight-over-Meena-Kumari/articleshow/40040539.cms
https://timesofindia.indiatimes.com/entertainment/hindi/bollywood/news/Meena-Kumari-Queen-of-broken-hearts/articleshow/21839971.cms
https://tanqeed.com/filmfare-article-on-memories-of-meena-kumari/