Man Assaulted By College Students In AP Falsely Projected As A Mob Lynching Incident
The video of a man being brutally beaten is from a fight between students at a college in Andhra Pradesh.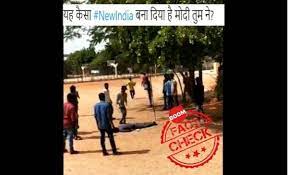 A disturbing video showing college students in Andhra Pradesh brutally assault a man on a playground is viral on social media with a false claim that the man was lynched to death by a mob.
Local police told BOOM that it was an internal fight between students and the victim is alive and recovering.
The 53-second video is being shared on Facebook and Twitter with captions insinuating the incident is that of a mob lynching.
NOTE: The below video contains graphic violence.
It is also viral on Facebook with the same caption.
पता नही वीडियो कहाँ की है और इतने लड़के इक्कठे होकर एक निहथे पर जानलेवा हमला कर रहे हैं
पता नही ये बच गया है या मर गया जिसकी वीडियो मुझ तक पहुँची है आपसे भी निवेदन इसे शेयर करे ताकि सच्चाई का पता चल सके सरकार और कानून से उमीद करते है ऐसे उपद्रवियों का पता लगाए#MobLynching#India pic.twitter.com/nB7NVGKNNh

— Sajid Qureshi (@nawabsm) July 21, 2019
FACT CHECK
BOOM broke the video into key frames and ran a reverse image search which led us to news stories from June 2019 stating that the incident is from Ananthapuramu, Andhra Pradesh.
According to a June 28, 2019 story reported by ETV Andhra Pradesh, the fight happened in Government Arts College in Ananthapuramu district of the state.
BOOM reached out to Ananthapuramu police who rubbished all claims of a mob lynching. G Veera Raghava Reddy, Sub Divisional Police Officer (SDPO), Anantpuramu told BOOM that a few college students beat up a youngster who was not a student at the college but would often visit.
"The victim was not a student of the Arts college but would regularly come to the college to meet a friend who was studying there. He also started liking a female student at the college and told her about his feelings. The girl informed her boyfriend about this, who then beat up the victim,"said Reddy.
He added that the victim fell unconscious at the college premises after he was kicked and beaten. "He was rushed to the hospital where he received treatment and is now said to be stable. We registered an FIR and the accused have been arrested and remanded to custody," he added.
Claim Review :
An unconscious man lynched by a mob
Claimed By :
Facebook posts