Man Accused Of Being A Child Kidnapper Is Mentally Unstable: Etawah Police
A viral video claims that public has caught a child kidnapper on the prowl. However, UP police told BOOM that the person shown in the viral clip was mentally unstable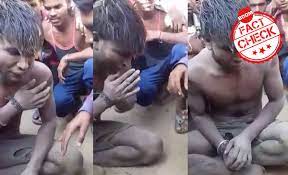 A disturbing video showing a group of men question a young man on suspicion of being a child kidnapper, has been shared on social media with a misleading narrative.
A message with the video reads 'Gangs of child abductors are on the move throughout the country. It's important that they be dealt with iron hands. Noida/Bulandshahar - Videos of crime viral on social media has created a stir in the society. We too have found similar videos whose time and place are yet to be verified, but parents are worried about the safety of their kids.'
The message then goes on talking about the faulty and defunct CCTV cameras dotting the streets and lanes of Noida and Bulandshahar.

You can watch the viral video here and its archived version can be accessed here.
The video, nearly 3 minutes long, shows a group of men questioning a visibly injured person sitting bare-chested. They ask him about his whereabouts, and later in the video the injured man can be heard admitting that he had come to Kanpur to abduct children.
Fact Check
BOOM watched the video closely and found the name of Kanpur mentioned more than once in the course of questioning. We then searched with keywords 'child kidnapper caught in Kanpur' in Hindi. We found the same video uploaded on YouTube claiming that the incident was from Etawah, Uttar Pradesh. BOOM also found a news report published in Hindi daily Dainik Bhaskar which reported that the incident was from Etawah in UP.
Some readers can find the video disturbing hence viewer discretion is advised.
The news article reports that an unidentified man had tried to abduct a 14-year-old boy from a farmland on August 11. However, the victim's brother called for help and the villagers managed to catch the alleged kidnapper and thrashed him brutally.
BOOM then called the office of superintendent of police, Etawah. The PR at the SP office told BOOM that the incident had nothing to do with child kidnapping.
"The accused person is mentally unstable. He has been jailed for now and we are investigating the incident. But this is not a case of child abduction" -- PRO, SP Office, Etawah
BOOM also called the additional SP (City), Etawah, who reiterated the PRO's claim of the accused being mentally unstable.
The man is mentally unsound and when the public started beating him, out of fear he accepted the crime. He is not a child kidnapper. We don't want rumor-mongers to unnecessarily play up the issue like the earlier incidents of braid-cutting and muhnochwa -- Additional SP, Etawah
The Additional SP also told BOOM that as a precautionary measure, the man has been jailed for now.
Claim Review :
Public catches a child kidnapper
Claimed By :
Facebook pages