Lilavati Hospital Denies Rumours Surrounding Manohar Parrikar's Health; Says Goa CM Responding To Treatment
Lilavati Hospital denies rumours about Goa Chief Minister Manohar Parrikar's health. The hospital says he is responding to treatment.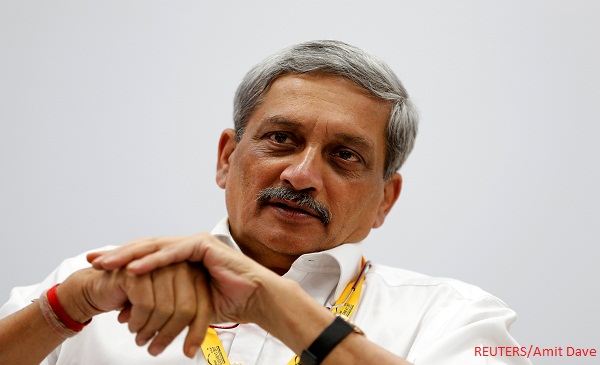 Mumbai's Lilavati Hospital issued a statement on Sunday denying rumours regarding the health of Goa's Chief Minister Manohar Parrikar. The hospital said Parrikar was responding well to treatment.
Mumbai's Lilavati Hospital and Research Centre issues statement rejecting rumours on Goa CM Manohar Parrikar's health. pic.twitter.com/QJCpFUkhI9

— ANI (@ANI) February 18, 2018
"It has been brought to our notice, various malicious and misleading report/rumours are floating around in Electronic/Print media with regards to the health of Hon. Chief Minister of Goa. We categorically deny all such rumours. We reiterate that he is being treated and is responding well to the treatment," the statement read.
However, the hospital's statement did not specify what the chief minister and former defence minister was being treated for. Parrikar was admitted to Lilavati on Thursday and according to news reports he was said to be undergoing treatment for mild pancreatitis under the care of oncologist Dr. P Jagannath. The Goa chief minister's office was not immediately reachable for a comment.
Earlier in the day, several source-based articles said Parrikar was suffering from fourth stage pancreatic cancer and his condition was said to be critical. This was denied by a few members of the Bharatiya Janata Party.
There are some news being spread by certain media about the health of shri @manoharparrikar ji. I spoke to one of their OSDs just now- he says all news reg 'cancer' is fake and untrue. Thanks. Thanks . Prayers to Lord Mangesh - Shiva. Pl Why some journos spread such canards ?

— Tarun Vijay (@Tarunvijay) February 18, 2018
Prime Minister Narendra Modi who was in the city on Sunday to lay the foundation stone of the new Navi Mumbai international airport, was reported to have paid a visit to Parrikar at Lilavati Hospital.
Prime Minister Narendra Modi arrives at #Mumbai's Lilavati Hospital and Research Centre to meet Goa Chief Minister Manohar Parrikar pic.twitter.com/j35xbHoUvC

— ANI (@ANI) February 18, 2018