Explainers
Kerala Floods Not A 'National Disaster', But A 'Severe' Calamity: A FactFile
The declaration of a calamity as 'severe' enables MPs to contribute upto Rs 1 crore from the fund available to them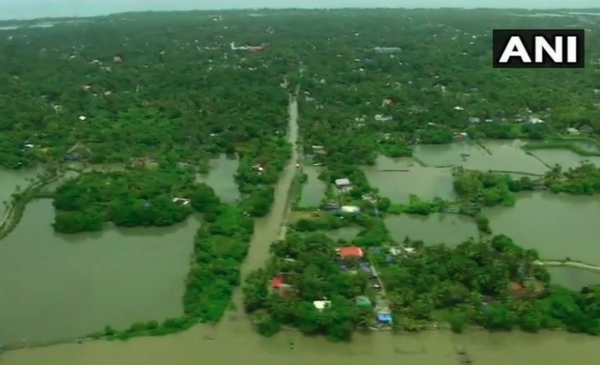 Amidst demands to declare the Kerala floods a 'national disaster', the centre declared it a 'calamity of severe nature' on Monday. An office memorandum from the Rajya Sabha Secretariat said, "Keeping in view of the intensity and magnitude of the floods/landslides of 2018 in Kerala, this is a calamity of a 'severe nature' for all practical purposes". The centre has declared a total of Rs 600 crore for the state as immediate relief while the state had asked for a package of Rs 2000 crores stating a loss of around 19,500 crores.
What do these classifications mean for the relief and rehabilitation efforts in the state? BOOM discusses the significance of these classifications and its implications.
What is a national disaster?
National disaster is not a legal concept and therefore by declaring so, the state does not benefit in any form.
The Disaster Management Act 2005 has no mention of 'national disaster'. However, it defines a "disaster" as "a catastrophe, mishap, calamity or grave occurrence in any area, arising from natural or man-made causes, or by accident or negligence which results in substantial loss of life or human suffering or damage to, and destruction of, property, or damage to, or degradation of, environment, and is of such a nature or magnitude as to be beyond the coping capacity of the community of the affected area."
The government responding to a petition to declare the Kerala floods a 'national disaster' said, "It is submitted that there is no provision in statutes or manuals to declare a disaster as 'national calamity', howsoever big it may be. It is only an expression used in general parlance."
On July 31,2018, responding to a question if Assam floods will be declared as national calamity, Kiren Rijiju, Minister of State - Home Affairs clarified in the parliament that there is no provision to declare a disaster as a 'national calamity'.
"With regard to declaring a calamity including floods & erosion as a national calamity, it is informed that the existing guidelines of State Disaster Response Fund SDRF)/ National Disaster Response Fund (NDRF), do not contemplate declaring a disaster as a 'National Calamity," said Karen Rijiju in parliament.
Speaking to BOOM, Dr C V Ananda Bose, Advisor to Government of Meghalaya and former Central Drought Relief Commissioner said "It is a matter of semantics over substance". Thus, such demands can call attention to the disaster, it does not have any legal standing or practical implications.
In the absence of any legal standing, it is unclear why politicians are demanding 'national disaster/calamity' status. Leaders including Congress President Rahul Gandhi had demanded the same.
Dear PM,

Please declare #Kerala floods a National Disaster without any delay. The lives, livelihood and future of millions of our people is at stake.

— Rahul Gandhi (@RahulGandhi) August 18, 2018
What is a calamity of 'severe' nature?
On Monday the government declared the deluge a 'severe' one or 'level 3' disaster. A Level 3 disaster is one in which a state may not have the capacity for response and rehabilitation; and requires central assistance, according to National Disaster Management Guidelines, July 2007. And, it is the most serious classification of a disaster that could be given as per norms and guidelines of Disaster Management.
How does the state benefit from declaring a disaster a 'severe' one?
The declaration of the floods as severe is not just nomenclature but also calls for more attention and financial assistance to the state. As the Rajya Sabha memorandum says, the classification shall apply for all 'practical purposes'.
First and foremost, it brings financial and logistic support from the centre including assistance of Central Ministries/ Departments and agencies like the NDRF, Armed Forces, CAPF, and Specialized Ministries/ Agencies.
The declaration of a calamity as 'severe' also enables MPs to contribute upto Rs 1 crore from the fund available to them. The Guidelines of Members of Parliament Local Area Development Scheme (MPLADS) paragraph 2 says, "In the event of 'Calamity of severe nature' in any part of the country, an MP can recommend works up to a maximum of Rs.1 cr for the affected district."
On Tuesday, Vice President Venkaiah Naidu and Lok Sabha Speaker Sumitra Mahajan urged the MPs to generously contribute from their MPLADS funds for relief and rehabilitation works in Kerala. However, the contribution depends on the discretion and volition of the MP's.
"The declaration sensitizes people of the gravity of the issue," said Ananda Bose.
Who is responsible for disaster management?
The state is primarily responsible for disaster management. However, when a calamity is declared 'severe' and the SDRF balance is not sufficient to meet the relief expenditure, the NDRF and the centre have more role to play.
Each state has at its disposal the State Disaster Relief Fund which is decided by the Finance commission (as of now 14th FC) for five years (2015-20). The Central Government contributes 75% for General Category States and 90% for Special Category States each year which is given to the states in two installments.
It has to be noted that, financial assistance under SDRF/ NDRF is by way of relief and not for compensation of loss as suffered/ claimed.
In 2018-19, Kerala SDRF was allocated Rs 214 crore and the state had a corpus of Rs 562.45 crore including balance from previous years, as per a PIB release on August 13, 2018.
When a disaster is declared 'severe', funds are released from the NDRF upon request from the state government through an established procedure. The state has to submit a memorandum to the centre which will be assessed by an Inter Ministerial Centre Team (IMCT) who will also conduct a spot assessment. The IMCT submits a report to the National Executive Committee (NEC) to assess the extent of assistance and funds available in NDRF. The final decision of the relief package is made by a High Level Committee comprising the Home Minister, Finance Minister, Agricultural Minster and NITI Aayog.
What does the Rs 600 crore to Kerala mean?
Home Minister Rajnath Singh announced Rs 100 crore from the NDRF on August 12, 2018 when the first flash floods hit Kerala. The state government submitted a memorandum with a demand of Rs 831 crore as immediate assistance based on preliminary assessments.
The devastating floods post August 14 saw a loss of around Rs 19,512 crore as stated by the state government who submitted a request for Rs 2000 crore as immediate relief. On PM Modi's visit to the state on August 18, 2018, he announced a relief package of Rs 500 crore from the NDRF.
The total Rs 600 crore relief package announced by the centre is immediate disaster relief package to the state.
The state government has again sought a special package of Rs 2,600 crore package for relief measures on Tuesday.
Do you always want to share the authentic news with your friends?
Subscribed Successfully...
Enter Valid Email Id