Kanwariya Yatra 2018: Devotees Vandalise, UP Top Cop Showers Flowers
This time the pilgrimage has attracted much criticism for turning violent and creating law and order issues in Delhi and Uttar Pradesh.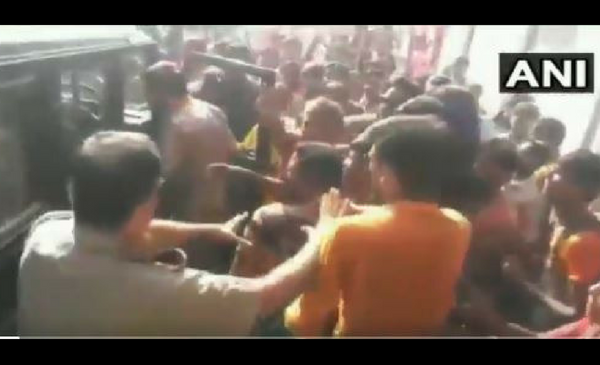 The Kanwariya Yatra this year has created an outrage as the pilgrimage has turned violent with pilgrims attacking civilians, vandalizing vehicles and obstructing traffic.
It is an annual pilgrimage in which devotees referred to as Kanwariyas collect water from Ganga (GangaJal) and walk barefoot to Shiva temples to offer it as worship. Millions of saffron clad devotees are seen carrying the holy water in pitchers by balancing them on shoulder using a sling known as Kanwars.
This time the pilgrimage has attracted much criticism for turning violent and creating law and order issues in Delhi and Uttar Pradesh.
Look at this disgusting bullying in the name of religion. Emboldened, a group of #Kanwariyas in Moti Nagar West Delhi unleash themselves on a car after a minor altercation. Appalled at the sheer brazenness. These goons DEFINE all that is anti-Hindu and anti-national pic.twitter.com/EtZjqZy8KA

— Arunoday Mukharji (@ArunodayM) August 8, 2018
The Kanwarias have taken over Gurgaon. On NH8 they're drunk, stripping down, waving sticks at passing cars, whistling at solo women drivers. Making a mess of the roads. Skeletal @gurgaonpolice who aren't able to do much. pic.twitter.com/AXQgaXpDGr

— Prasanto K Roy (@prasanto) August 8, 2018
On August 7, the pilgrims were reported to have vandalized a car in Moti Nagar, Delhi after the car brushed past one of the Kanwariyas. Though the couple who were in the car managed to escape, the car was turned upside down and damaged using sticks. A video of the incident is being widely shared in which the pilgrims are seen damaging the car while the police are unable to contain the situation.
#WATCH: A group of 'kanwariyas' vandalise a car in Delhi's Moti Nagar after it brushed past them while driving. The people in the car got off safely. No injuries were reported. Police says no formal complaint has been filed by the victims (07.08.2018) pic.twitter.com/rKc6VJMZnh

— ANI (@ANI) August 8, 2018
In another incident on the same day, pilgrims were reported to have vandalized a police vehicle in Bulandshahr, Uttar Pradesh. It started off as an issue between two people out of personal enmity, reported Indian Express. One of them called a Kanwariya friend for assistance after which a group of around 50-60 attacked the police's vehicle when they reached the spot.
#WATCH: Kanwariyas vandalize police vehicle after an altercation with locals in Bulandshahr on 7th August, police have registered a case. pic.twitter.com/UaIcNU55RV

— ANI UP (@ANINewsUP) August 9, 2018
Yet another incident was reported on August 9 in Muzzafarnagar. However, it was an altercation between two Kanwariya groups, according to News18.
#BREAKING | An altercation happened between two groups of kanwarias, leading to incident. Some have been arrested and situation is under control: Praveen Kumar, Uttar Pradesh Police | #KanwariaMenace pic.twitter.com/cVOyH0G49y

— News18 (@CNNnews18) August 9, 2018
The UP police have come under criticism after a video came out of ADG Prashant Kumar showering rose petals from a helicopter.
#WATCH Additional Director General of Uttar Pradesh Police (Meerut Zone) Prashant Kumar showered rose petals on Kanwariyas from a helicopter yesterday pic.twitter.com/SvHH64DGxr

— ANI UP (@ANINewsUP) August 9, 2018
Kumar later said that the act should not be given a religious angle, as reported by ANI.
No religious angle should be given to this, flowers are used to welcome people. Administration respects all religions and actively takes part, even in Gurupurab,Eid, Bakrid or Jain festivals: Prashant Kumar,ADG(Meerut Zone) on showering rose petals on Kanwariyas from a helicopter pic.twitter.com/BZKg0ri8Oz

— ANI UP (@ANINewsUP) August 9, 2018
Last month UP Chief Minister Yogi Adityanath was also reported to have taken an aerial survey. The pilgrims also raised the slogan, 'DJ bajwa diye Yogi ne, Bhole nachwa diye Yogi ne (Yogi switched on DJ, Yogi made the devotees dance)".
It was also followed by political slogans against the state's previous Chief Minister Akhilesh Yadav. "Akhilesh ne hukum sunaya tha, DJ per ban lagaya tha, 2017 ke chunav me Bhole ne usey haraya tha. Chakke chuda diye Yogi ne. (Akhilesh had announced their order, DJs were banned; And in 2017 Lord Shiva ensured his defeat; Yogi has cut him to size)."
The Yogi Adityanath government and UP police were criticized for going out of the way for the Kanwariyas. The government spent Rs 14 lakh for the helicopter to conduct the aerial survey, reported Economic Times.
Yogi government doesn't have enough money to ensure sufficient oxygen tanks at BRD hospital in Gorakhpur. But UP Govt has money for helicopter rides to shower rose petals on #Kanwariyas Reflects our priorities , great utilisation of our taxes. 🙏🏼 pic.twitter.com/XGvnrWCPFs

— Rohit Choudhary (@RepublicJammu) August 9, 2018
कांवड़ यात्रा में शामिल हो कर, गुंडागर्दी करने वाले कुछ लोग, क्या हर शिव-भक्त को बदनाम नहीं कर रहे?
पुलिस फ़ेल है क्योंकि सरकार का हाथ कांवड़ियों के साथ है?
या कुछ कांवड़ियों की आड़ में पूरे हिंदू धर्म को बदनाम करने की साज़िश है?
दंगल, 5PM, @aajtak पर. pic.twitter.com/R667PVfulq

— Rohit Sardana (@sardanarohit) August 9, 2018
Hundreds of children died due to lack of oxygen in Gorakhpur hospital, many doctors were Jailed. Reason no-money to buy Gas Cylinders.!

Here;

UP govt has spent 14 Lakh to hire chopper & shower rose petals on #Kanwariyas ..!

— Salman Nizami (@SalmanNizami_) August 9, 2018
On the other hand, there were also reports of police having distributed 'red cards' to 250 residents of Khelum village in Bareilly district of Uttar Pradesh warning them against creating trouble for the Kanwar Yatra. The card said, "We have secret information that during the Kanwar yatra you might create trouble…with this red card we are informing you that if you create any trouble during the Kanwar yatra, action will be taken against you. You will be held accountable."