Kamal Nath Targets BJP With Photo Of Dilapidated Road Not From India
No, this photo of a dilapidated road is not from Madhya Pradesh.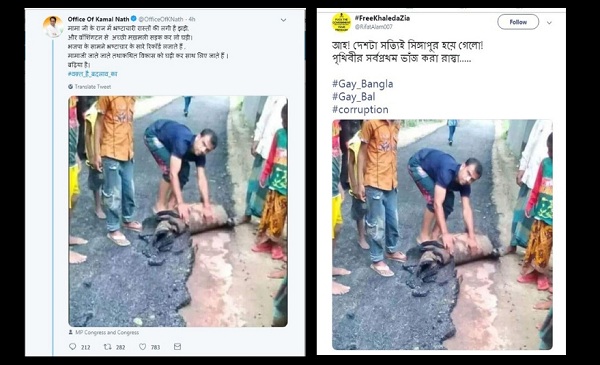 The official Twitter handle of former union minister and senior Madhya Pradesh Congress leader Kamal Nath tweeted a photo of a poorly constructed tar road, that is seen being rolled up like a carpet, blaming it on corruption within the Bharatiya Janata Party (BJP) government in the state. The photo, however, is not from India.
In the tweet, Nath who is the president of the Madhya Pradesh Congress, took a dig at the Chief Minister, Shivraj Singh Chouhan, who had made a statement in 2017 claiming that roads in his home state were in better state than those he had seen in Washington DC, USA, during a visit there.
मामा जी के राज में भ्रष्टाचारी रास्तों की लगी है झड़ी,

और वाॅशिंगटन से अच्छी मख़मली सड़क कर लो घड़ी।

भजपा के सामने भ्रष्टाचार के सारे रिकॉर्ड लजाते हैं ,

मामाजी जाते जाते तथाकथित विकास को घड़ी कर साथ लिए जाते हैं ।

बढ़िया है।#वक़्त_है_बदलाव_का pic.twitter.com/Qojc3igCyQ

— Office Of Kamal Nath (@OfficeOfKNath) October 15, 2018
Click here to view an archived version of the tweet.
This is not the first time this photo has gone viral in India to criticize a government for poor performance. In 2016, the same image was shared online as Bihar. (Viral Sach: This folding road is not of Bihar)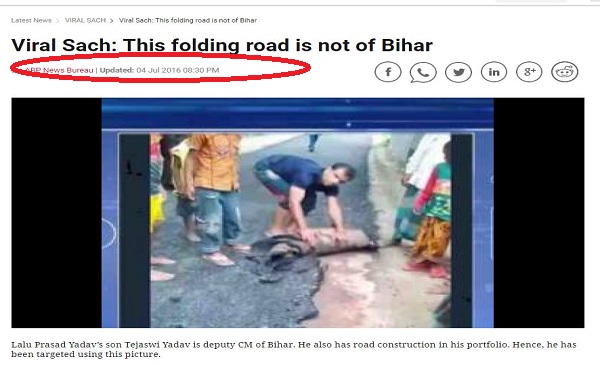 Former deputy chief minister of Bihar, Tejashwi Yadav had tweeted about it at the time.
An image of Bangladesh is used to malign Bihar. @madhukishwar Ji atleast expect U to share authenticate information https://t.co/tDccgnfriJ

— Tejashwi Yadav (@yadavtejashwi) July 3, 2016
The same image has also been shared as that from Indonesia and Nepal.
While BOOM was not able to find a credible news source to pin point where exactly the photo was taken the earliest instance of it online dates back to June 24, 2016 where it has been used in the context of Bangladesh. (see below tweet, archived version)
আহ! দেশটা সত্যিই সিঙ্গাপুর হয়ে গেলো!

পৃথিবীর সর্বপ্রথম ভাঁজ করা রাস্তা.....#Gay_Bangla#Gay_Bal#corruption pic.twitter.com/iUiXZuatw7

— #FreeKhaledaZia (@RifatAlam007) June 24, 2016
Claim Review :
Dilapidated Road From Madhya Pradesh