JD(U) MLA's Pole Dance Video Being Shared As MP School Education Minister
The man dancing in the video from 2015 is not Kunwar Vijay Shah but a JD(U) MLA from Bihar, Abhay Kushwaha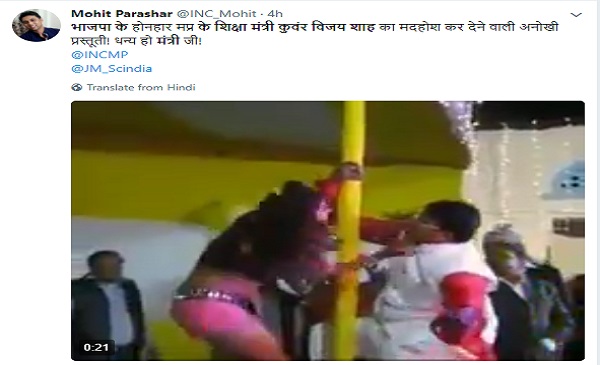 An old video from 2015 went viral on Twitter targeting Madhya Pradesh education minister Kunwar Vijay Shah. The video tweeted by Madhya Pradesh's Congress handle @INCMP and several others claimed that the man dancing in the video is the state's education minister. The tweet also commented on the quality of education in the state if the minister himself is found to be participating in a pole dance.
But the man dancing in the video is not Kunwar Vijay Shah but a JD(U) MLA from Bihar, Abhay Kushwaha. The incident took place in early 2015 when Kushwaha was found to be pole dancing with a woman even as the crowds cheered him. Kushwaha was also found showering currency notes on the dancer. The 44-year old JD(U) leader was so engrossed in his dance moves that he even met with a fall and had to be helped to his feet by his supporters.
The video finally went viral in the month of September 2015 just before the state assembly elections that year. The opposition targeted JD(U) leader and chief minister Nitish Kumar for his party leader's shameful behaviour at a public function.
Infact the story went so viral in 2015 that it is linked to Kushwaha's name as seen from a simple Google search using his name.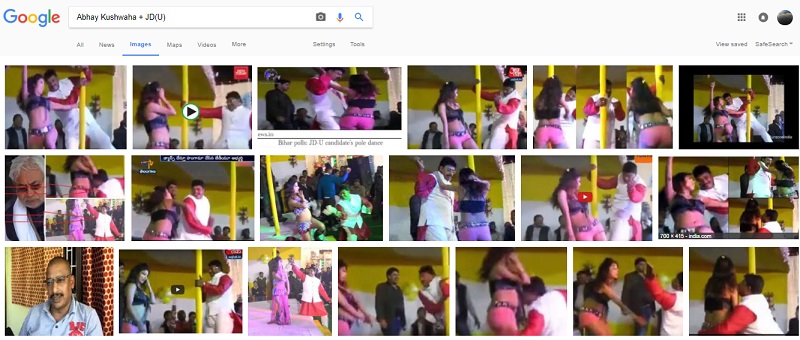 The Congress handle deleted its tweet but not before a Twitter user Ankur Singh took a screenshot and called them out for misleading its followers.
After I pointed out, @INCMP quickly deleted the tweet. Here's link of the deleted tweet https://t.co/pRhOvHxbwk https://t.co/ixdKRwwjPU

— Ankur Singh (@iAnkurSingh) October 11, 2017
There were others as well who shared the video targeting the MP minister. This includes followers of both the Congress and the AAP.

But for Abhay Kushwaha who showed off his dance moves in Bihar, the video was not enough to deter voters as he still ended winning the election from Tikari in 2015.