India's Fact-Checkers Are Drowning In Violent Imagery As Lynchings Take Centre Stage Again
A parallel narrative on social media where videos documenting blood curdling savagery are being shared as evidence of Muslims perpetrating acts of violence against Hindus or vice versa.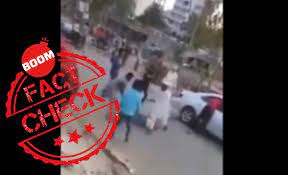 The lynching of a Muslim youth in June by a mob in the eastern state of Jharkhand has set in motion an avalanche of disturbingly violent videos for Indian fact-checkers to wade through as social media users hijack the incident to push communal and political narratives.
24-year old Tabrez Ansari was tied to an electric pole and beaten for hours on suspicion of theft by villagers in Jharkhand on June 18, 2019. The mob also forced him to chant religious slogans of 'Jai Shri Ram' and 'Jai Hanuman'. Ansari died four days later in police custody on June 22.
Videos of the assault have gone viral ever since with many seeing it as further evidence of increasing attacks on Muslims, women and those belonging to backward castes, under Prime Minister Narendra Modi-led Bharatiya Janata Party (BJP) government.
In the same month there have been news reports of at least two other incidents of Muslims being assaulted and forced to chant 'Jai Shri Ram'. Read more about it here and here.
These incidents have set in motion a parallel narrative on WhatsApp, Facebook and Twitter where videos documenting blood curdling savagery have been shared in the past several weeks as evidence of Muslims perpetrating acts of violence against Hindus or vice versa.
Many of the clips show mob violence and almost all have been shared with provocative captions that look to strike Hindu-Muslim fault lines.
"Young guys are more circumspect but the middle aged ones are those who share such videos. "
Dr. Harish Shetty, a psychiatrist at Mumbai's Dr. LH Hiranandani Hospital tells us.

He says watching graphic imagery causes anxiety apart from other symptoms.
"People (who) already unwell...they complain of intrusive memories after they have seen such videos."
A desire to "break" news before mainstream outlets report it is a powerful motivator for some according to Dr. Shetty.
"A lot of them are very excited about the surprise element of a new video. They also feel that they are breaking some hot news like what TRP-hungry channels do."
Often gory videos from Latin America are passed of as India.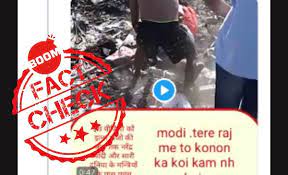 A gruesome video showing a teenager hacked to death in Brazil was passed off as a man being lynched in India. Read more here.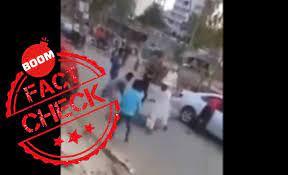 Similarly a video from Bangladesh showing assailants crush a man with a large stone was falsely shared as Muslims lynching a Hindu man. (Read more about it here)
Not just Hindus and Muslims, disinformation about attacks on Dalits and women is also on the rise, undercutting an appropriate reaction to actual crimes committed against marginalised groups. (Read more about it here)
It also further erodes trust in the media.

An image of an injured ice cream seller from Uttar Pradesh's Unnao district was shared online with a false claim that a Hindu man was mistaken to be a Muslim and beaten up for not chanting 'Jai Shri Ram'. But a fact-check showed that the man was injured during an altercation with local goons and that there was no communal angle to it.
BOOM reached out to the victim's son who rubbished any communal angle to the incident.
https://t.co/Pu8azEFfpH

— BOOM FactCheck (@boomlive_in) July 4, 2019
Eoghan Sweeney, an Open Source Intelligence (OSINT) and verification trainer based in Berlin, says an 'endless barrage of violence' can not only harm journalists but they also desensitise social media users.
"Not so long ago, it was only rarely that people would come into contact with such scenes. Now they're becoming commonplace. I think it's fair to assume there will be a desensitising effect." - Eoghan Sweeney

Sweeney, who created OSINT Essentials to teach verification tools to journalists and online investigators, says recycled videos also can trigger a visceral reaction from a large group of people quickly.
"Incidents that happened over a long period of time, with space in between, are now being witnessed much closer together, being thrust into people's line of sight in quick succession. The effect is to increase the danger of building up emotional responses to a critical mass."