Indian Railways Clarifies As Screenshots Of Candidates Scoring More Than 100 Marks Go Viral
The Rail Ministry in its tweet said that, "It is not uncommon that on normalization, marks secured by the candidate would go more than total marks of the exam paper."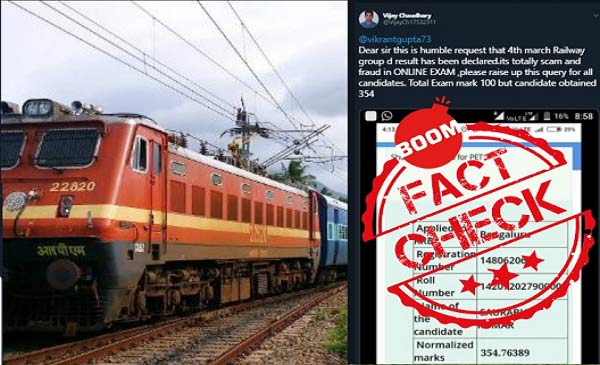 The Indian Railways took to Twitter on Thursday to clarify that candidates scoring over 100 marks in a railway exam was the result of 'normalisation' of marks and did not mean a scam had taken place.
After Indian Railways declared the results for the Railway Recruitment Board (RRB) – Group D exam on March 4, 2019, several social media users posted screenshots of candidates scorecard's scoring more than 100 marks
and alleged that a scam had taken place.
Click here to view tweet, and here for an archive.
Subsequently, the Ministry of Railways said on Twitter that the above screenshoot was morphed. The handle also posted a screenshot which showed 'normalized marks' of 92.50142.
Railways clarifies on candidates scoring more than 100 normalised marks
The Rail Ministry in its tweet said that, "It is not uncommon that on normalization, marks secured by the candidate would go more than total marks of the exam paper."
"The maximum normalised marks of any candidate in Level-1 (CEN-02-2018) Computer Based Test (CBT) is 126.13. Any other marks higher than this, is pure concoction," it further read.
What are normalised marks?
"As students give different question sets which might be easy or hard, in order to make sure no student has an advantage or disadvantage depending on the paper, normalisation formula given by Indian Institute of Technology is used to make it fair," said an official from RRB on condition of anonymity.
Other viral scorecards
BOOM found several other scorecards doing the rounds on social media and tried to cross-check them.
Click here to view post, and here for an archive.
BOOM cross-checked the above mentioned six roll numbers by checking the official RRB websites of the cities mentioned.
Barring one registered number from Ahmedabad, the rest of them were genuine, but we could not ascertain the marks as one requires the date of birth of the candidate to check their normalised marks.
We are glad to bring you this fact check. If you are happy with our mission to keep the internet safe of disinformation, do support us by clicking on the link