Why The Indian Media Should Care About The Rohingya Crisis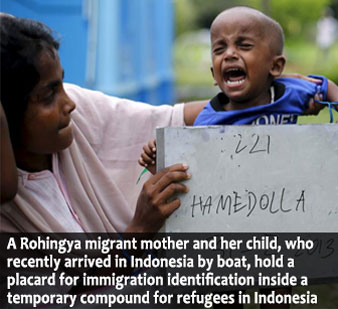 Migrants believed to be Rohingya rest inside a shelter after being rescued from boats at Lhoksukon in Indonesia's Aceh Province. (Source: REUTERS/Roni Bintang)
Apart from the odd story, the Indian media's idea of international reporting has been reduced to following Narendra Modi on his international travels. The Indian media completely ignored the Rohingya crisis in Myanmar.
That the Indian media, on occasions, became more cheerleaders than neutral observers during the Prime Minister's trip to China is hardly surprising. That it saw no newsworthiness in a major humanitarian crisis in another neighbouring country that shares a 1,624-kilometre long border with four Indian states, however, betrays all logic.
As Indian news channels bombarded us with visuals of insipid cultural events and photo-ops, most foreign news outlets — based out of locations much farther than Delhi — presented ground reports on the Rohingya crisis in Myanmar.
The long-standing Rohingya crisis escalated last week when around 1,600 Rohingya Muslims, who had fled Myanmar in a bid to escape persecution, were rescued off the coast of Indonesia on Sunday. According to reports, as many as 8,000 could still be stuck off the coasts of Thailand, Indonesia and Malaysia, with limited water and food. The United Nations has issued a warning stating that the situation could soon lead to a "massive humanitarian crisis" as no government in the region was willing to take responsibility.
International media organisations have since doggedly pursued the story. Al Jazeera carried ground reports from Myanmar and Indonesia, while BBC reported from the southern coast of Thailand. The Guardian also reported from the camps in Indonesia and The New York Times carried ground reports from the Andaman Sea. CNN, too, covered the story in great detail.
The Indian media, though, almost completely ignored the story, instead choosing to report on the minutiae of Modi's foreign trip.
This is not to say that an international diplomatic visit to China by the Prime Minister didn't warrant thorough coverage. But surely there was enough room to slip in some coverage of the Rohingya crisis too? Well, clearly not because the story was almost completely ignored by the Indian television media.
What could possibly be the reason for such apathy, though? Lack of resources cannot be an argument considering Myanmar's physical proximity to India. If reporters (more than one in many cases) could be sent to China to cover the Prime Minister's visit in such detail, then surely a reporter could have also been dispatched to Myanmar or Indonesia too?
Is it then that the story doesn't affect (mainstream) India in a tangible way? The four Indian states that share their borders with Myanmar are Arunachal Pradesh, Nagaland, Mizoram and Manipur – and the amount of coverage issues in these place get is well known.
It seems highly unlikely that the story would have been so under-emphasised had it played out in the northern/western border of the country and involved a different country and another minority community, namely Pakistan and Hindus. Cases of Hindus being targeted and temples being attacked in Pakistan have always been highlighted in the Indian mainstream press.
Besides, there seems to be a sea of difference in the way stories of human rights violation in other neighbouring countries are treated compared to Pakistan (and to a certain extent Sri Lanka). Attacks against Shia Muslims in Pakistan have been consistently reported – and commendably so – by the Indian media. The silence hence is rather strange as this is an equally dire humanitarian crisis in another country next door.
Reporting on issues in neighbouring countries is vital because it helps put things in perspective and analyse possible impact on India. There have been reports about terror organisations trying to exploit the Rohingya crisis – the implications of which could directly affect northeast India's internal security. Also, it is imprudent to ignore developments in Myanmar owing to many northeastern insurgent groups operating out of the country. Simply put, just as it is crucial to report – and dissect – internal affairs of Pakistan because it has the potential to affect a certain part of India, it is imperative that developments in Myanmar are also tracked because they could influence another part of the country.
Besides, in the wake of the support that the Indian government extended to Nepal in the aftermath of the earthquake, the indifference in this case comes across as rather striking. This is a humanitarian crisis as serious as any – and as an immediate neighbour, one would expect a more pro-active response on the government's part. So far though, India has not made any definitive statement on the recent developments.
It is a pity that apart from the odd story, the Indian media's idea of international reporting has been reduced to following Narendra Modi on his international travels. The reporting on that too has been highly superficial and stories have only revolved around what Modi said, wore and ate and have hardly scratched beyond the surface. At this rate, an Indian perspective on international events, that helps us make sense of things as they will affect us, will soon be a thing of the past.
This article has been republished from Newslaundry.com.