India Slips Two Spots To 81 In Transparency International's Corruption Perceptions Index
Read what Transparency International has to say about corruption in India.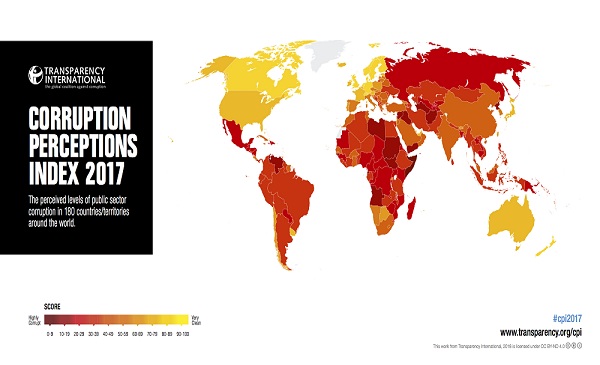 India ranked 81 among 181 countries in Transparency International's Corruption Perceptions Index (CPI) for 2017, falling two places from its rank of 79 in 2016. Transparency International is a non-governmental anti-corruption organization.
CPI score of 40 in 2017 was unchanged from the previous year. The CPI scores range between 0-100, where 0 means a country is perceived to be highly corrupt and 100 means a country is perceived to be very clean.
Corruption Perceptions Index or CPI measures perceived levels of corruption in public sectors by conducting surveys among experts and business executives. It is a composite index based on 13 data sources which are surveys and assessments conducted by independent institutions such as African Development Bank, World Economic Forum, World Bank and so on.
New Zealand and Denmark had the highest CPI scores of 89 and 88, respectively. Syria, South Sudan and Somalia had the lowest scores of 14, 12 and 9 respectively.
Western Europe was the best performing region with an average score of 66. The worst performing regions were Sub-Saharan Africa (average score 32) and Eastern Europe and Central Asia (average score 34).
The report measures perceived levels of corruption and not actual levels of corruption.
How has India fared?
India's score has not seen major improvement in the past 6 years.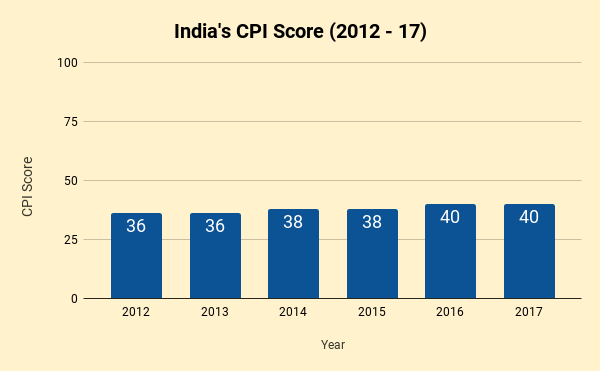 India's score of 40 is below the (APAC) regional average of 44. India's score (40) was lower than China (41) but better than Pakistan (32), Bangladesh (28) and Sri Lanka (38).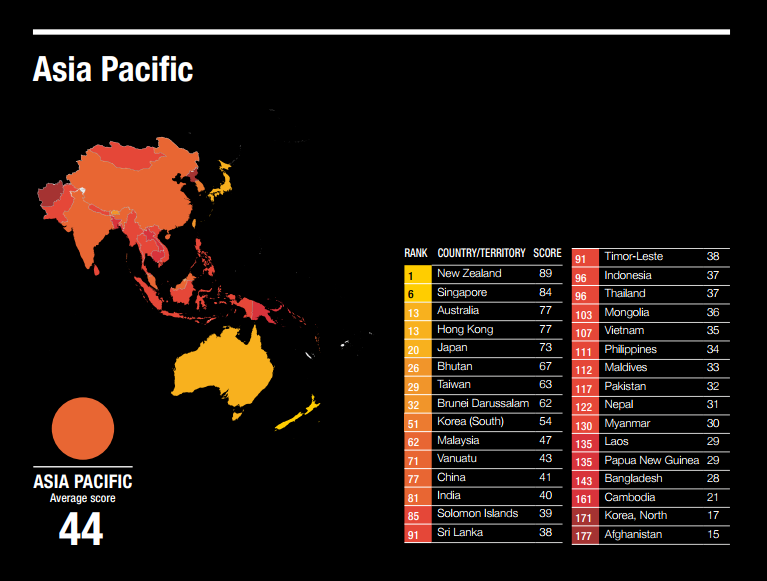 Moreover, the report has named India along with Philippines and Maldives to be among the worst offenders in the Asia Pacific region for posing threatening environments for individuals who fight against corruption and challenge the status quo. "These countries score high for corruption and have fewer press freedoms and higher numbers of journalist deaths," the report said in its assessment for the APAC region.
How India fares in comparison to its peers
Among SAARC countries India was second only to Bhutan and was followed by the rest.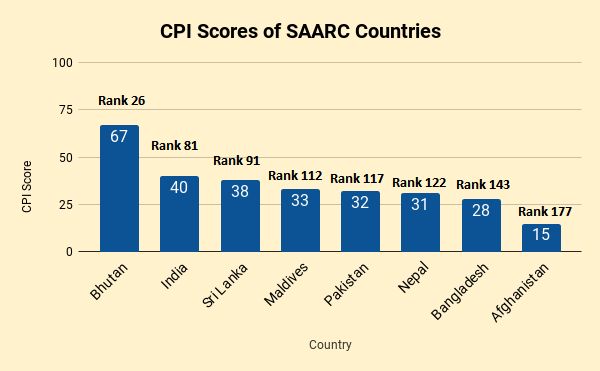 Among BRICS countries South Africa and China are doing better than India, while Brazil and Russia rank much lower.