India Reaches Out To Bangladesh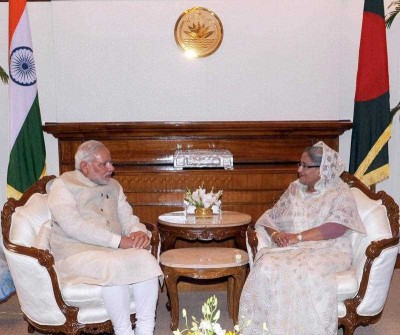 For a quarter of a century, India has looked east, and for a year 'acted east'. The latter policy is proving to be more than just rhetoric. Bangladesh, previously a major gap in India's 'look east' quest, has been substantially bridged to the mutual benefit of not just the two neighbours but, hopefully, the entire region.
Bangladesh's founding leader Sheikh Mujibur Rahman wanted the country to be 'a bridge between South and Southeast Asia'. He realised the need for post-colonial South Asia to reach out to Southeast Asia, perhaps before India. Four decades hence, Prime Minister Sheikh Hasina, his daughter, is pushing in that direction as she looks west to India.
Joining hands with her is Indian Prime Minister Narendra Modi. His Bangladesh visit in mid-June 2015 has stimulated a sub-regional movement of goods and people.
While India has been embroiled in a difficult relationship on its western border, there are multiple opportunities in the east waiting to be utilised. If Bangladesh can become India's land bridge to Southeast Asia, the moribund economies of India's eastern and northeastern states can be revitalised.
Modi's speeches and the joint statement issued at the end of the Dhaka visit clearly indicate that India seeks to bypass Pakistan. Going by the details of joint power and connectivity projects being undertaken by the BBIN sub-grouping (Bangladesh, Bhutan, India and Nepal), it would appear to be the South Asian Association for Regional Cooperation minus one — Pakistan.
The India–Bangladesh denouement comes after years of hesitation with an agreement that settles a 4096-kilometre-long land border. It corrects the faulty lines drawn by Sir Cyril Radcliff, the Briton who partitioned the subcontinent. It grants citizenship rights to 54,000 people locked in small enclaves. The maritime border, too, is settled, thanks to United Nations arbitration that India has gracefully accepted, conceding more oil-rich seabed than it earlier wished.
Modi is the man of the moment. Only a year ago, he was an unlikely candidate for the task. At a conference in Dhaka in May 2014, when India's parliamentary election was underway, Bangladeshi participants had expressed deep fears about a Modi-led India. The baggage of sectarian violence from his time as chief minister of Gujarat was heavy.
Just 13 months later, he was met by chants of 'Modi, Modi' from an approving audience of Dhaka intelligentsia. Senior Bangladeshi editor Mahfuz Anam, urging Modi to take 'another leap of faith' to match Hasina's, writes: 'that is our expectation from the new, visionary, path breaking Indian leader who seems to mesmerise people wherever he goes, as he did in his parting speech …. What a speech — down to earth, disarmingly simple, and yet, so full of charm, humour, new thoughts and, of course, new hope!'
Hasina too won approval from her critics at home for what she has got for Bangladesh in return for what she has given over the last five years and during Modi's visit — shutting down camps of Indian militants in Bangladeshi territory, connecting the Indians to their isolated northeast, access to Chittagong and Mongla ports, while receiving US$2 billion dollars in loans for building infrastructure and industry.
The main opposition, the Bangladesh Nationalist Party (BNP) and its Islamist allies, who often accuse Hasina of 'selling out to India', said they were never really anti-India after all. The BNP chief and twice former prime minister Begum Khaleda Zia, who met Modi, urged him to 'help restore democracy' in her country, which by implication was snatched by her archrival, who won the one-sided election that Zia had boycotted. It was both a complaint to an India that she thinks supports Hasina, but also, for the first time, grudgingly showing confidence in India.
Modi responded by insisting that democracy can flourish only if there is no terrorism — a direct hit at Zia's alliance with the Islamists. It was also a full-throated endorsement of Hasina, who has fought and continues to fight fundamentalism, despite four known attempts on her life. India has made its political preference known. Battling militancy on the western front, Modi declared on Dhaka's soil: 'on zero tolerance on terrorism, Sheikh Hasina and I think alike'.
On economic cooperation, delays by Bangladesh have been political. Having failed to grab Ratan Tata's US$3 billion dollar investment offers earlier, Indian firms will now produce 4000 megawatts of power for energy-starved Bangladesh using Bangladeshi gas, thus resolving another knotty issue.
Even after the land agreement — which Modi compared with the fall of the Berlin Wall — the border, the longest India has with any neighbour, remains the most problematic issue. There is large-scale illegal migration and smuggling of people, goods, drugs and cattle. Bangladesh denies this, and is extremely sensitive to India's Border Security Forces shooting down those engaged in illegal movement. This issue will need careful and sustained attention by both countries.
Modi failed to deliver on the Teesta water sharing agreement, a key element in bilateral ties. He conceded that his mission had remained 'incomplete' and that he would push for the pact at a later stage. In the joint declaration released at the end of the visit, India has also quietly buried the Tipaimukh hydropower project in northeastern Manipur state that Bangladesh apprehends would have hit its water resources. This takes away a stick that Khaleda and opposition parties have used to beat Hasina with.
Modi promised to help Bangladesh launch its first satellite. He also proposed a Buddhist tourism circuit, declaring: 'where there is Buddha, there can't be yuddha [war]'. Stating this in Muslim-majority Bangladesh — which professes secularism under Hasina — after praying at the Hindu Dhakeshwari temple, carries considerable political and historic significance.
While India and Bangladesh have made considerable progress in their bilateral relationship, difficulties still remain.
This article has been republished from Eastasiaforum.org.