A recent post on the Facebook profile of one Rahul Gupta which shows the bodies of seven defense personnel wrapped in carton boxes and plastic covers has gone viral.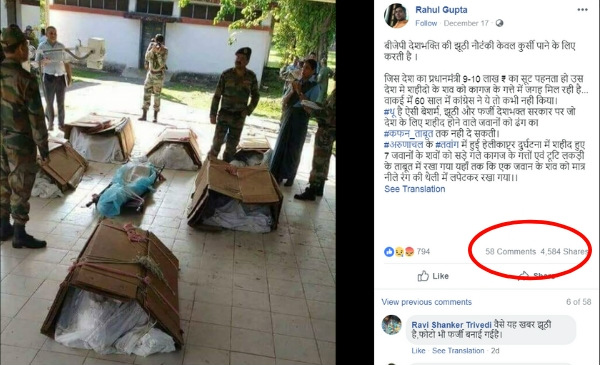 Bodies of soldiers wrapped in carton boxes
The post, that has been shared over 4400 times since December 17, comes with a message in Hindi which loosely translates to: "BJP does the fake drama of patriotism for the sake of getting power. The martyrs of a country whose prime minister wears suits worth Rs. 9-10 lakhs are being wrapped in paper cartons...really, Congress never did this in sixty years. We spit on such a shameless and fake govenment that pretends to patriotic but doesn't provide proper coffins for its soldiers. The bodies of seven defense personnel who died in a chopper crash in Arunachal's Tawang were kept in paper cartons and a broken coffin. The body of one of the jawans was even wrapped in a blue tarpaulin."
You can check the archived version of the post here.
Truth behind the picture
While the Facebook post does not mention the date of the incident, the photo shared is that of a chopper crash in Tawang of Arunachal Pradesh (as mentioned in the post) around a year ago i.e. October of 2017.
While it was reported in the media back then, the incident took social media by storm only when former Northern Army Commander Lieutenant General Harcharanjit Singh Panag tweeted about it.
Seven young men stepped out into the sunshine yesterday, to serve their motherland. India.

This is how they came home. pic.twitter.com/OEKKcyWj0p

— Lt Gen H S Panag(R) (@rwac48) October 8, 2017
Chief minister of Punjab Capt Amarinder Singh had also tweeted about the incident.
Shocked to see bodies of 7 @IAF_MCC & @adgpi Tawang crash victims brought in cartons. Is this how we treat our brave men? pic.twitter.com/dP5HGsRvTH

— Capt.Amarinder Singh (@capt_amarinder) October 8, 2017
Even cricketer Gautam Gambhir, who is quite outspoken about the Indian armed forces, tweeted about the incident.
IAF क्रैश के शहीदों के शव...शर्मनाक! माफ़ करना ऐ दोस्त, जिस कपड़े से तुम्हारा कफ़न सिलना था वो अभी किसी का बंद गला सिलने के काम आ रहा है !!! pic.twitter.com/fOWyymhozb

— Gautam Gambhir (@GautamGambhir) October 8, 2017
However, after the crash, the Indian Army responded to the incident from its Twitter handle.
Mortal remains of heptr accident in HAA on 6 Oct 17 recovered, sent wrapped in local resources is an aberration. pic.twitter.com/NDvEvBo87F

— ADG PI - INDIAN ARMY (@adgpi) October 8, 2017
The news reports back then had reported that Army sources had claimed 'at that altitude, a Mi-17 helicopter cannot operate with the weight of 6 caskets.' Read NDTV's full report here.
It is worth mentioning here that the Army had issued a press release about the incident through the Press Information Bureau. In it, the Army accepts the incident as an aberration. Here is an excerpt.
"Due to constraints of the carriage effort in high altitude area, helicopter cannot carry full load. Mortal remains were wrapped in available local resources instead of improvised body bags or coffins. This was an aberration."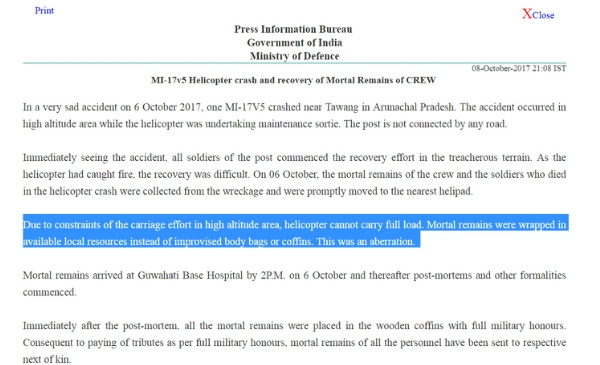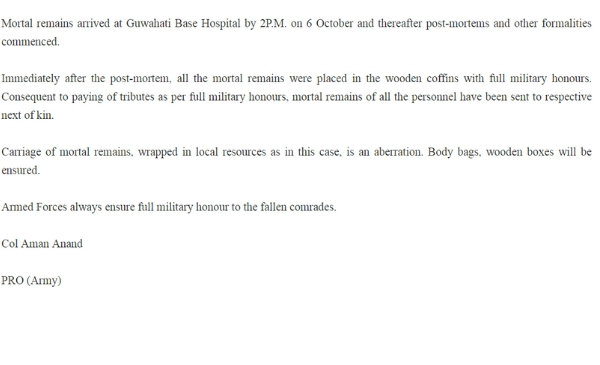 While the incident was viral on Twitter a year ago too, it hadn't been linked to the Bharatiya Janta Party or Prime Minister Narendra Modi back then. However, as it resurfaces once again on the social media, the post is pointing fingers towards the incumbent government.
Claim :
While Martyrs Are Wrapped In Carton Boxes, PM Modi Wears Suits Worth Rs 9-10 Lakh
Claimed By :
Facebook User
Do you always want to share the authentic news with your friends?
Subscribed Successfully...
Enter Valid Email Id