How Poor Reporting Caused Snapchat More Harm Than CEO's Alleged Remark
In an age where most people share first and read later, headlines that attributed the quote directly to Spiegel have hurt Snapchat's reputation.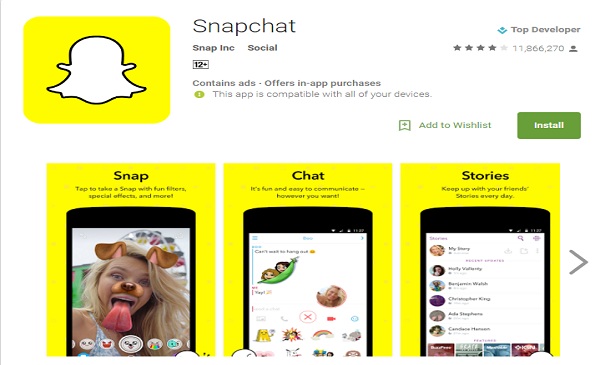 Media coverage of Snapchat Chief Executive Evan Spiegel's alleged remarks on India highlights the perils of second-hand reporting and half baked due diligence on what is essentially a 'one person's word against another' story.
In an age where most people share first and read later, headlines that attributed the quote directly to Spiegel have caused significant damage to Snapchat's reputation in India, the world's fastest growing smart-phone market.
Sample the headlines and tweets below.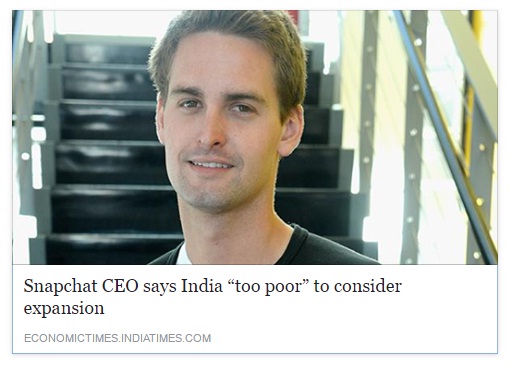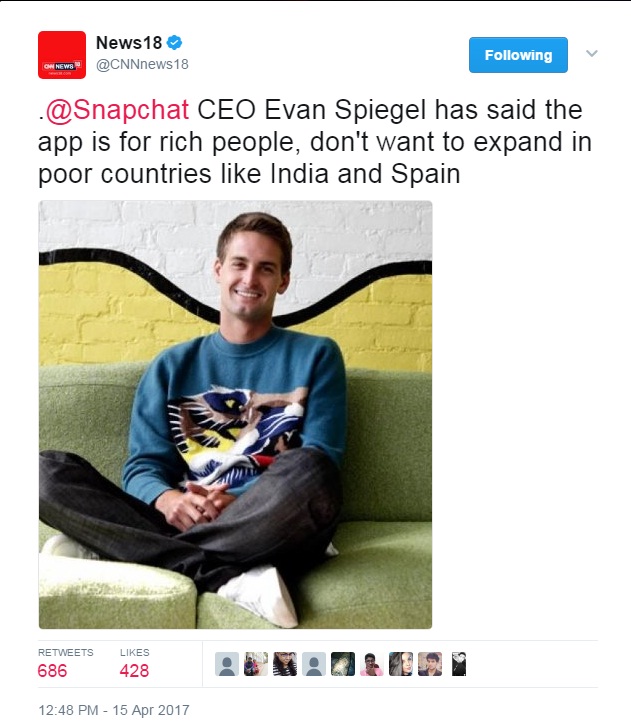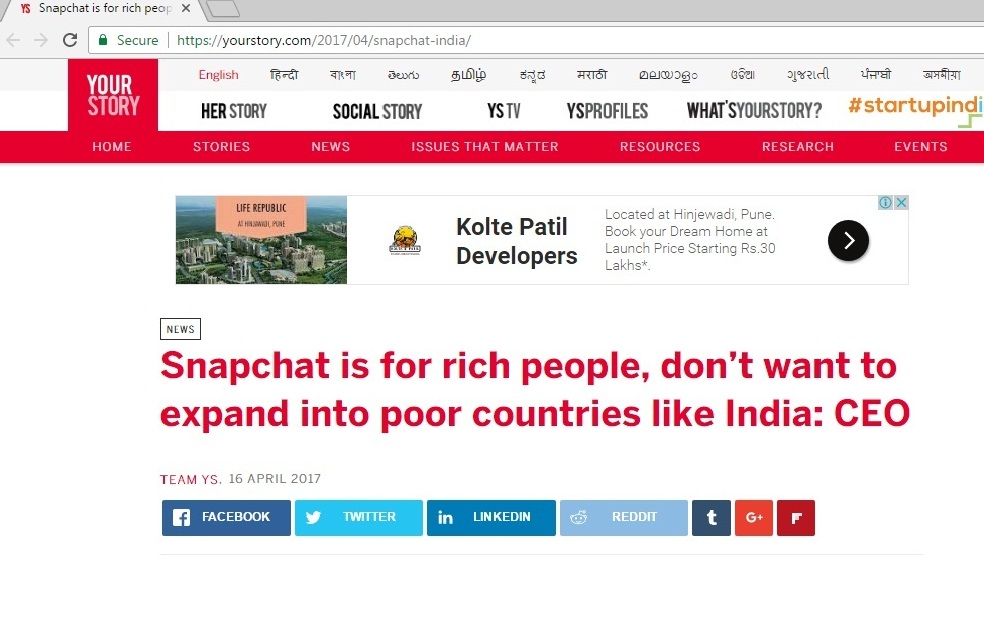 The disappearing messaging app, which has animated filters to add to photos and videos, had about 4 million users in India, according to The Guardian.
Snapchat is currently fire fighting a full blown public relations crisis after an article in U.S. entertainment magazine Variety on April 11th reported damning allegations contained in a lawsuit filed by a former Snapchat employee, Anthony Pompliano.
Among more serious allegations that a pre-IPO Snapchat exaggerated user metrics to investors, the lawsuit reveals claims that Snapchat CEO and co-founder Evan Spiegel in 2015 allegedly said that the app for was rich people and that he did not want to expand the business into poor countries like India and Spain.
The story was picked up by news outlets in India a few days later. And while nearly all Indian news outlets explained lower in their stories that the comments were alleged by an ex employee and were part of a lawsuit, their headlines said the opposite.
In fact, barring a few exceptions, their headlines made Spiegel look guilty. The fallout was brutal.
Hashtags 'BoycottSnapchat' and 'UninstallSnapchat' were trending on Twitter over the weekend. Even those who had never used the app or knew what it was used for, joined the free-for-all trolling.
Snapchat on its part, denied all allegations and said the app was for everyone, available free of cost worldwide, according to multiple news reports. However, that was not enough to blunt the visceral reaction on social media.
Social media sites like Twitter only saw the headline, Spiegel's picture and a meta-description or one line snippet summarizing the story. Headlines that did not carry any disclaimers in effect sealed Spiegel's fate.
By late Monday (April 17th), Snapchat's rating had fallen to 1 star on the App Store for iPhone users and was down to four stars on Google's Play Store for Android users. The ratings were accompanied by vitriolic reviews on both platforms by Indians who felt slighted by Spiegel's alleged comment.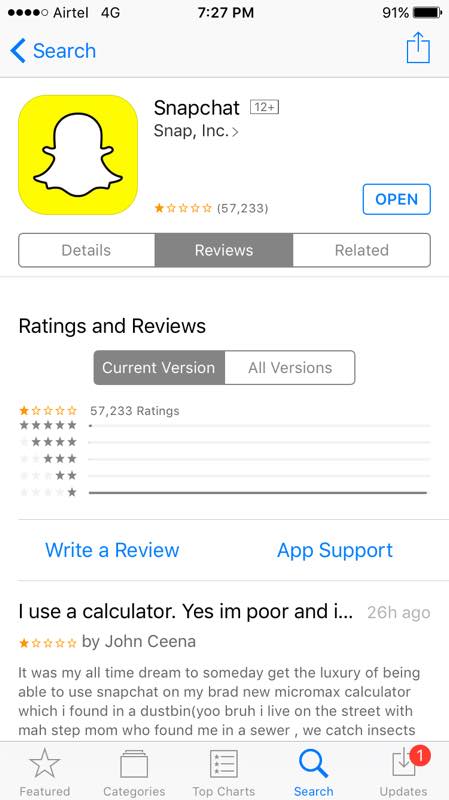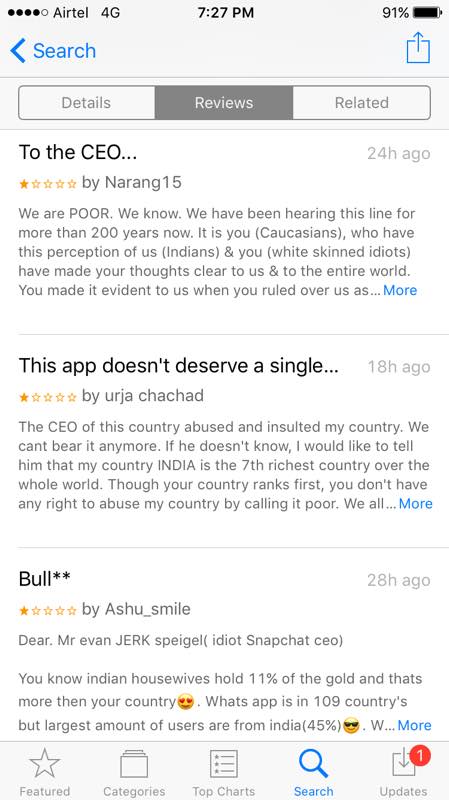 In a bizarre twist, Snapdeal, a similar sounding Indian e-commerce company, was needlessly dragged into the controversy, with many Indians directing their ire towards the app so much so that Snapdeal's CEO took to Twitter to clarify that Snapdeal had no connection with Snapchat.
@thetanmay Thanks bud. Ppl asking us to make a statement that @snapdeal is not @snapchat was possibly the last thing I thought I would ever need to do.

— Kunal Bahl (@1kunalbahl) April 16, 2017
In the absence of any proof it's hard to determine whether Spiegel did or did not say the words attributed to him. In the lawsuit Snapchat's lawyer claims Pompliano was a "disgruntled employee fired for poor performance" (See unredacted lawsuit here)
Reporting on lawsuits is tricky and few newsrooms in India teach their reporters how to provide balanced reporting and ensure that they are on the right side of libel laws.
However, at their core, such stories still rely on basic principles of reporting like giving all parties involved a fair chance to respond, treating a person as innocent until proven guilty and spelling out clearly what a reporter knows to be true and what she or he does not.