Comment
How Fake News Created A Successor to Jayalalithaa?
The bizarre turn the speculations have taken involving the name of Tamil actor Ajith Kumar, or Thala Ajith as he is popularly known to his fans, resides on the border of insanity rather than credible information.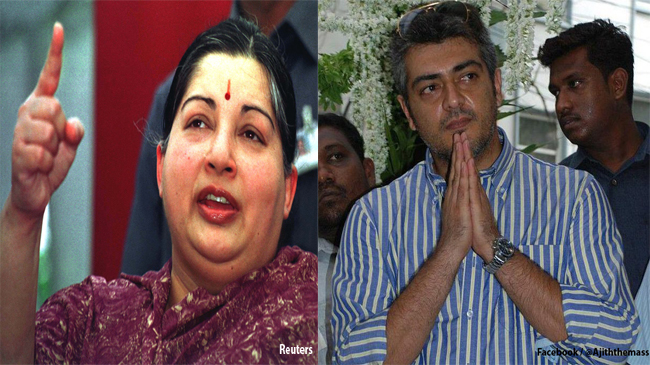 The clamour to fill the shoes of former Tamil Nadu Chief Minister and AIADMK supremo J Jayalalithaa is understandably high given the stakes the 'Poes Garden lady' has left behind.
But the bizarre turn the speculations have taken involving the name of Tamil actor Ajith Kumar, or Thala Ajith as he is popularly known to his fans, resides on the border of insanity rather than credible information.
Even after Jayalalithaa herself gave indications at more than one occasion, even before she was hospitalized in September that trusted lieutenant O Panneerselvam would be the Chief Minister in her likely absence, where did this theory of a complete outsider taking control emerge from?
The inspiration is perhaps derived from this piece that a little known website www.kollyinsider.com had put out on September 23 a day after Amma was rushed to Apollo hospital following her collapse at the Poes Gardens.
The website quotes Ajith where an emotional actor says that "Jayalalithaa used to treat me like her own son.''
These normal but emotional words from the actor for the ailing leader seems to have set off a chain of wild speculations resulting in this imaginary coronation of the actor as the next Chief Minister of Tamil Nadu and fill the void left behind by a seasoned politician like Jayalalithaa.
While Kollyinsider stuck to the actor's quotes and did not spice up their piece, the thinking heads of editorial teams elsewhere were busy wondering what could happen if Jaya goes away. So much so that one of India's most reputed media houses India Today seem to have got completely carried away by the sycophancy that took shape all around.
The December 5 headline of India Today updated at 22:26, an hour before Jayalalitha was declared dead, screamed – Jayalalaitha in ICU – Did Amma anoint Thala Ajith her successor? (Read here)
Even though the website admits that the news is the work of rumour mills, it goes one step ahead to talk about a particular will that Jayalalithaa had created in favour of the actor.
While India Today falls short of naming its own original sources for the news, it attributes the entire speculation to first Kollyinsider and secondly to the Kannada daily www.eesanje.com which following Ajith's emotional outpouring in kolly insider seem to have spun the news on October 7 when Jayalalithaa was recuperating at the Apollo hospital.
The headline read – Actor Ajith almost certain to be Amma's successor!
This was the first time Ajith was being thrown in as real runner for the race.
With no credible quotes, names or information, the website goes on to say that the actor had already been chosen as the successor by Amma herself a few months ago. It also puts the onus on a particular AIADMK minister as its source whom it neither names nor gives any indication of the minister's identity.
While all this was unfolding and spreading to other media houses and social platforms, neither the website that broke the so called 'big news' nor those who followed it up with their own versions had the patience to confirm it from the presumed successor himself.
Ajith remained a mute spectator while his fan clubs across South India celebrated the news on social media platforms.
By December 5 late night when her death was confirmed, vernacular dailies in Malayalam ( here) and Telugu ( here and here) had already set in a motion this speculation race all interconnected and moving in a circle with the Kannada daily as the epicenter. Their bigger brothers, the local news channels soon followed their digital counterparts.
The national media also followed the circus. (Read ibtimes, Indialive, Financial Express ). All were busy milking the story for whatever its worth.
And all had one thing in common – the origin of the news was the Kannada daily www.eesanje.com.
To give credit where it is due, only The New Indian Express refuted the story and called it fake.
But across the fence were logical reasons that could easily rubbish the speculation.
To start off Ajith has had no strong political affiliations. Though because of his affinity towards Jayalalithaa purely on personal grounds, he might have stayed away from the DMK patriarch Karunanidhi but the actor had never made any substantial political statements against Kalaignar at any level.
For a political novice to crash land in as an heir to someone as big as Amma is unthinkable in Tamil Nadu's political landscape. Even Jayalalithaa at the height of her popularity as an actress was carefully nurtured by MGR although he fell short of naming her as his heir apparent. But Jayalalithaa had made no such move to mentor anyone, save alone the actor.
Even to the Tamil film industry to which Jayalalithaa owes a tremendous lot for making her the darling of the masses, her relationship with Ajith has no known connection.
Neither Jayalalithaa had acted with Ajith at any stage in Kollywood nor had she pushed him up the ladder in the industry. Both thrived in the industry at a different era altogether.
If those were the yardsticks, then Kamal Haasan can stake claim of having acted in at least one Tamil movie opposite Jayalalithaa in 1977 and Rajinikanth of having missed a chance after Jayalalithaa had herself turned down an offer opposite him in Billa in 1980.
Logically, then both Kamal and Rajini should stand a better chance at succession than Ajith. Rajini had visited Jayalalitha at the hospital and both had wished her speedy recovery over Twitter.
For Ajith perhaps the only zenith to his personal touch with Jayalalithaa as he himself has said was when she had attended his wedding and his subsequent visit to Poes Gardens with his wife Shalini.
@thalatweets @ajithFC #Thala #Ajithkumar #Ajith #Thala56 SweeT Memories. @ajith_arshath @AjithUKFans @_AjithKumar_7 pic.twitter.com/xaB1xemg0L

— Aravind SIMBU (@aravindinesh181) September 8, 2015
The mainstream media no doubt seem to have got carried away with the likelihood of yet another superstar arriving on the scene in true Kollywood style to take up the reins from an ailing Amma, similar to a Jayalalithaa taking charge from an MGR in the eighties.
From there on, the script seems to have been edited to suit a fairy tale with the assumption that Jayalalithaa herself had secretly written a will to favour the actor. Finally with Ajith stopping the ongoing shoot at faraway Bulgaria to come and pay obeisance to the departed soul, at least a few editors thought they had a bigger story on their hands than even the protagonist's demise.
With the actor returning to finish the shoot in Bulgaria, this speculation is all but set to fizzle out with time.
Do you always want to share the authentic news with your friends?
Subscribed Successfully...
Enter Valid Email Id