How A Non-Existent Jio Institute Got 'Institute Of Eminence' Tag: A Factfile
Stung by all-round criticism, govt clarifies that Jio Institute will only get 'Letter of Intent' now. IoE tag only when they set-up in 3 years.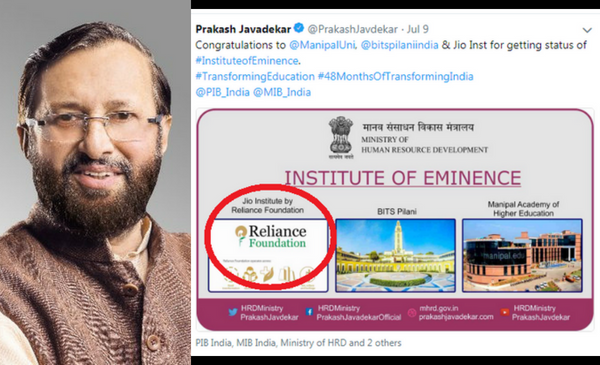 Prakash Javadekar, Minister of Human Resource Development, on Monday announced the names of six institutions which got the status of Institute of Eminence. The first ever list of Institute of Eminence included 3 public sector institutions - IIT Bombay, IISC Bangalore and IIT Delhi and 3 Private institutions - BITS Pilani, Manipal Academy of Higher Education and Jio Institute backed by Mukesh Ambani's Reliance Foundation.
Congratulations to @iitbombay & IITDelhi. These are two premier institutes which will also receive government funding because public sector institutes which are granted status of Institutes of Eminence will get govt grant of Rs 1000 crore in next five years. #InstituteofEminence pic.twitter.com/n7NRnjR0Qh

— Prakash Javadekar (@PrakashJavdekar) July 9, 2018
Congratulations to @ManipalUni, @bitspilaniindia & Jio Inst for getting status of #InstituteofEminence. #TransformingEducation #48MonthsOfTransformingIndia@PIB_India @MIB_India pic.twitter.com/XpRsm8nxIQ

— Prakash Javadekar (@PrakashJavdekar) July 9, 2018
The inclusion of Jio Institute in the list, a name that was never heard before, has raised questions about the selection process and eligibility criteria.
BOOM looks at the UGC regulations and government announcements to understand what the newly introduced Institute of Eminence (IoE) is all about and answers key questions regarding the declaration of the 6 institutes, including Jio Institute as IoEs.
What is an Institute of Eminence (IoE)?
Institute of Eminence is a new category introduced by the Modi government in 2017 which will give 20 Indian educational institutions complete administrative and academic autonomy so that they develop into world class institutions.
Javadekar said that complete autonomy would enable these institutions to grow more rapidly and are expected to be in the Top 500 of world ranking within 10 years and eventually in top 100.
In his 2016 Budget speech, Jaitley had committed to a scheme that would provide for 10 public and 10 private institutions to develop as world class teaching and research institutions. He said,
It is our commitment to empower Higher Educational Institutions to help them become world class teaching and research institutions. An enabling regulatory architecture will be provided to ten public and ten private institutions to emerge as world-class Teaching and Research Institutions. This will enhance affordable access to high quality education for ordinary Indians. A detailed scheme will be formulated"
Accordingly, the UGC (Institutions of Eminence Deemed to be Universities) Regulations, 2017 was formulated.
What are the salient features of an IoE?
IoEs will have the autonomy to 'admit foreign students up to 30% of admitted students; to recruit foreign faculty upto 25% of faculty strength; to offer online courses upto 20% of its programmes; to enter into academic collaboration with top 500 in the world ranking Institutions without permission of UGC; free to fix and charge fees from foreign students without restriction; flexibility of course structure in terms of number of credit hours and years to take a degree; complete flexibility in fixing of curriculum and syllabus, etc', says a press release dated July 9, 2018.
The UGC (Institutions of Eminence Deemed to be Universities) Regulations, 2017 while empowering these institutions to choose its own path to become globally recognized instituions, it also gives an indicative list of parameters to be followed. (Click here to read more - refer page 16)
What are the eligibility criteria to become an IoE?
University Grants Commission accepted invitations from 3 categories of Institutions -
(i) Existing Government educational institutions
(ii) Existing private higher educational institutions to upgrade themselves to Institutions of Eminence
(iii) Sponsoring organizations for setting up of new Institutions of Eminence or the green field category
For a government institute to be declared as an IoE it should be ranked in top 50 in their category under the latest National lnstitution Ranking Framework. Institutes in the top 500 in international rankings such as the Times Higher Education World University Rankings or QS or SJTU (Shanghai's Jiao Tong University) can also apply for an IoE status, according to UGC (Declaration of Government Educational lnstitutions as lnstitutions of Eminence) Guidelines, 2017.
For private institutes, in case of existing ones the sponsoring organization should have a net worth of at least Rs 3,000 crore. In the case of green field category, the sponsoring organization's net worth should be at least Rs 5,000 crore. Moreover, the sponsoring organization should have identified the Chancellor, Vice Chancellor and a core team, a detailed fifteen year strategic vision plan and a five year rolling implementation. The sponsoring organization shall be a not-for profit society, a public trust or company under Companies Act 2013 and should have a track record of translating plans into real achievements in any field.
Who is responsible for the selection of IoEs?
As provided under UGC (Institutions of Eminence Deemed to be Universities) Regulations, 2017, an Empowered Expert Committee (EEC) is responsible for the selection of 10 public and 10 private institutes as IoEs. Currently the committee consists of,
1) Shri N Gopalaswami (Chairman)- former Chief Election Commissioner (EEC)
2) Professor Tarun Khanna (Member)- Director of South Asia Institute at Harvard University
3) Ms. Renu Khator(Member)-President of University of Houston
4) Shri Pritam Singh(Member)- former Director of IIM Lucknow.
The government has not set a timeline for the selection of institutes eligible for an IoE tag. This could explain why only 6 insitutes have been declared as IoEs. The HRD Ministry had received around 114 applications.
Will IoEs receive government funding?
All the public institutions declared as 'Institution of Eminence' will get financial assistance up to Rs. 1000 Crore over the period of five years from the central government. Their private counterparts will not receive this funding though they can access research grants and government funds for specific studies or projects.
Rs 1000 crore will be given only to public institutions, that is, Indian Institute of Science, IIT Delhi and IIT Mumbai. There is a lot of wrong propaganda is going on, it is not correct: R Subramanyam, Secretary,Higher Education on Rs 1000 cr being given to pvt institutions pic.twitter.com/e9ktdeXbVs

— ANI (@ANI) July 10, 2018
How did Jio institute which has not yet been set up become an IoE?
The Ministry and UGC have defended the decision claiming that Jio Institute was selected under the greenfield category. In a clarification tweeted by the Ministry, it cited the EEC's 4 parameters for judging the 11 green field category applications it had received.
a) Availability of land for construction of the institution
b) Putting in place a core team with very high qualification and wide experience
c) Making available funding for setting up the institution
d) A strategic vision plan with clear annual milestones and action plan
In response to some misinformation campaign in social media regarding "Institutes of Eminence", please find herewith clarifications on commonly raised questions #InstituteofEminence pic.twitter.com/K6IB5ILpfb

— Ministry of HRD (@HRDMinistry) July 9, 2018
However, the clarification does not have details such as the names of the Chancellor or Vice Chancellor, whose identification is one of the eligibility criteria for private institutions to be declared as an IoE.
BOOM got in touch with a Reliance spokesperson who said that they are not in a position to comment on this yet.
The Ministry also said that out of the 11 applications received under the green field category, only Jio Institute was eligible to become an IoE.
In greenfield category,11 proposals came,Committee after due diligence&reading through their proposals&their ability to mobilize land, building etc, Committee concluded that only one institution which is eligible: Secy,Higher Edu on Jio Institute given Institution of Eminence tag pic.twitter.com/uNUnMmcqHR

— ANI (@ANI) July 10, 2018
Other green field entries include Indian Institute of Human Settlement, Bengaluru and Indian Institute of Public Health, Gandhinagar. EEC will repeat the selection process to select the remaining 14 IoEs.
How did the government react to the criticism?
After receiving sharp criticism, the Ministry's clarification showed a deviation from Javadekar's initial announcement.
The clarification indicates that the Jio Institute's IoE status is conditional. It says that Jio Institute will receive a Letter of Intent (LOI) and only within three years of set-up and commencement of academic operations, it will be declared as IoE.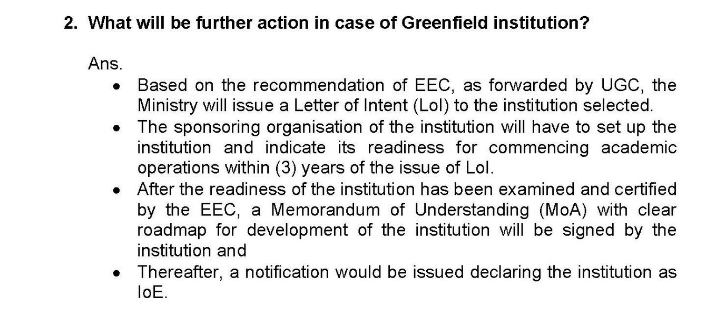 The conditional status was confirmed by R Subramanyam, Secretary, Higher Education in his statement to ANI.
As Jio institute is starting on a greenfield mode, they will only get 'Letter of Intent' which states they must set-up in 3 yrs. If they setup, then they get 'IOE' status, right now they don't have the tag, they only have letter of intent: R Subramanyam,Secretary,Higher Education pic.twitter.com/cAYiEu71Gk

— ANI (@ANI) July 10, 2018
What were the reactions to the announcement of Jio Institute's IoE status?
The BJP Govt favours Mukesh & Nita Ambani yet again. The illusionary JIO Institute which is yet to see the light of day has been declared as an 'eminent' institute. The Govt needs to clarify the basis of classification for granting such a status.#SuitBootSarkar https://t.co/owxlh7Kgev

— Congress (@INCIndia) July 9, 2018
You dont need campus, website, teachers, students, course material & a record of excellence to be recognized as "Institutions of Eminence". All you need is to have the right politicians in your pocket!#JioInstitute pic.twitter.com/dvnQIcso6Z

— CPI (M) (@cpimspeak) July 10, 2018
No college, no building, no student, no teacher but #JioInstitute has no. 4 as per official government records.

Is any student graduated from here ? pic.twitter.com/9HV3T0oQpX

— Sant Yadav (@yadavsant1) July 9, 2018
To be declared an Institute of Eminence, an institute has to pass many stringent tests and for passing that the institute has to exist! #JioInstitute qualified because Modi is prime employee of Motabhai??

— Dhiraj (@AAPlogical) July 9, 2018
If you are wondering how #JioInstitute & Manipal make it to the #InstituteofEminence list, it's pay back time boss. pic.twitter.com/JNuokKB9QE

— Aparna (@chhuti_is) July 9, 2018