Hong Kong Protest Pics Passed Off As CPI(M) Rally In UP
BOOM found that all the images are of the ongoing protests against the extradition bill in Hong Kong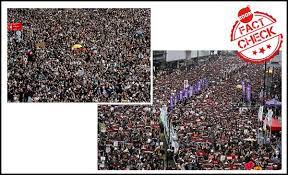 A set of four images of protests in Hong Kong has surfaced on Facebook with false claims that they are photographs of a protest march by the
Communist Party of India (Marxist) against the Yogi Adityanath government in Lucknow.
The Bengali text accompanying the Facebook post claims, "things which the BJP-bought media won't show you. The rally by CPIM in Lucknow, Uttar Pradesh against the misrule of Yogi government."
(Original text in Bangla: #যেটা_বিজেপির_কেনা_মিডিয়া_দেখায়_না
উত্তর প্রদেশের রাজধানী লখনোতে যোগী সরকারের কুশাসনের বিরুদ্ধে সিপিএম এর মহা মিছিল ।)
The images show a massive crowd rallying on the streets.
Click here to view an archived version of the post.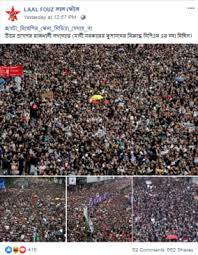 Fact Check
We ran a reverse image search and found that all the four images are from recent protests that broke out in Hong Kong as part of the Anti-Extradition Law Amendment Bill Movement (ELAB).
The anti-ELAB protests, an ongoing protest in Hong Kong, is a demonstration against the introduction of an extradition bill. Protesters say the bill, if enacted, would undermine the civil liberties of Hong Kong citizens and its autonomy.
Image 1
The image was clicked by Associated Press' Kin Cheung on July 7, 2019 and is available on the AP images archive. The image has a description: "Protesters take part in a march in Hong Kong on Sunday, July 7, 2019. Thousands of people, many wearing black shirts and some carrying British flags, were marching in Hong Kong on Sunday, targeting a mainland Chinese audience as a month-old protest movement showed no signs of abating."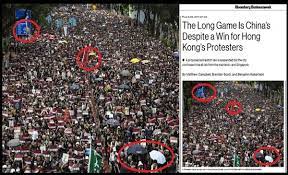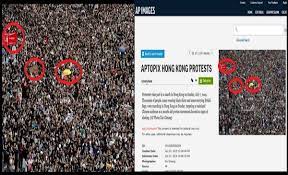 Image 2
The image was taken by Paula Bronstein for Bloomberg on June 16, 2019. It was used in the news article , titled, "The Long Game Is China's Despite a Win for Hong Kong's Protesters". The image was captioned as "Protesters march during a rally in Hong Kong on Sunday, June 16."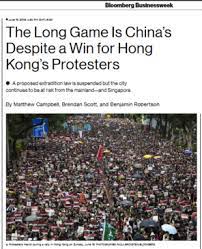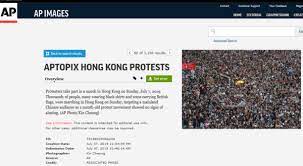 Image 3
This is also an Associated Press image. It was taken by photographer Vincent Yu for AP on June 16, 2019. The image is available here.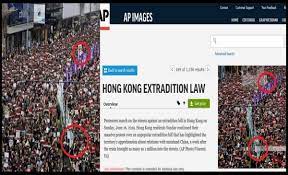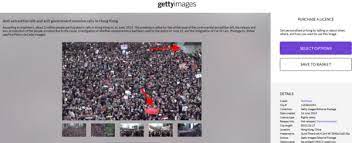 Image 4
The fourth image has also been shot during the Hong Kong protests. BOOM found a footage of 27 seconds shot by Jinhee Jee of Getty Images. At the 21 second mark a protester can be seen with a red umbrella and a pillar of the over bridge. The same can be spotted in the image used in the Facebook post as well.
The footage can be seen here.