Hoax Call Puts Karnataka On High Alert, Police Arrest Caller
The DGP Karnataka issued a letter warning of attacks but it was later found the call that prompted the letter was a hoax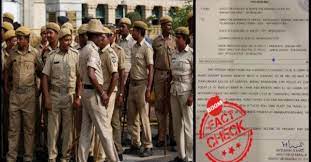 Bangalore Police on Saturday arrested a retired army personnel for making a hoax call about a terror threat to seven states including Tamil Nadu and Maharashtra.
The hoax call made to the control room on Friday even led to the Director General of Police issuing a letter to the said states warning them of an imminent attack.
On Friday evening, a caller identified as 65-year-old Swamy Sundara Murthy informed the Bangalore police control room that there was a "threat" to the states of Maharashtra, Goa, Tamil Nadu, Karnataka, Kerala, Andhra Pradesh, Telangana and union territory, Pondicherry. The caller further went on to say that the "attacks would happen in trains" and that "19 terrorists are present in Ramanathapuram in Tamil Nadu.
The call prompted Neelamani Raju, Director General and Inspector General of Police to issue a letter alerting her counterparts in the six states and one Union Territory informing them about the call.
The letter dated April 26, 2019 after giving out information about the caller states, "he claims to have an information to the effect that major cities in Tamil Nadu, Karnataka, Kerala, Andhra Pradesh, Telangana, Pondicherry, Goa and Maharashtra will be hit by terror attacks. The terror attacks will take place on trains. He also claimed that there are 19 terrorists present at Ramanathapuram, Tamil Nadu."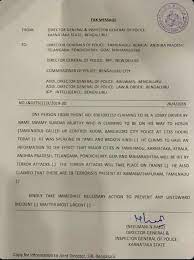 The letter was addressed by the DG IGP, Karnataka to the DGPs all of states and Union Territory, DGP, Railway Protection Force, New Delhi, and the ADGP, Railways, Bangalore.
In the backdrop of the recent serial bombings in Sri Lanka on Easter Sunday, the letter quickly went viral on social media in India with many believing that such a threat was real.
FACT-CHECK
BOOM contacted the DGP's office, which said that while the letter was true, the call was a hoax.
"After the call was made, investigations were commenced. Meanwhile the said letter was issued to the respective states. While the caller has been arrested, the police is still investigating why such a call was made," said a source who did not wish to be named.
He added, "the caller is a serial offender and it is suspected he has made such hoax calls earlier too."