@HinduSannyasin: The Mischievous Twitter Imposter Of Sadhvi Pragya
A parody handle of Sadhvi Pragya is gaining popularity and followers, and Twitter users - including a popular influencer and a prominent news organisation - are falling for an imposter.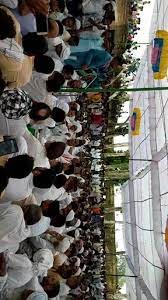 A parody account made in the name of Sadhvi Pragya Singh Thakur, the controversial BJP candidate from Bhopal, has quietly gained a lot of followers masquerading as the Sadhvi's personal handle.
It's popularity shot up immediately after the party announced its decision to field her against Congress candidate and former Madhya Pradesh CM Digvijay Singh.
On April 17, 2019, Twitter user Shefali Vaidya (@ShefVaidya) - followed by more than 3 lakh followers, including PM Modi - tweeted out in support of Sadhvi's candidacy.
In her tweet, she urged people to follow Thakur on Twitter and tagged a handle going by the name of Pragya Singh Thakur - Sadhvi (@HinduSannyasin). There was no mention of whether it was Thakur's personal Twitter handle or a parody account made in her name.
After reviewing the Twitter handle on April 17, BOOM found out that it explicitly mentioned in the bio that it is a parody account.
That did not stop Vaidya from retweeting posts made by @HinduSannyasin, as the parody handle continued to gain followers.
In all the above tweets, Vaidya very explicitly uses the parody handle @HinduSannyasin to refer to Thakur, without disclosing or showing signs of acknowledgement of the fact that it is a parody account, as it was mentioned in the profile.
Ashoke Pandit, another popular influencer on Twitter - also followed by PM Modi along with more than 1 lakh other followers - took Vaidya's lead and tagged the @HinduSannyasin handle in a tweet about Thakur's recent controversial comment on the death of ATS chief late Hemant Karkare.
BOOM reached out to Thakur's aide Sanjay Kumar, who confirmed that Thakur has no such handle and that her personal Twitter account is yet to be created.
"It is a fake account, like many others going around. She (Thakur) does not have her own account yet, as we're yet to set it up," said Kumar.
Mainstream media falls for it
The comedy of errors grew way past the mistakes of individual Twitter users, when a mainstream media publication became the latest victim of this social media imposter.
Prominent business publication Financial Express published an article on the Sadhvi's candidacy for the seat of Bhopal, and embedded a tweet by @HinduSannyasin to refer to Thakur.
Mission: Impersonate
In the absence of a verified Twitter handle of the controversial Hindutva figure, the parody account rose to the occasion and filled in the space, often tweeting on behalf of the Sadhvi in first person, giving the impression of being her personal Twitter handle and asking people to follow her.
Between April 17, 2019 and April 22, 2019, the handle's followers grew from 27,000 to 31,500, and continues to attract new followers at the time of writing this story.
When you're on a roll
Inspired by the growing popularity of the @HinduSannyasin on Twitter, the user behind this handle decided to open up an Instagram account and a Facebook page and a Facebook public group.
Parody Disclaimer: Now you see it, now you don't
Riding the wave of ignorance of the people in verifying whether the handle actually belongs to Thakur, the parody handle suddenly made a brazen attempt to further mislead people.
In the late hours of April 19, 2019, BOOM noticed that the Twitter handle @HinduSannyasin had removed the disclaimer in its Twitter bio which revealed that it is a parody handle.
Using a tool called TweetBeaver, BOOM downloaded over 450 tweets by the parody handle, posted between April 11 and April 20, 2019, and found that most of the tweets were about Narendra Modi, Rahul Gandhi and Congress, while others were related to the ongoing general elections and Hindu religion.
The most frequently used word was actually the name of the Twitter handle 'HinduSannyasin'.
The following word cloud was generated using the tweets that were downloaded:
Since April 17, 2019, @HinduSannyasin has been tweeting at least once every 15 minutes on average, and the frequency is growing exponentially.
After an entire day of masquerading as the real Twitter handle of the Sadhvi, the user behind this parody account seemed to have a change of heart and decided put the disclaimer back on.
However, this did not stop the user from continuing to impersonate the Sadhvi on Twitter.....
....while numerous users seemingly kept falling for it.
Speaking to BOOM, Sadhvi Pragya's spokesperson has shared that they are in the process of creating her social media accounts. Sadhvi's constituency Bhopal will go to polls on May 12 in Phase 6 of the Lok Sabha polls.