Has India Benefited From The Launch Of E-Tourist Visas In Nov 2014? A FactCheck
Available data is not sufficient to conclude that e-tourist visa has led to increase in foreign tourist arrivals as claimed by Minister Ravi Shankar Prasad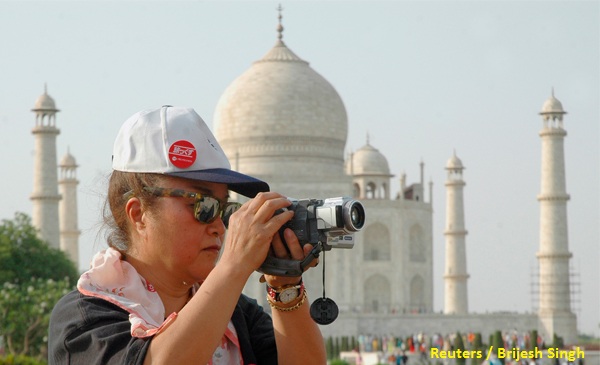 A tourist takes a photograph in front of the Taj Mahal in the tourist city of Agra
Minister for Law & Justice and Information technology Ravi Shankar Prasad recently tweeted "With e-tourist Visa being expanded to 161 countries, India's tourism has remarkably increased. #IndiaOnTheRise"
The Info graphic in the tweet shows that the scheme has introduced e-tourist visas for 161 countries, in 24 airports and 3 ports and claims that it has led to an increase of foreign tourist arrivals (FTAs).
With e-tourist Visa being expanded to 161 countries, India's tourism has remarkably increased. #IndiaOnTheRise pic.twitter.com/TMUwnTEiXp

— Ravi Shankar Prasad (@rsprasad) June 2, 2017
BOOM found the numbers to be true according to the data given by Ministry of Home Affairs. However, data available on foreign tourists arrivals is not sufficient to conclude that the increase in foreign tourist arrivals (FTAs) is as a result of the introduction of e-tourist visa for 161 countries.
What Is E-Tourist Visa?
According to Ministry of Tourism, the Government launched this scheme on November 27, 2014. The scheme enables foreign tourists to apply for a visa through an online application which does not require any intermediary / agents or visiting the Indian embassy in their respective countries. The applicant can pay the visa fee online. Once approved, the applicant will receive an email authorizing him/her to travel to India which is to be produced at the immigration check point for verification.
In the first phase, the scheme facilitated e-visas to nationals of 43 countries, in 9 airports and allowed 30 days of stay in India.
As of December 31, 2016, e-tourist visa has been extended to 161 countries, in 24 airports and 3 ports and the duration of stay in India has been extended to 60 days.
The e-tourist Visa allows a foreign national double entry as against single entry earlier.
Has e-tourist visa led to a steep increase in FTAs?
The tweet shared above claims so. A Lok Sabha question dated February 2017 also claims the same.
The parliamentary answer presents available data on FTAs and FTAs on e-visa from 2014-16 to show the progress in tourism.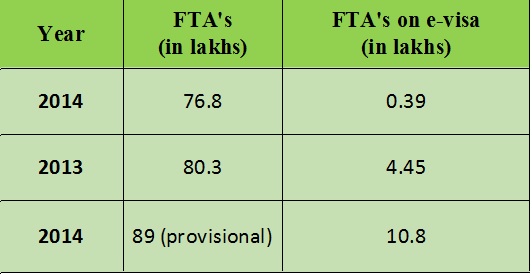 Source : Lok Sabha
Since its inception in 2014, FTAs on e-visa have increased 27 times in 2016.
However, from this data one cannot reach the conclusion that e-visa is the reason for the increase in FTAs. To understand the effect of e-visa, data before the introduction of e-visa has to be compared with this data (post introduction of e-visa).
Below is the graph which shows the number of FTAs and FTAs on e-visa between 2010 – 2016.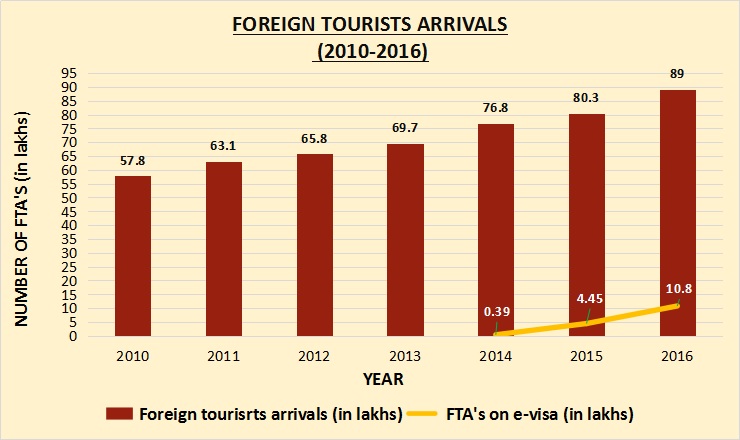 Source: Annual Reports 2010 to 2016 and Lok Sabha
Note: FTA's on e-visa include number of tourist arrivals who have applied for a visa through the online application under e-visa scheme implemented on November 2014.
Note: Data of 2016 is provisional
As the Lok Sabha reply states, the number of foreign tourists entering the country has increased since 2014. However, tourism ministry's own data show that foreign tourist arrivals have seen an upswing over the years. The following table shows the rate of increase in FTAs between 2010-16.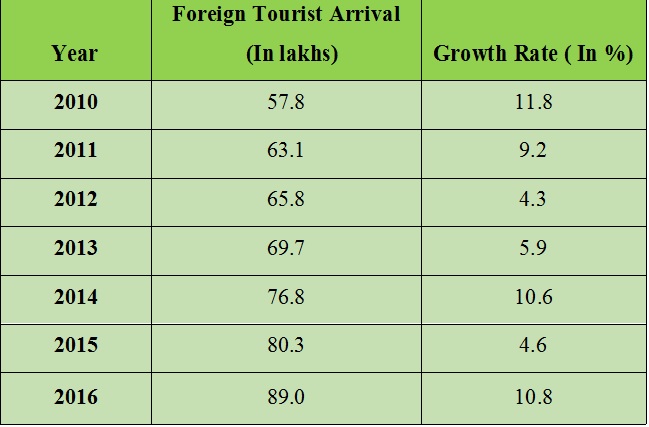 Source: Annual Reports 2010 to 2016 and Lok Sabha
But the growth rate of FTAs does not show a consistent trend and the numbers are not speaking much of the impact of e-visa on tourism.
Let us assume that in 2014 the FTAs increased by 10.6% due to the launch of e-visa. However, in 2015 the number of FTAs increased only by 4.6% despite the availability of e-visa which shows that other factors can also impact foreign tourist arrivals in the short term.
Thus, the statement that e-tourist visa for 161 countries has led to a steep increase in FTA's is not data backed because e-visa is not the sole factor that impacts the growth of FTAs in the short term.
This shows that varying factors could determine growth of FTAs. The data between 2014 – 16 is not sufficient to understand the impact of e-visa on FTAs.
On the other hand, data on nation-wise foreign tourist arrivals prior to 2014 and post 2015 is unavailable in the public domain. Thus, it is not possible to verify if expanding e-visa to 161 countries have impacted FTAs from these countries.