Has BJP Fielded a Terrorist in J&K Local Body Elections?
A post shared on facebook page Viral in India claims that BJP is fielding a terrorist in the J&K local body elections. However, the contestant is a reformed militant.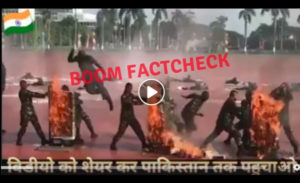 Claim: BJP is fielding a terrorist in Jammu and Kashmir local body elections
Rating: Misleading
Viral in India, a facebook page, had on October 3 shared a post claiming that a terrorist was contesting elections in Jammu and Kashmir on BJP ticket. The post that shares a photograph of the alleged terrorist has garnered over 700 responses and has been shared more than 900 times. Similar posts were also shared on another facebook page Arvind Kejriwal fans.
The picture shared with the post is that of Mohammad Farooq Khan aka Saifullah Farooq, who is fighting the municipal election from Ward no. 33 of Tankipora on BJP ticket. However, Khan is a reformed terrorist who has spent over seven-and-half years in jail.
It was in the 1980s, when insurgency was at its peak in the valley, that Khan had crossed the Line of Control to get trained in weapons at a training camp in Pakistan. In 1990, once he was done with the training, he returned to the Valley and joined the Jammu and Kashmir Liberation Front. Twenty eight years later, Khan is contesting the local body elections on a BJP ticket.
The post concerned is misleading in it content as it mentions Farooq Khan as a terrorist. Khan, however, was arrested during a cordon search on September 7, 1991, in Munnawarabad in the Valley. "I was sent to the jail. I had spent some part of my total seven-and-half years sentence in Jammu's Kot Balwal jail and some in Tihar," said Khan in an interview to The Wire.
It was in Tihar that Farooq Khan met Maulana Masood Azhar, founder of Jaish-e-Mohammed, and other militant commanders. In an interview with Firstpost, he had said: "During my jail term, I read more than 200 books, mostly Islamic literature. It was an overwhelming experience and it opened my mind towards global politics."
However, after finishing his sentence, Farooq had had his shares of difficulties in reintegrating into the society. From riding an auto-rickshaw to selling ice creams, and working as a construction laborer, he claims to have done it all.
He has also told mediahouses that his decision of contesting on BJP ticket has earned him the wrath of locals. However, in his defense, he quotes Quran in an interview with the Wire: "In the Quran, it is written that if you do not do my work in this world, I will replace you with other people who would. I think Allah has granted this opportunity to me to serve him and the people of Kashmir."
The reformed militant had also, on the suggestion of former Inspector General of J&K SM Sahai, formed the Jammu and Kashmir Human Welfare Association comprising ex-militants. They were vocal in demanding a dignified life for reformed militants.