'Had To Travel In Audi Instead Of Jaguar': Did Suhana Khan Really Say This?
No, Suhana Khan did not crib about travelling in an Audi instead of a Jaguar. That piece was created by satire website Faking News.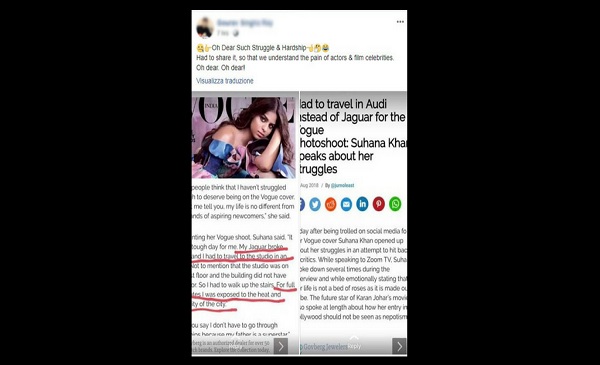 A satire article published by FakingNews.com taking aim at Suhana Khan's Vogue India cover shoot has been lost on several netizens who shared the piece believing it to be true. Screenshots of the article were also shared on WhatsApp without any explanation that the article was a piece of fiction.
Social media once again revived the debate on nepotism in Bollywood after Suhana Khan, daughter of actor Shah Rukh Khan, was featured on the cover of Vogue India's August issue. The magazine described the 18-year old who is yet to make her acting debut as, 'Student, theatre lover, future star.'
In June this year, Vogue India featured Jhanvi Kapoor, the daughter of the late actor Sridevi, on its cover. However, it did not spark similar outrage at the time.
The piece published on August 2, 2018 by Network 18-owned FirstPost's Faking News has also been widely shared on social media. The article has been authored by a Twitter handle called @jurnoleast whose bio clearly states 'Spoof | Humor | Sarcasm | '
Furthermore, Faking News' About Us section spells out that it is a satire website and is not meant to be taken seriously.
The satire post made up fake quotes and attributed them to Suhana Khan. Sample the below quotes.
"Most people think that I haven't struggled enough to deserve being on the Vogue cover. But let me tell you, my life is no different from thousands of aspiring newcomers." - Faking News
"Recounting her Vogue shoot, Suhana said, "It was a tough day for me. My Jaguar broke down and I had to travel to the studio in an Audi. Not to mention that the studio was on the first floor and the building did not have elevator. So I had to walk up the stairs. For full 5 minutes I was exposed to the heat and humidity of the city." - FakingNews
Despite the name of the website name 'Faking News', several Facebook users shared the post with sarcastic comments.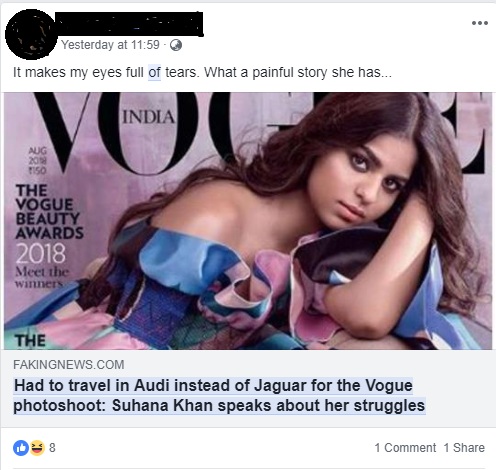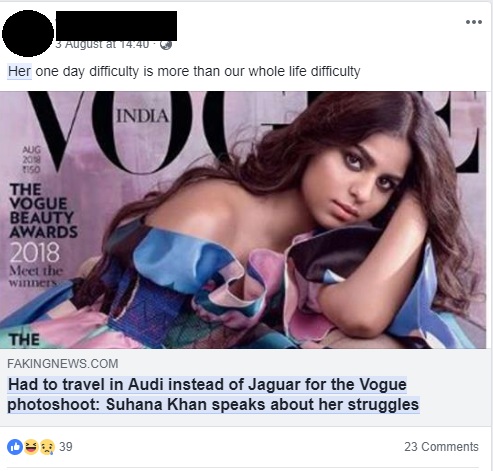 https://www.sharethefacts.co/share/1d9c6f99-0229-449b-b204-2d654715ddec