Entertainment
Hacked, Not Hacked: How Zaira Wasim's Shock Announcement Took A Bizarre Twist
BOOM spoke to Tuhin Mishra, Zaira Wasim's manager, who 'denied' having made a statement regarding her account being hacked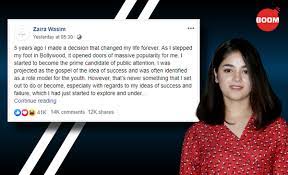 A day after 'Dangal' actress Zaira Wasim decided to end her five-year long Bollywood career on grounds of her faith via a message on her social media account, reports started doing the rounds that Wasim's social media account had been "hacked."
Multiple news portals quoted Wasim's manager, Tuhin Mishra, as saying that the actor's social media accounts had been hacked. The archived versions of the reports can be accessed here, here , here and here. Mishra's agency Baseline Venture has managed Wasim's Bollywood career for the last three years.
BOOM found that this came hours after The Print's Jammu and Kashmir correspondent spoke to Mishra, who initially made a statement about Wasim's decision to quit Bollywood as incorrect.
Mishra was quoted by The Print as saying, "The news of her quitting Bollywood is incorrect. Her accounts have been hacked. We are looking into the matter." The article also mentioned that the 'manager was caught by surprise by Wasim's decision'.
Following the reports of her account being hacked and that news about her quitting Bollywood were "incorrect", Zaira took to Twitter and clarified that her social media accounts were fine and never hacked.
ABOOM contacted Mishra, who denied making such a comment and claimed that he had been misquoted. He said, "I never said that Zaira's account has been hacked. I have been misquoted. What is there on her social media accounts are written by her. In my previous interactions with the media, I had just asked that Zaira should be given the space and time which she needs."
When asked if Mishra remembered mentioning 'hacking of the account' to any media outlet, he said, "I have been getting calls since morning and I don't know who it was."
When BOOM asked Mishra whether Wasim had consulted his agency, which was managing the actress for the past three years, before penning the post about her exit, Mishra chose not to comment.
On Sunday, Wasim who was lauded for her performance in Dangal (2016), in an elaborate post, shared that she wanted to discontinue her career in Bollywood, because 'her relationship with her religion was threatened.'

Netizens remained divided on her decision. While former Jammu and Kashmir Chief Minister supported the 18-year-old's decision, actress Raveena Tandon felt that she remained ungrateful to the industry.
Do you always want to share the authentic news with your friends?
Subscribed Successfully...
Enter Valid Email Id