Gruesome Video Of A Mother Torturing Twins In Saudi Arabia Goes Viral In India
The disturbing video showing two babies being tortured is from Saudi Arabia. The children have been rescued by authorities.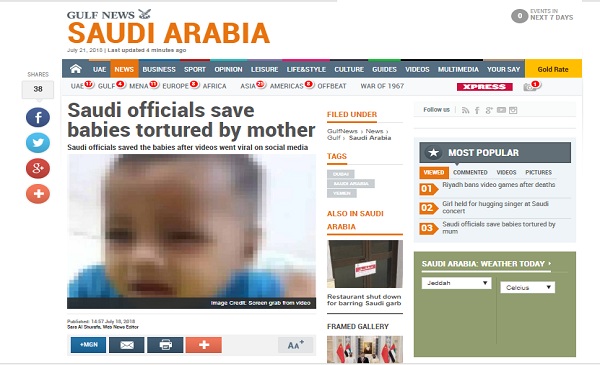 A horrific video showing a mother torture her two infant babies in Jeddah, Saudi Arabia is viral in India on WhatsApp and social networking sites. BOOM has decided not to include the video on account of graphic nature of the violence.
The video, a series of clips, show two toddlers being repeatedly hit on the face and on the head by the woman, who cannot be seen. The shocking clip also shows one of the babies deliberately dropped from a height to the floor causing the child to bleed. At one point in the video the woman chokes one of the babies and can be heard saying in Arabic, "today I will kill you," even as the child's eyes glaze and go pale.
The disturbing video is viral on Facebook with many sharing it with a plea to save the children.
BOOM found that the video went viral around July 16 in Jeddah and that the children in the video are twins aged around six months. The abuse was recorded by the woman herself, according to an article published by Gulf News on July 18.
"The mother is a Somali married to a Yemeni, and the couple were living in Saudi Arabia. They are now divorced and the man does not support her. She took the videos of herself torturing the babies and sent them to her former husband's father in Yemen so he can push him to send her money." - Gulf News
Following widespread outrage, Saudi Arabia's Ministry of Labour and Social Development (MLSD) was able to track down the woman and rescue the twins after social media users posted the video online tagging the ministry. A spokesperson for the ministry tweeted that they were investigating the video and urged anyone who knew about babies to call the hotline 1919.
On July 17, Khalid Aba Khail, spokesperson, MSLD also tweeted that, "The ministry had received a complaint and the Centre Against Family Violence was notified and that the authorities are looking for the babies in the video." (rough translation). After a few hours, Aba Khail informed that the "two children had been traced to Jeddah and a social protection unit had rescued them."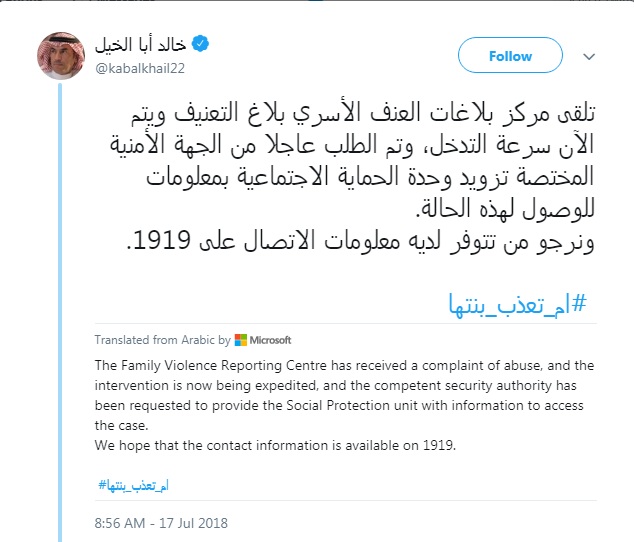 Gulf News reported the video started going viral in Saudi Arabia following which users traced it to YouTube where a man named Mohanad Al Hashdi had uploaded it. Al Hashdi who is Yemeni citizen knows the family of the twins' father in Yemen had uploaded the videos pleading for help from authorities to save the children. The children were rescued after Hashdi called the child care helpline number.
While the fate of the woman is not clear, media reports state that the children were handed over to their father's relatives following hospitalisation.