Government's Swachh Bharat Handle Tweets Activist's Beach Clean-up Photos Without Credit
BOOM reached out to Chinu Kwatra, who told us that his organisation Beach Warriors carries out beach cleaning drives independently.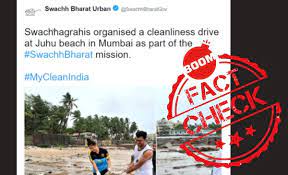 Swachh Bharat Urban, an official account of the government's Swachh Bharat Mission, tweeted a set of images on Tuesday of a beach clean-up exercise by Beach Warriors, a non-profit organisation, without credit or attribution.

The images, which are originally of a clean-up drive of Mumbai's Madh Island beach by the NGO, have been misidentified as Juhu beach in the tweet from the verified handle.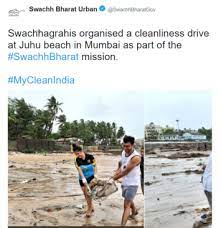 Here is the archive of the same.
The same was quote tweeted by actor Sushant Singh who urged that @SwacchBharatGov give due credit to Chinu Kwatra, founder of Beach Warriors, for his endeavour.
Below is Kwatra's tweet of the clean-up that was carried out on June 29. Kwatra also stated that the clean-up at Juhu beach had to be postponed because of high tides and heavy rains.
BOOM reached out to Kwatra, who told us that his organisation carries out beach cleaning drives independently.
Kwatra said, "We have been cleaning beaches for the past 97 weeks and have tagged Swacch Bharat Urban on Twitter among others for a better reach. However, our photos have been reproduced and work has not been credited in the tweets by the handle."
"Often people are misled by such social media posts, as they are caught unaware about who is hosting these clean-up drives and they don't know who to reach out to."
Elaborating on their work, Kwatra said, "We tag verified handles on Twitter so that we can reach more people who would come forth and volunteer. Though it is a positive gesture by a government organisation to post our photos, attribution of our work could only get us more 'Beach Warriors'."
Interestingly, BOOM found that the official handle of Swacch Bharat Urban has recently attributed only government institution cleaning drives and identified non-profit organisations as "Swacchagrahis" at large.
In fact, Kwatra's work was retweeted by the handle in March, last year.