Government flip-flops On Fake News Guidelines, Circular Withdrawn
After widespread protest from journalists, PM Narendra Modi directs circular issued on fake news by I&B Ministry on Monday evening to be withdrawn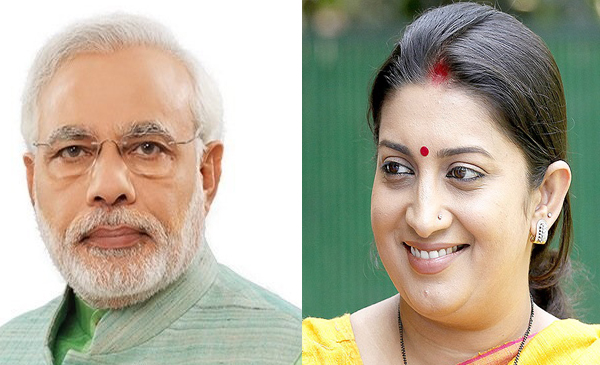 Narendra Modi, Prime Minister & Smriti Irani, Union Minister of Information & Broadcasting
In a major flip-flop by the government, Prime Minister Narendra Modi today withdrew the circular issued by the Information and Broadcasting ministry that provided guidelines to be followed by the Press Council of India to regulate fake news. The PMO further said issues to do with fake news should only be addressed by the Press Council of India (PCI).
#FLASH: Prime Minister has directed that the press release regarding fake news be withdrawn and the matter should only be addressed in Press Council of India. pic.twitter.com/KVUBeAoDhC

— ANI (@ANI) April 3, 2018
PIB Press release titled "Guidelines for accreditation of Journalists amended to regulate #FakeNews" stands withdrawn: https://t.co/Fyqz3JWCkZ

— PIB India (@PIB_India) April 3, 2018
On Monday evening, the Ministry of Information and Broadcasting headed by Smriti Irani had issued a circular calling for suspension of any PIB accredited journalist or news agency upon receiving any complaints for disseminating fake news. For determining if the news is fake or not, the case will be referred to the Press Council of India (PCI) in case of print media and to News Broadcasters Association (NBA) in case of electronic media.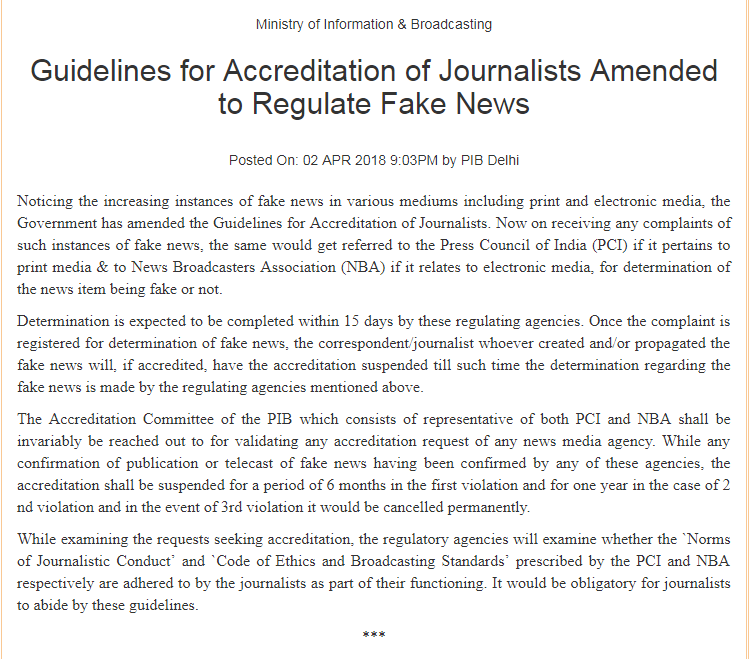 The circular came as a shock to journalists with several senior journalists, editors and owners tweeting against the necessity of it with many expressing fear that this could amount to harassment.
What is fake news? According to Smriti Irani, any news that shows the government in a bad light is fake news?

How is fake news to be determined? According to Smriti Irani, once any government authority denies a story, it is fake news.

Smriti Donald Z. Trump Irani

— Shivam Vij (@DilliDurAst) April 3, 2018
There are elaborate mechanisms to deal with wrong stories in the media. Legal remedies, Press Council etc. It always existed. So "fake news" as a new category is itself fake.

— M K Venu (@mkvenu1) April 3, 2018
'Fake news' is 'news' that's been created with CONSCIOUS knowledge that it's not true. It is unacceptable. It's a menace on social media. It is diff from inaccurate reporting, which can be corrected (with apologies if it hurts someone).Editors Guild, NBA should define fake news.

— Vineet jain (@vineetjaintimes) April 3, 2018
After the release of the circular and strong reactions from journalists, MIB minister Smriti Irani tweeted that it was open to suggestions.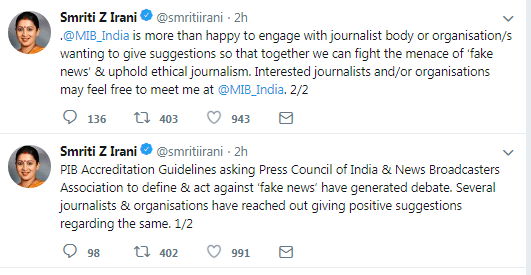 While the circular now stands withdrawn, there is no clarity yet if Irani acted on her own without consulting the PM Narendra Modi. Any move to regulate the media is always looked with suspicion and hence surprising that the I&B Minister did not anticipate a backlash from the industry.
PMO seems to have asked I&B Ministry to withdraw the draconian diktat on 'fake news.' While better sense may have prevailed at this moment, don't these things get discussed before orders are issued.

— Rahul Kanwal (@rahulkanwal) April 3, 2018
But there are others who now hope that the botched plan by the government would at least help the media to introspect on their own approach to the issue.
The PMO has withdrawn the fake news circular. But hope the conversation this has started won't end and better regulation will prevail. At the same time hope rigour of journalism isn't undermined by presenting 'alternatives' as the truth.

— Kajal K Iyer (@Kajal_Iyer) April 3, 2018