Google Admits To Adding UIDAI Helpline Number In Android Devices
Earlier, UIDAI & Telcos had clarified they had not added the helpline number in the Android devices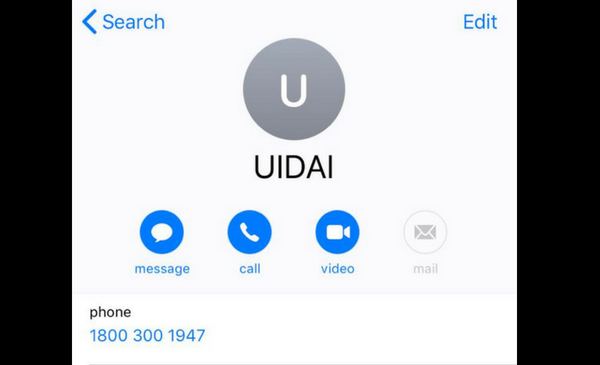 After two days of outrage on social media over the issue of UIDAI helpline number being found in the phonebooks of Android phone users, Google India has finally taken responsibility for the inclusion. In a late evening release, Google also clarified that the users can manually delete the number from their devices.
"Our internal review has revealed that in 2014, the then UIDAI helpline number and the 112 distress helpline number were inadvertently coded into the SetUp wizard of the Android release given to OEMs for use in India and has remained there since. Since the numbers get listed on a user's contact list these get transferred accordingly to the contacts on any new device.We are sorry for any concern that this might have caused, and would like to assure everyone that this is not a situation of an unauthorised access of their Android devices. Users can manually delete the number from their devices. We will work towards fixing this in an upcoming release of SetUp wizard which will be made available to OEMs over the next few weeks."
Earlier on Friday, UIDAI issued a press statement over a thread of tweets on August 3, 2018 stating that the number 1800-300-1947 is 'outdated and invalid toll free number' and that it has not asked telephone manufacturers or service providers to include it in contact lists of mobile users.
Industry body Cellular Operators Association of India also tweeted from its official handle to say that the telcos have nothing to do with the inclusion of the number.
BOOM spoke to telecom operators Airtel and Vodafone who claimed that the number has not been added from their end. Telecom operators by default pre-load public service numbers such as that of Police, Fire and customer care on the SIM card which is also downloaded in the handset's contact list.
The row over the number began when Twitter handle @fs0c131y with the user name Elliot Anderson on Aug 2 tweeted, 'Do you have @UIDAI in your contact list by default?' Anderson is an anonymous handle reportedly based out of India and has tweeted about several security loopholes in the Aadhaar ecosystem - all refuted by UIDAI in the past as falsehoods.
Following Alderson's tweet, several people posted on social media screenshots of the number saved in their contact lists, raising doubts on privacy with questions on how it got added to their devices without their knowledge.
People also found old government records to counter UIDAI's efforts to distance itself from the helpline number. Business journalist Mayank Jain tweeted a 2013 letter by the Department of Telecommunications to the telecom service providers asking them to route 1800-300-1947 to the short code 1947.
Updated On:
2019-12-13T10:56:18+05:30