Gauri Lankesh Murder: India, No Country for Dissent
Over the years attempts to quell dissent has become a pervasive phenomenon in India, cutting across motives and ideologies and not restricted merely to Hindutva hostility.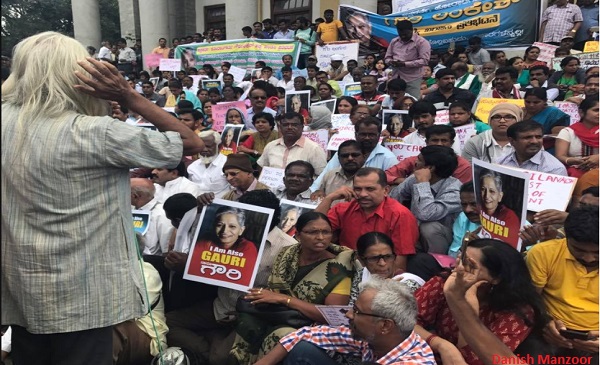 Picture courtesy: Danish Manzoor
The brutal murder of journalist and activist Gauri Lankesh in Bangalore has sent shockwaves across the national media landscape in India. Day-long, multi-city protests have been organized to condemn the cold-blooded killing of the 55 year old journalist, who was known to be a leading anti-establishment voice, taking on Hindutva politics head-on through her writings.
For many, including Karnataka Home Minister Ramalinga Reddy, the assassination had parallels to the killing of M M Kalburgi, a rationalist and former vice chancellor of Kannada University who was shot dead in a corresponding fashion outside his residence in Dharwad in 2015.
A similar modus operandi has been noticed also, in the murders of Narendra Dabholkar, a crusader against superstition, in 2013 and Govind Pansare a left-wing politician and author, in 2015. Both were shot down by gun-wielding assailants, later found to be members of radical right-wing Hindutva outfits.
The eerie pattern of these high-profile killings of rationalists has reignited the debate around the rise of right-wing extremism in India, where over the last 3 years there's also been a massive spike in cow-related violence by self-styled Hindu vigilante groups. According to analysis from the Observer Research Foundation there has been a dramatic rise in this kind of aggression, from 5 per cent of total incidents (of lynching or public disorder) in January 2011, to over 20 per cent by the end of June 2017.
A study of the various reports and indices that track violence against activists and journalists in India however shows, that over the years attempts to quell dissent has become a pervasive phenomenon in India, cutting across motives and ideologies and not restricted merely to Hindutva hostility. There is a purging of all forms of activism that defies the state line in any which way.
According to an analysis by Delhi based advocacy group CHRI (Commonwealth Human Rights Initiative) over 56 RTI (Right to Information) activists have been allegedly murdered and over 150 assaulted for demanding more transparency and accountability from the government, ever since the law came into force in 2005. In this case, 2011 however was the most violent year for RTI users. Thereafter, while there has been a decline in incidents over the years, the number of activists losing lives year on year, continues to remain high.
India has also become a progressively more dangerous country for environmental activists. 'Defenders of the Earth' a report released last year by international NGO Global Witness shows, that 16 land and environmental defenders were killed in 2016, 10 more than the year before, making it the worst year on record. The report alleges "rising state repression and criminalization of civil society", and says India has become the fourth deadliest country in the world for green activists. Even Pakistan, Bangladesh, China, Iran and Zimbabwe have better records.
"The Modi administration's shrinking of civil society space is particularly disturbing when viewed in parallel to the government's aggressive pursuing of foreign investment for large-scale infrastructure, power and mining projects, and apparent disregard of local, particularly indigenous, voices," the report states, expressing concern over the number of NGOs and human rights organizations that have had their licenses revoked under the Foreign Contribution Regulation Act.
Interestingly, while the government clamped down on NGOs by cutting off funds through FCRA, provisions in the same law were amended by the Modi regime through the Finance Bill, to legalize foreign donations to political parties.
The shrinking space for dissent is also perceptible in the way the Indian media has been emasculated over the years.
"Journalists are increasingly the targets of online smear campaigns by the most radical nationalists, who vilify them and even threaten physical reprisals. Prosecutions are also used to gag journalists who are overly critical of the government, with some prosecutors invoking Section 124a of the penal code, under which "sedition" is punishable by life imprisonment," observed Reporters Without Borders, an international non-profit that promotes freedom of the press.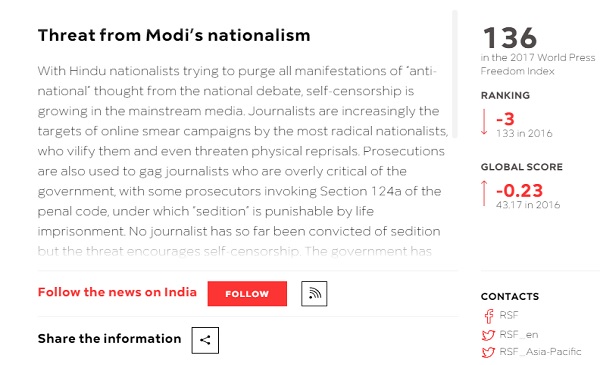 Courtesy: Reporters Without Borders
It's 'World Press Freedom Index' ranks India at an abysmal 136th position out of 180 countries, which is a 3 point decline since 2016. In fact, data from CPJ or the Committee to Protect Journalists reveals that since 1992, of the 74 journalists who've been killed in India, only 2 have died in a warzone. Majority were covering politics (20) and corruption (16).
"Investigative reporting is becoming increasingly dangerous. Journalists who venture out into the field to investigate any story, be it sand mining, stone quarrying, illegal construction, police brutality, medical negligence, an eviction drive, election campaigns, civic administration corruption, are under attack," a report released by The Hoot, a media watchdog earlier this year revealed. " The data with The Hoot shows that law-makers and law-enforcers are the prime culprits in the attacks and threats on the media."
Estimates by the portal showed, 54 attacks, and 25 cases of threats merely in the past 16 months, although by their own admission the number could be much higher given the official trend line of the past years.
More worrying though is the impunity with which culprits are let off. The Hoot figures show that of the 114 incidents of attacks on journalists in 2014, only 32 people were arrested. Of the 28 incidents in 2015, only 41 were arrested. No data is available on how many convictions actually took place.
Years on, no one yet has been convicted for the murders of Dabholkar, Pansare and Kalburgi either. And that's why, despite an SIT probe and 3 probe teams being announced to expose who was behind Gauri Lankesh's killing, there is scanty hope that justice will ultimately prevail in this era of fear & despair.