Will Flipkart's Apology Soothe Buyers?
Flipkart reportedly achieved its $100 million "Big Billion Day" sale target in 10 hours, but the day didn't entirely go as Sachin and Binny Bansal, the co-founders of Flipkart, would have wanted.
Customers complained that items went out of stock within minutes. The website crashed repeatedly and was inaccessible for long hours during the sale period. Customers also found that the online retail website had hiked the prices of certain products and then offered a "discount".
Dear @Flipkart Your 29% Discount demystified pic.twitter.com/U7rXfLkBty — Suresh En (@surnell) October 6, 2014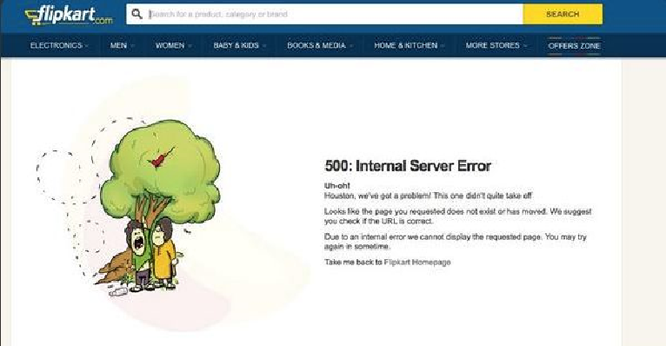 Disgusting sale on #FlipkartSale#flipkart. Placed order at 8.30am. great bargain. Paid in full. In 2 hrs order cancelled by FK. Why no idea

— Rituparna Chakrabort (@ritu205) October 6, 2014
The irate customers took to social media platforms to vent out their frustration, and by the end of the day, #flopkart was trending on Twitter.
#BigBillionDay The new logo for @Flipkart —->>>> #flopkartpic.twitter.com/r19WFWsAQc — Angry Bombay Guy (@ThatRetardGuy) October 6, 2014
Snapdeal and Amazon India, the other big online retailers, ended up on the winning side as customers flocked to their sites that were selling some of the "sale" items at a lesser price.
So much hype about the Flipkart sale and Snapdeal is still cheaper. pic.twitter.com/3kESMnY9t5

— Neha Kapoor (@PWNeha) October 6, 2014
Kya re Flipkart? Your MacBookAir 13″ is Rs.56,490 and Snapdeal has it at Rs.49,999! https://t.co/P627azUmGX vs. https://t.co/lj91iSnqOF

— Karthik Srinivasan (@beastoftraal) October 6, 2014
A day later, Binny and Sachin, sent out a personal apology letter to customers, explaining the various glitches.
Flipkart may have had 1.5 million hits on the "Big Billion Day" but it seems to have lost out on trust and goodwill among customers.  Can the personal apology by the co-founders salvage the situation?