False: Amit Shah's Claim Of PM Modi Making Fewer Foreign Travels Than Manmohan Singh
Data from the PMO and the archives of former PM Manmohan Singh shows that Amit Shah's claim regarding Modi's foreign travels stands unsupported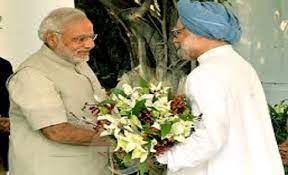 Union Home Minister Amit Shah's recent claim of Prime Minister Narendra Modi making fewer foreign travels as compared to Manmohan Singh is false.
BOOM examined government data of the first five year terms of both the leaders and found that Prime Minister Narendra Modi has traveled more than former Manmohan Singh.
Shah made these claims while campaigning in Kaithal, Haryana, for the upcoming assembly election in the state. He was making a reference to the pomp with which Modi is received abroad, as compared to the low-profile and 'gaffe-prone nature' of Singh's visits abroad. Further, he mentioned that a certain leader of Congress party keeps bringing up the issue of Modi's foreign travels, but does not mention who.
| | |
| --- | --- |
| Hindi | English translation |
| ...मोदीजी विदेशो में घुमते हैं , मैंने बोला ज़रा जांच करा (किया) , के मनमोहनजी के 5 साल और मोदीजी के 5 साल ज़्यादा विदेश में कौन गया, देखो भाई, तो मालूम पड़ा मोदीजी काम गए हैं और मनमोहन सिंह ज़्यादा | Modiji travels the world, and I enquired as to who in Manmohanji's 5 years and Modi's 5 years stayed abroad the most, and found that Modi's travels were less and Manmohan Singh's were more. |
Since Shah does not explicitly mention which 5-year term of Manmohan Singh he is comparing to Modi's first term, BOOM examined the number of trips taken and the number of countries visited across both Manmohan Singh terms.
Number of trips taken
Data from the Prime Minister's Office (PMO) shows a list of 56 international trips that Modi has undertaken since assuming office in 2014. It includes his latest trip to the United States which he undertook in September this year.
According to this data, Modi took a total of 49 trips during his first term as Prime Minister. The records show his first trip to Bhutan in June 2014, and his last trip was to the Republic of Korea in February this year.
On the contrary, Manmohan Singh has taken:
35 trips during his first tenure as Prime Minister, where his first trip was to Bangkok in July 2004 and his last trip to London for the G20 Summit in April - May 2009
38 trips during his second tenure as Prime Minister, where his first trip was to Russia for the BRICS and SCO Summit in June 2009 and his last trip was to Myanmar in March 2014.
Therefore, whichever five year period is compared, Manmohan Singh's trips stand fewer than Modi's.
Number of countries visited
Manmohan Singh visited 93 countries across his two terms, counting repeated visits. These figures are available not only with the former PM's archives, but also has been reported in articles here.
In his 1st term, Singh visited 43 countries
In his 2nd term, Singh visited 50 countries
Modi has, in his first term alone, visited 93 countries. Therefore, Modi exceeds Singh official travels, by even the number of countries visited.
All the data accessed can be found: