Fake Warning About Identity Theft Gang Attributed to Mumbai Police
Mumbai Police PRO Manjunath Singe confirmed to BOOM that the message circulating has not been issued by Mumbai Police.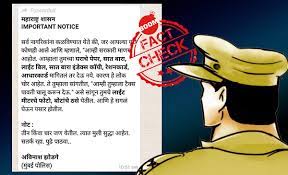 A fake message is circulating on social media claiming Mumbai police has issued a warning to citizens to be careful of a gang who under the guise of being government officials ask for identification documents and thumb print to generate a tax recipet, but then abscond with the details.
The fake message is in Marathi and claims the warning was issued by a police officer named 'Avinash Zodge' and is being forwarded on WhatsApp.
It warns that the gang "of three to four people including women" is going to people's houses and ask for property documents, 7/12 document, the person's PAN card, aadhaar card, electricity bills and other important identification proofs.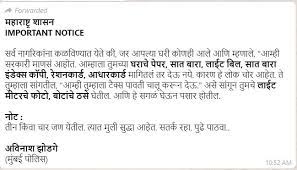 English translation of the fake WhatsApp message:
Government of Maharashtra
IMPORTANT NOTICE

Citizens are informed that if anybody comes to your home and says, "We are government officials, Do not give your house papers, light bills, seven to twelve index copies, ration cards, Aadhaar card, because these people are thieves. They will tell you, "We will give you a tax receipt." By saying that they will take your Light Meters Photographs, your fingerprints.
Note: Three or four people will come. There are also girls in it. Be cautious. Forward
Avinash Zodge
(Mumbai Police)
BOOM received this message on our WhatsApp helpline number (7700906111) inquiring about the veracity of the message.
Viral on Facebook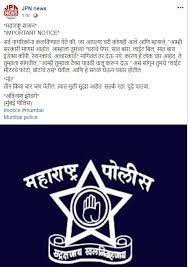 Click here to view the post, and here for an archive.
FACT-CHECK
BOOM contacted Mumbai police spokesperson, DCP Manjunath Singe who denied that the Mumbai Police had issued any such circular warning citizens. "Mumbai Police has not put out this message about any such gang," said Singe.
Who is Avinash Zodge ?
BOOM enquired but did not find any police officer by that name in the Mumbai police department. Additionally, BOOM went through the official document of Mumbai police senior officers list but failed to find any police officer named Avinash Zodge .
Click here to view
Same message viral since 2018
The same message has been circulating on Facebook since April 2018.
Advisory on handling documents
Government agencies have in the past advised people to take due precautions before sharing their personal information such as Aadhaar card number etc.
Claim Review :
Mumbai Police Notice Warning Citizens From Providing Identification documents To People Claiming To Be Government Officials
Claimed By :
Facebook Posts