Fake Post Claims Bajrang Dal Workers Arrested For Vandalising A Temple In Old Delhi
Delhi police told BOOM that those involved in the vandalism of a temple belong to Old Delhi and are not part of the Bajrang Dal.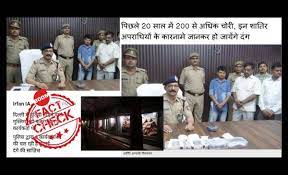 A screenshot claiming to show Delhi police arrested six Bajrang Dal workers for vandalising a temple in Old Delhi's Hauz Qazi area last month, is misleading.
Violence ensued in Hauz Qazi following a fight over parking between two men. The fight escalated leading to a temple being vandalised in the area.
Delhi police have till date arrested 17 people. Read BOOM's story about how fake news fuelled the fight here.
ALSO READ: How Fake News Turned A Parking Brawl At Delhi's Hauz Qazi Into A Communal Flashpoint
The misleading message includes a photo showing a police press conference.

BOOM received the screenshot on its WhatsApp helpline number (+91 7700906111) from a reader asking if it was true.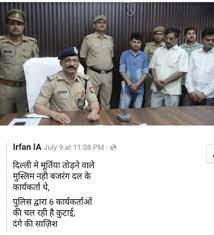 The Hindi caption with the image claims Muslims were not involved in the vandalism and that Delhi police arrested six men who were Bajrang Dal workers.
(Hindi text - दिल्ली मे मूर्तिया तोड़ने वाले मुस्लिम नही बजरंग दल के कार्यकर्ता थे, पुलिस द्वारा 6 कार्यकर्ताओं की चल रही है कुटाई) (Click here to view an archived post)
BOOM ran a reverse image search and found that the photo is from a June 2019 incident in Uttar Pradesh.
According to an article in Rajasthan Patrika, the men in the photo are thieves who would steal from houses and also loot passengers travelling in trains. The men hail from Chandauli in Uttar Pradesh.

News reports about the incident identified the police officer seated as Chandauli's Superintendent of Police, Santosh Kumar.

BOOM also found that Chandauli police tweeted the same photo from their official handle on June 3, 2019 with details of those those arrested.
The photo identified the three accused as, Ramnarayan Seth, Kishan Lal Verma, Jeetlal Jaiswal arrested with jewellery worth 5 lakh rupees and contraband items.
#chandaulipolice द्वारा 03 शातिर अन्तर्जनपदीय चोर 05 लाख के गहने व नशीला पाउडर के साथ गिरफ्तार, जनपद में हुई कई घटनाओं का पर्दाफाश । @Uppolice @dgpup @adgzonevaranasi @IgRangeVaranasi @dmchandauli pic.twitter.com/dLnSKwR9ev

— Chandauli police (@chandaulipolice) June 3, 2019
We further contacted Delhi police who on the condition of anonymity, confirmed that the accused arrested for vandalising a temple in Hauz Qazi area of old Delhi are not members of Bajrang Dal as the post claims.
"The photo is not of the arrested accused. Some of those arrested in the Hauz Qazi incident are minors and we cannot disclose their identity but these people in the photo are not from there. We are investigating the incident and have not found any links to Bajrang Dal or any such group," said a source in Delhi police