Fake Photoshopped Image Of Rahul Gandhi Looking At A Racy Pic Surfaces
No, Rahul Gandhi was not looking at a photograph of a woman in a bikini on his phone. This image has been photoshopped.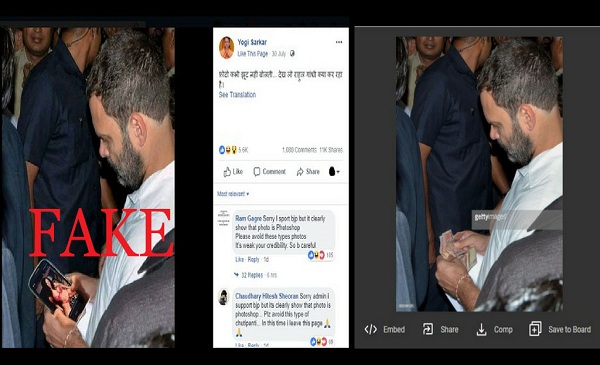 A photoshopped image of Rahul Gandhi purports to show him looking at a picture of a woman in a bikini on his cellphone. The original image from November 2016 is of the Congress president counting demonetized one thousand rupee notes.
The image was shared on social media including a Facebook page called Yogi Sarkar . The fake image tweeted by the page on July 30, 2018 got over 11,000 shares at the time of writing this story.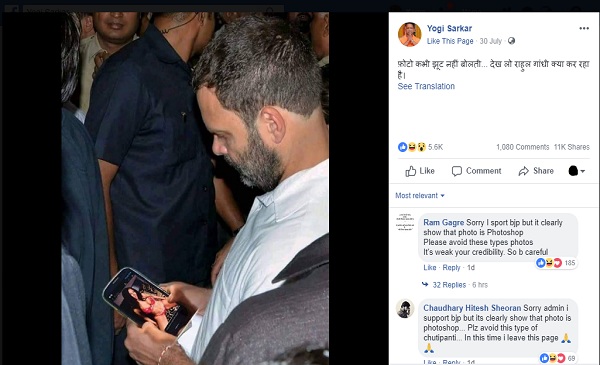 It was also widely shared on Twitter and other sites such as Google Plus.
A Reverse Image Search of the photo shows the original photo on Getty Images' website.
The description of the photograph states, "Indian National Congress vice-president Rahul Gandhi carries old denomination 1000 rupee notes at a bank as he arrives to exchange them in New Delhi on November 11, 2016."
Click here to view the photo.
https://www.sharethefacts.co/share/f9514951-b029-4dbf-b413-1288f86da0f6