War Veteran's Image Shared As Recovery Of Old Man From COVID-19 In Italy
BOOM found the viral image is at least five years old, when Colorado based Second World War veteran broke down after reading a lost letter that he sent to his fiancée.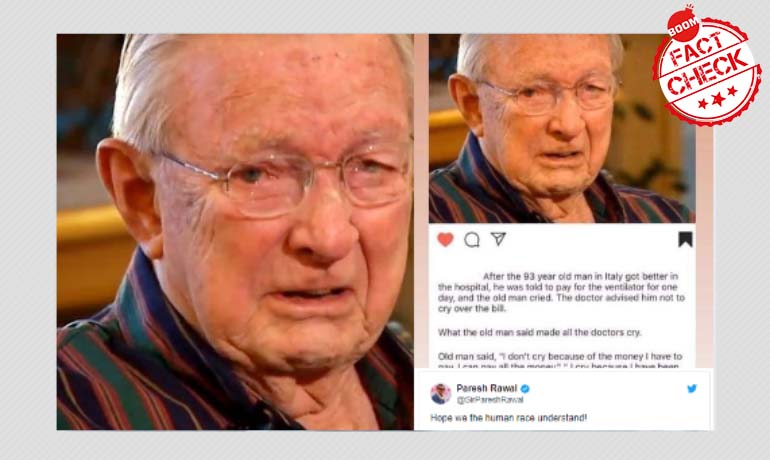 An old image of a World War II veteran breaking down while reading a long-lost love letter that he had written to his the then girlfriend is being falsely linked to the COVID-19 outbreak in Italy.
The image has a close-up of Bill Moore, a Colorado-based war veteran, and a text which erroneously identifies Moore as an Italian who was asked to pay for the ventilator charges after recovering from the disease. According to the text, he gets emotional for being able to breathe natural air throughout his life and taking God's gift for granted. The photo along with the text is viral in the backdrop of the novel Coronavirus outbreak in the country and the increasing death toll.
Moore's image has been shared with the same narrative as a caption on Facebook. An excerpt from the caption reads, "After the 93 year old man in Italy got better in the hospital, he was told to pay for the ventilator for one day, and the old man cried. The doctor advised him not to cry over the bill. What the old man said made all the doctors cry. Old man said, "I don't cry because of the money I have to pay. I can pay all the money." *I cry because I have been breathing God's air for 93 years, but I never pay for it. It takes €500 to use a ventilator in a hospital for one day. Do you know how much I owe God ? I didn't thank God for that before.*
Updated On:
2020-04-12T18:06:39+05:30
Claim Review :
Image shows 93 years old Covid-19 survivor cried for not paying worth of natural air to God
Claimed By :
Facebook Posts & Twitter Users,