FAKE NEWS: Saudi Arabia Did Not Behead Its First Female Robot Citizen
No, Saudi Arabia did not behead a female robot because she didn't cover her head in public and appear without a male guardian.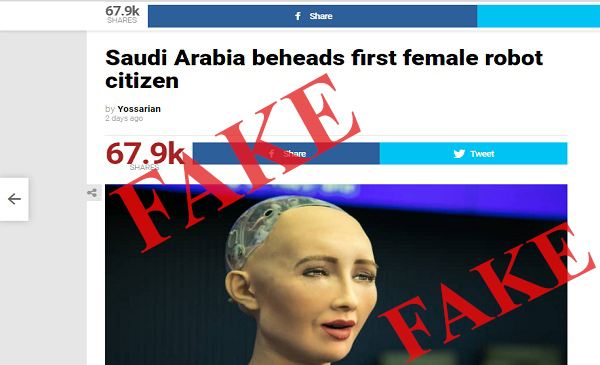 CLAIM: Saudi Arabia Beheads First Female Robot Citizen
RATING: False
FACT: Duffel Blog, the website that published the story, is a satirical or parody website in the U.S. It is also known as the military version of 'The Onion'.
The story about Saudi Arabia beheading a female robot named 'Sophia' is fake and has been created by US satirical site Duffel Blog.
Earlier this week Duffel Blog conjured a story about how Sophia, who was recently granted Saudi citizenship, the world's first robot to attain such legal status, was beheaded at a public square in Riyadh.
Duffel Blog's story painted a perverse and graphic fictitious story of a mob attempting to gang rape, then stone and eventually tying the female robot's exoskeleton to a trailer and driving around the streets until her head got detached.
The story even made up fake quotes from members of the mob.
"She goes strutting around the city without a male escort, without a hijab, fluttering her plastic eyelashes at married men while expressing opinions of her own. What did she expect would happen?"
At the time of writing this fact check, the fake story received 68,000 shares on Facebook.
Duffel Blog calls itself a satirical website with its content a parody of news organisations in its Disclaimer section. The site was created in March 2012 by U.S. marine veteran Paul Szoldra. It is considered as "the military version of The Onion.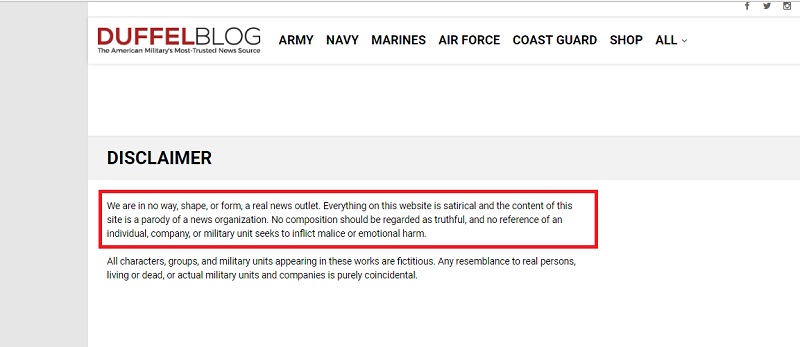 The website features in Wikipedia's list of satirical websites.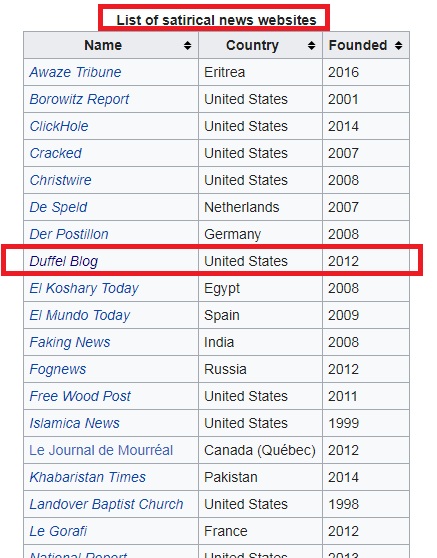 US fact-checking website Snopes has a page to archive its factchecks on stories from Duffel Blog.
FACTS ABOUT SOPHIA THE ROBOT
The humanoid Sophia is a creation of Hong Kong-based Hanson Robotics, lead by AI developer and robotics entrepreneur David Hanson, a former Disney Imagineer. The humanoid was designed to look like Audrey Hepburn.
In the video above Sophia can be seen and heard speaking in a female voice and expressing human emotions.
Sophia was bestowed upon citizenship in Riyadh on October 25th when she was unveiled at a technology conference in the capital Riyadh. The robot appeared as part of the Future Investment Initiative summit to drive investment from Saudi Arabia into artificial intelligence.
While details of Sophia's citizenship are not entirely clear, it has upset women in the Sunni Muslim kingdom, who feel that the robot enjoys more rights than them as she does not need a male guardian or have to cover her head in public. (Read – Saudi women riled by robot with no hjiab and more rights than them)